Goldendoodles are considered a hybrid dog. The dog is a mix between a golden retriever and a poodle. Because this special breed has been essentially designed, it's paramount to find goldendoodle breeders in California who know what they're doing. Here's a list of 9 of some of the highest rated California dog breeders who specialize in breeding goldendoodles.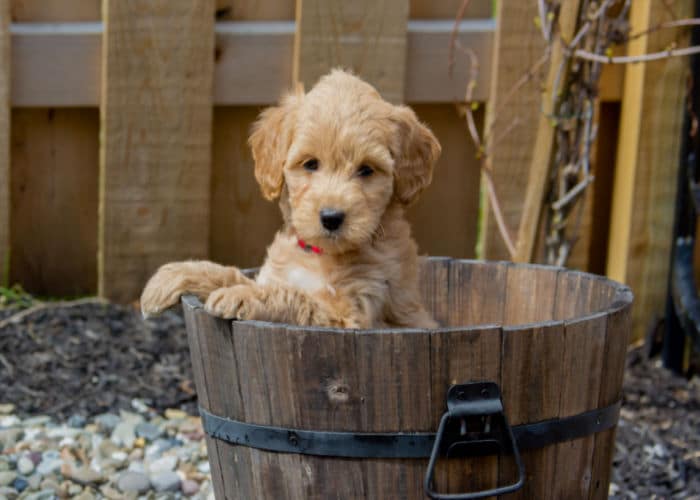 Located in Southern California, Windsong Doodles is a team composed of trainers and breeders coming together to raise goldendoodles. Jillian has experience breeding dogs since the age of 13 and at some point fell in love with the sweet natured temperament of the goldendoodle breed.
The breeding program at Windsong Doodles breed responsibly to ensure puppies are genetically healthy, sweet tempered, and well-socialized. Puppies are born and raised in the home around children and cats so they will be well-adjusted to a noisy, busy household.
The team at Windsong Doodles believes that to achieve the best potential for high-achieving dogs, Early Neurological Stimulation performed daily is effective. The method of ENS is based on military observation and examples, suggesting it works. Ultimately, according to Windsong Doodles research on using ENS for dogs, those studies are confirmation of best results.
The team at Windsong is different because they are more than just a place that breeds puppies. They're mission is to be careful, diligent, and selective in the breeding dogs they choose to use to ensure the highest quality, happiest, and healthiest puppies. Essentially, the Windsong difference lays the foundation for continuing training and developing a sweet and well-trained goldendoodle.
Location: Southern California
Email: infor@windsongdoodles.com
Visit: windsongdoodles.com
Next: Best dog breeders in California to go to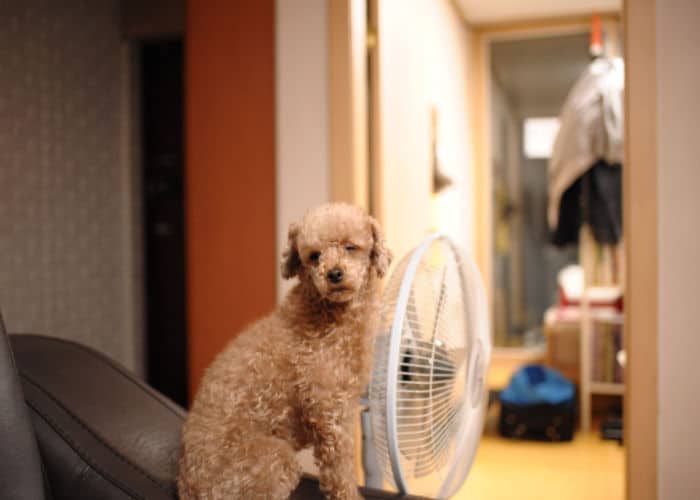 O'Hara Goldendoodles pride themselves on being a reputable and responsible breeding program in the Northern part of California. They've had the pleasure to work with a number of families from many different surrounding states and backgrounds. O'Hara breeders are proud of their efforts in choosing the most high-quality breeding dogs to develop loving companion goldendoodles.
All puppies come with a health guarantee good for one year. Also, each adopted puppy is microchipped and given a wellness checkup, vaccinations, deworming, and one month of Trupanion pet health insurance. Additionally, to make the transition to a new home easier on the dog, each dog is sent to their forever home with a care package.
However, the program does not include mini goldendoodles as they typically are faced with greater health problems than standard goldendoodles. The primary goal of the O'Hara Goldendoodle breeding program is ethical breeding to ensure all pups are the healthiest and happiest goldendoodles possible. That alone sets them apart as one of the best goldendoodle breeders in California.
Address: China Gulch Dr, Happy Valley, CA 96007
Email: oharadoodles@gmail.com
Visit: oharadoodles.com
Next: Best Cavapoo puppy breeders in California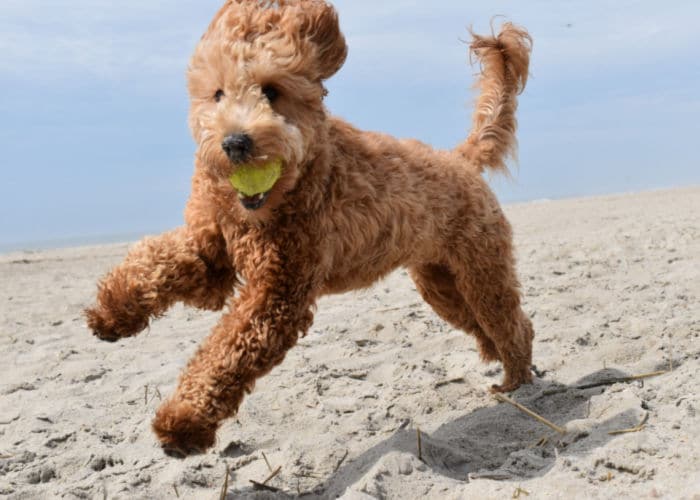 A small family breeder out of Sacramento, California. Massey Goldendoodles has more than 20 years of experience and their goal is to breed and raise happy and healthy puppies. They specialize in breeding F1b goldendoodles and F2b goldendoodles.
The goldendoodle puppies you will find here are F1B goldendoodles. This means that the dogs are five percent standard poodles while also 25 percent golden retriever.
The very cool thing about goldendoodles in particular is their fur. Goldendoodles are known for their hypoallergenic fur making a goldendoodle perfect for a human companion who suffers from bouts of allergies. In the case of the latest generation of goldendoodles at Massy Goldendoodles, it is the most hypoallergenic generation yet. Additionally, goldendoodles of the F1B variety specifically, also have a much lower chance of getting a bunch of hair on your sofa. This breed is notoriously known to shed very little hair.
Moreover, goldendoodles are great for families who have kids or other pets like cats as these breeds have a very loving yet outgoing, smart, and playful disposition.
At around 8 weeks of age, puppies are allowed to leave home to go with their new forever-home. Because the puppies are raised by hand and in a home-environment, they are socialized and used to people and children by the time they are adopted. To help puppies get ready to transition into a new home they are examined by a veterinarian, dewormed, and vaccinated.
You can view photos of the parents and puppies. They consist of one standard poodle named Penny. The other is Daddy Duke and is the first generation of goldendoodles at Massey Golden Doodles.
Reserving a puppy requires a $500 fee which is non-refundable. However, the amount goes towards the full and final price of the dog. Goldendoodle prices start at $2800 and come with a health guarantee suitable for one year to cover any genetic related diseases within that first year.
Address: 8327 Newbridge Way, Citrus Heights, CA 95610
Phone: (916) 879-7977
Email: Masseygoldendoodles@gmail.com
Visit: masseygoldendoodles.com
Next: Best Labrador retriever breeders in California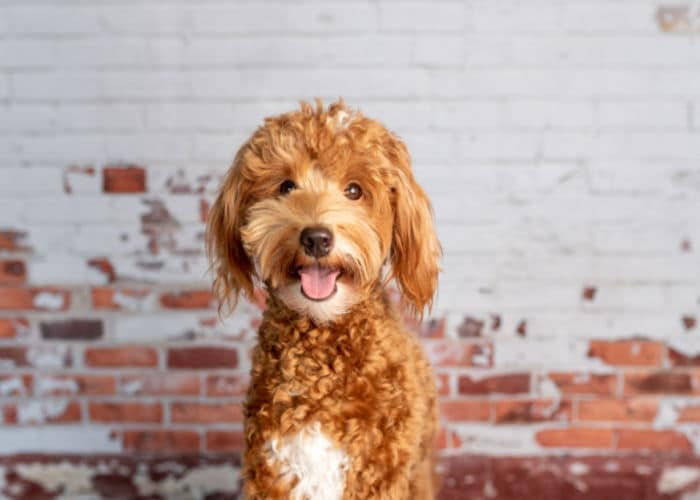 A family-run goldendoodle breeding business, Golden Buttes Doodles produces quality and healthy standard goldendoodles. The breeder has ample experience when it comes to breeding. They have spent over ten years breeding and raising labradoodles and goldendoodles alike. They are knowledgeable breeders due to their background which includes hands-on experience as well as hours of studying this specific breed.
The F1b goldendoodles go for $2500 and you may reserve a dog with a $500 deposit that is fully refundable for any reason. However, this only applies until the puppy reaches 5 weeks of age. You can see photos of past and current litter on their website. Also, you can find the Golden Buttes Doodles purchasing contract and puppy application. If you are interested in buying a puppy, Golden Buttes makes it very simple. All you need to do is go to their website and fill out a brief questionnaire about you and your family. Then, let the team play matchmaker!
The business is located on a large, 5-acres in Marysville, California ensuring that all goldendoodles have ample space to run around and play. There are places and terrains for the dogs to explore which primes dogs to have more confidence as well as courage. Puppies are born in the comfort of a family home-environment in an air-conditioned space. Additionally, dogs learn to use a doggy door and are potty trained.
Address: 9642 Buena Vista Dr, Marysville, CA 95901
Phone: (530) 300-4734
Email: darbylk@gmail.com
Visit: goldenbuttesdoodles.com
Next: The best Poodle breeders in California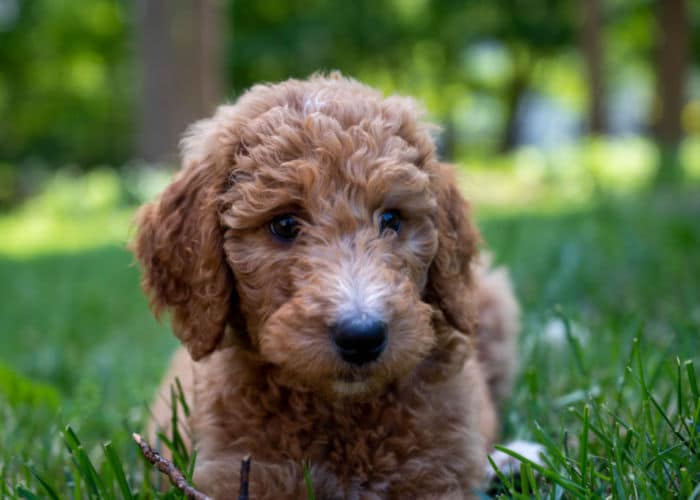 Located in Murrieta, California, Apricot Poodles & Goldendoodles is a family breeder who breed and raise quality goldendoodles that come from parents that have been health-tested. They breed standard goldendoodles only weighing from 50-80 pounds.
The cost of a goldendoodle is $3,500 per pop and includes a veterinarian checkup as well as a one year health-guarantee, shots, deworming, and microchipping. Additionally, new owners will receive a puppy care pack that includes a new leather collar, leash, one gallon of puppy food, treats, a toy, and a scented blanket.
Puppies are raised in a family environment where they get plenty of socialization and early training prior to being given to a new, loving forever-home. Breeding consists of one stud and two dams, Jax, Scarlett, and Penny.
Jax is a fully registered, American Kennel Club black and red colored poodle with a cool, easy-going temperament. You can view all of the completed health testing and evaluations as are required per AKC standards. Scarlett is also AKC registered and is a standard poodle described as sweet, affectionate, and loving.
Address: Breckenridge Cir, Murrieta, CA 92563
Email: ashleyndelisle@gmail.com
Website: https://www.apricotpoodlesdoodles.com/
Next: The best Golden Retriever breeders in California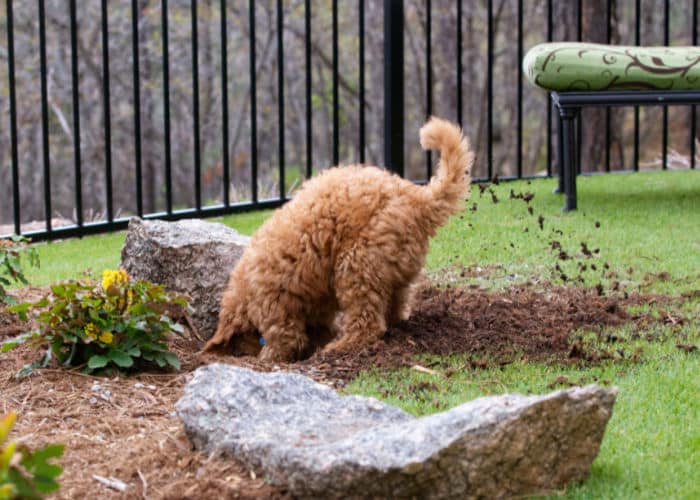 Quartz Mountain Poodles and Doodles is a family-run goldendoodle breeding business. They breed several different colors and sizes of goldendoodles including F1 mini and F1B medium goldendoodles in addition to other varieties.
They are carefully bred and watched to ensure healthy and sound puppies. The puppies are described as intelligent and as having a loving and friendly temperament. Additionally, all puppies get early socialization and playtime using textures, toys, and sounds.
Currently, the breeding program performs ENS on puppies that are 3 days old to 16 months, a neurological stimulation which helps develop well-rounded and healthy dogs. ENS is performed once each day and includes 5 exercises. ENS has shown to have benefits including:
Improvements in heart rate and stronger heart
Stronger adrenals
Better stress tolerance
Better disease resistance
Most importantly, all dogs used for breeding purposes have had their DNA tested and have completed OFA testing for patellas and hip health. Puppies are microchipped and examined by a veterinarian. They also receive shots, deworming, and come with a one year health guarantee and 2 year hip-health guarantee. All puppies are equipped with lifetime support.
Address: 1460 Rio Tierra Ct, Placerville, CA 95667
Phone: (530) 391-0189
Website: http://quartzmountainpoodlesanddoodles.com/
Next: Cavapoos vs. Goldendoodles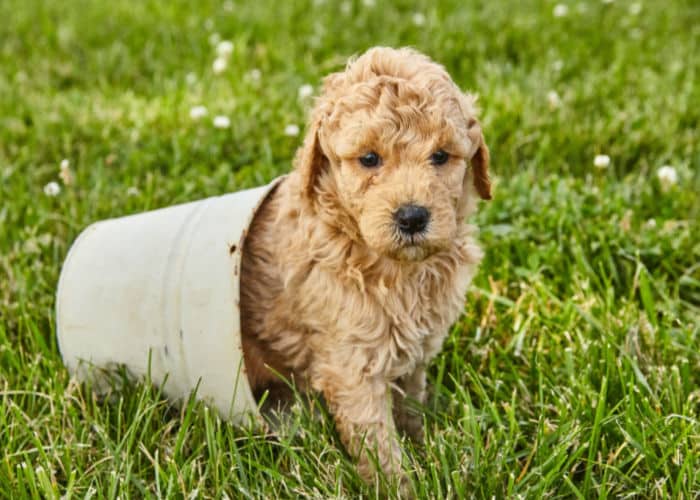 Since 2012, Bear Mountain Doodles have been around doodles. Since then, Bear Mountain Doodles have been in the business of breeding and raising goldendoodles. Their location is set in Squaw Valley where pups and dogs are able to run around and interact.
On behalf of many requests to breed a smaller variety of goldendoodles they decided to breed labradoodles with mini poodles and are getting the results they were hoping for. You can view pictures of current pups posted on their website. Each sells for $3100 and are allowed to leave at 8 weeks old.
Bear Mountain Doodles has received mostly high ratings by past clients. Reviewers have great things to say about their brewing program as well as the team. Comments imply there was great communication throughout the adoption process and noted that the dogs are very well taken care of and all immunizations and deworming was up to date as promised. Other clients expressed how they couldn't be happier with the experience at Bear Mountain Doodles and the teams' overall professionalism and knowledge when answering questions.
Address: 30528 George Smith Rd, Squaw Valley, CA 93675
Phone: (916) 471-9678
Visit: bearmountaindoodles.com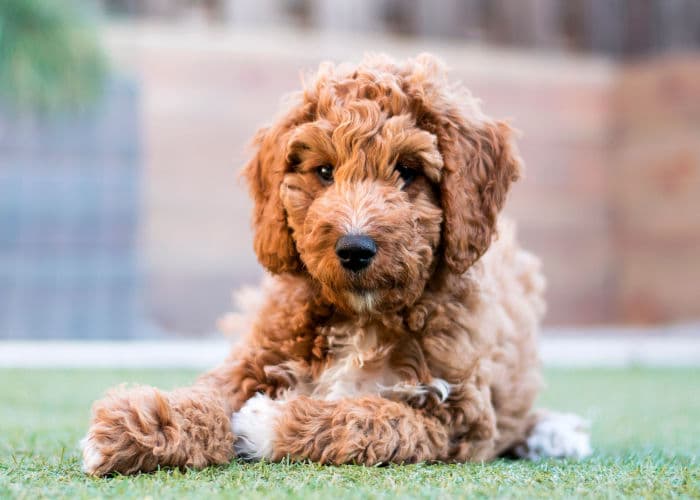 While searching for a puppy to bring home to the family. They realized that the search wasn't going to be easy which sparked a passion and motivation to connect good, responsible, and ethical breeders with the right clients. Wildwood Doodles breeds goldendoodles with the help of certified breeders who have been vetted and carefully chosen to ensure puppies are happy and healthy.
The Indiana-based breeder built a specialized home in the countryside for the dogs. The dogs have access to the outdoor space as well as a climate-controlled area for cold winters. Additionally they are able to play and socialize with other dogs. An on-call veterinarian makes a weekly visit to make sure a new litter is in good health.
The steps to apply for a puppy are relatively easy which is what makes this particular breeder a top choice. Simply visit their website and check out the available puppies and choose one. Then, fill out the required puppy adoption application. Finally, reserve the puppy with a $1000 deposit that is refundable and you'll receive confirmation within 24 hrs.
Address: 350 W Hillcrest Dr, Thousand Oaks, CA 91360
Phone: (310) 775-7470
Visit: wildwooddoodles.com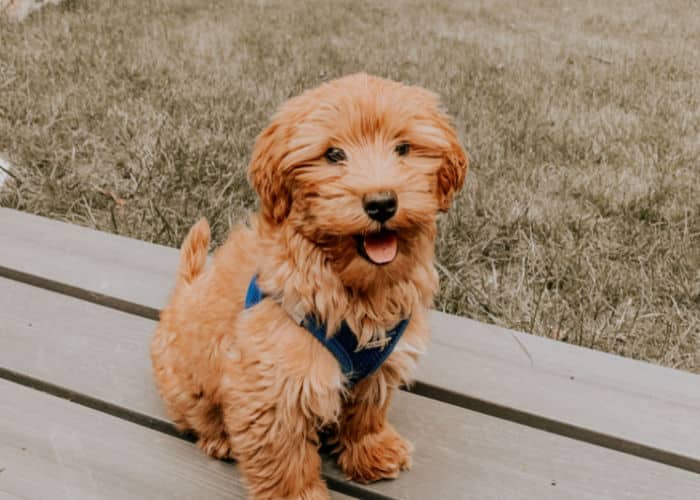 Located in Ventura, California, Coastland Goldendoodles has a goal to create high-quality goldendoodles. All dogs used for breeding come from pedigreed ancestors and are vetted particularly for healthy genes and sweet-natured disposition. While they are a small breeder, they have the easier time of focusing on the most qualified dogs to breed. Dogs live inside the home so they're surrounded by home-life activities and get plenty of socialization.
Coastland Goldendoodles specialize in developing English cream colored goldendoodles that are imported from an English bloodline. Often referred to as teddy bears due to their appearance, goldendoodles are a perfect addition to a loving family.
One thing about this breeder which many breeders and customers view to be an ethical breeder characteristic is that they do not breed min-size goldendoodles. As many breeders have mentioned there are risks involved as well as a greater number of health issues that are common to the mini goldendoodle breed. It is surprising that breeders continue this line. Also, Coastland Golden Doodles are members of the highly regarded Guard Home breeding program.
Location: Victoria Ave, Ventura, California 93003
Phone: (805) 509-3303
Email: coastlandgoldendoodles@gmail.com
Visit: coastlandgoldendoodles.com
Now you have a few options for finding the best goldendoodle puppies for sale in California. You can use the list of top goldendoodle breeders as a starting point and from there it will be easier to narrow down your options in addition to making it easier to avoid common breeding scams and frauds. Remember to ask questions regarding the breeders history and if their puppies are properly vaccinated. Asking questions can help you make sure that you're dealing with a trustworthy and knowledgeable goldendoodle breeder.
Read Next:
The best Corgi breeders in California to go to
Best boxer breeders in California (choose one of these)