Anyone located in the California area will be happy to know that there are plenty of reliable Poodle breeders in the area. These cute, intelligent pups are known for their non-threatening demeanor and quick wits. Lovers of the breed love them for all aspects, including looks, athletic abilities, and intelligence.
If you're on a search to add a new furry addition to your home, then you may be worried about which breeders will give you a purebred. Don't worry, as we've located the best poodle breeders in California and will help you get in touch with them.
The Best 7 Poodle Breeders located in California
When it comes to finding your new Poodle pup, you'll want to make sure you get a breeder that understands the whole process. Professional breeders will ensure that the parents and the puppies don't have any genetic diseases like hip dysplasia, Addison's disease, and thyroid issues.
However, most poodle breeders have a strict spay and neuter policy that prevents people from breeding their bloodlines. If you're looking to compete or breed poodles, you will likely have to look at different companies. We wanted to focus on dogs that are mainly companions rather than competitors.
Aside from that, they will understand the training and care it takes to socialize the pups from a young age. Poodles are very smart, but they can quickly get into trouble. Below, we'll provide a list of the Poodle puppies for sale in California.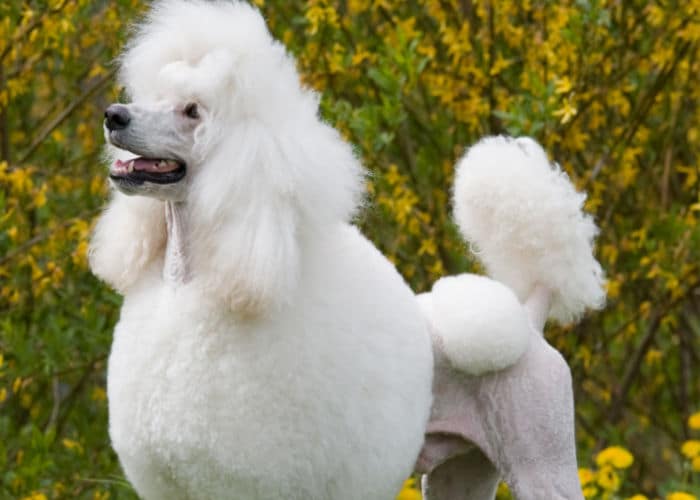 Silver Ace Poodles is run by Karen in Elverta, California, and focuses on breeding multiple types of poodles. She has several dog breeds, including your standard poodle, red standard poodles, toy poodles, and Yorkies. She's been in the business for a long time and is very reputable in the area.
All of the dogs have prestigious pedigrees and are of good genetic standing. For temperament, all pups are raised inside her home and interacted with daily. She has multiple dogs that she breeds, so there will always be litters each year. Since she has multiple puppy breeds living at her home, the pups get well associated with other animals, which helps their temperament in the long run.
To get on the waitlist, you will need to provide some background information. Karen wants to ensure that these dogs will be placed in a forever home, so she screens applicants. For first-time owners, she will provide additional information so that owners know how to properly care for and raise their poodle pups.
Contact Information
Phone: 1-916-715-5334
Email: silverace656@aol.com
Facebook: https://www.facebook.com/silverace656/
Next: The best California Dog Breeders to get your puppy from
Black Maple Standard Poodles is a small family-operated breeder located in Southern California. They have more than a decade of experience breeding and raising pups, ensuring that they know what they are doing. Specifically, they breed poodles and are known to take their work seriously.
All dogs are carefully monitored before, after, and during breeding. Parent dogs are paired based on health compatibility and temperament. That way, the pups will have good dispositions while also being adorable. The parents are also genetically tested and orthopedically to ensure the puppy's health.
Their website is consistently updated on available puppies and litters. However, you will need to fill out a puppy adoption application. This helps ensure that you understand and know how to care for the dog. Even if you don't, they will provide helpful information on what you'd need to properly take care of your new pup.
Contact Information
Phone: 1-951-514-8160
Email: blackmaplestandardpoodles@gmail.com
Facebook: https://www.facebook.com/BlackMapleStandardPoodles/
Instagram: https://www.instagram.com/blackmaplestandardpoodles/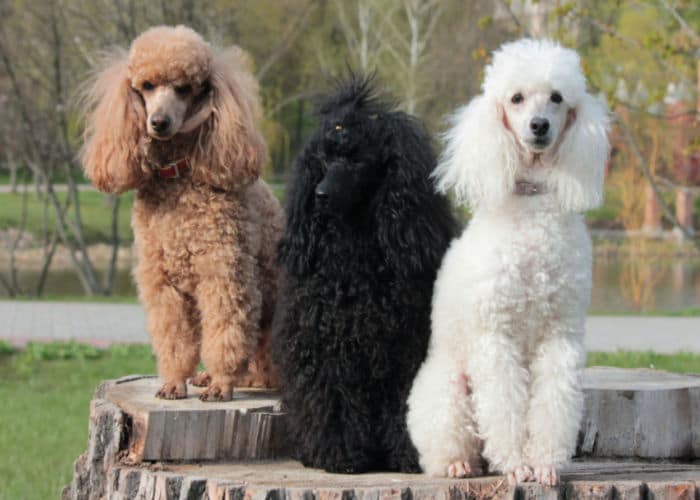 Eleni's Moonstruck Poodles are located in Southern California and focus on breeding dogs with sound health. Not only that, but they also base their breeding practices on the dog's temperament and conformation. Before any dogs are bred, they are also put through intensive screening to ensure that nothing gets passed down to the pups genetically.
Their poodles are officially AKC registered and are DNA tested for prcd-PRA and rcd4-PRA. Aside from that, they are also screened for other known poodle health issues such as osteochondrodysplasia and vWD.
Once the puppies are born, they are spoiled with lots of attention and are taught to socialize. They are also taken to the vet and dewormed, microchipped, and tails docked long before heading out to new potential owners. The puppies are also given all vaccines to ensure that they stay healthy.
Eleni's Moonstruck Poodles have various poodle types available, including black, red, silver, apricot, and cream. The puppy's price will depend on the color and fur type, as some are more difficult to breed. Unfortunately, they do not offer to ship, so the pups will have to be picked up in person.
Contact Information
Phone: 1-619-405-6040
Email: eleni@moonstruckpoodles.com
Facebook: https://www.facebook.com/MoonstruckPoodles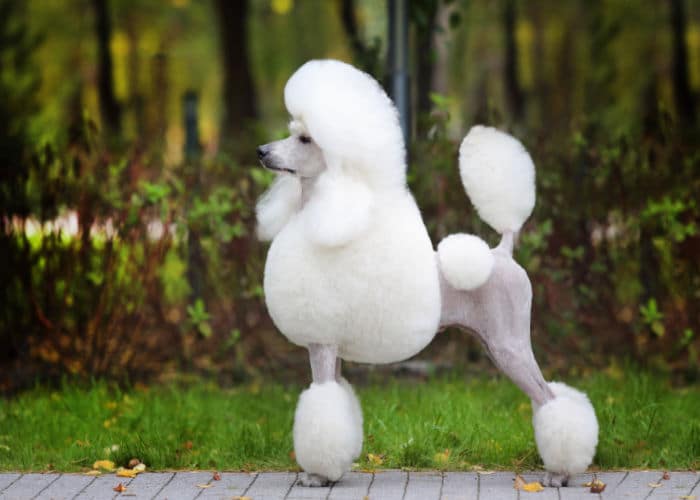 Hidden Meadows, California, is a breeder located in Southern California. They focus on providing AKC standard pups, as the parents used for breeding were former champions. Not only that, but the dogs are also cleared of all genetic diseases and are very healthy in both physical and mental health.
Puppies are raised in the breeder's home and are given a lot of love and attention. Aside from that, the pups are closely monitored for any health defects. Before puppies go to their forever home, they get their shots and are dewormed.
All puppies come with a two-year warranty against hip dysplasia and one year warranty for genetic diseases. If you're looking for a specific fur color type, they have solid colors, tri coloring, and rare merle color.
Potential puppy owners will need to put down a $500 non-refundable deposit to wait for the next litter. Aside from that, the pup's pricing starts at $1,800 and can continue by a few thousand, depending on the fur type. Luckily, the breeders can provide shipping anywhere in the United States.
Contact Information
Phone: 1-951-809-2339
Phone: 1-951-302-1443
Email: theprettynana@hotmail.com
Instagram: https://www.instagram.com/hiddenmeadows.poodles/
Facebook: https://www.facebook.com/hiddenmeadowspoodles/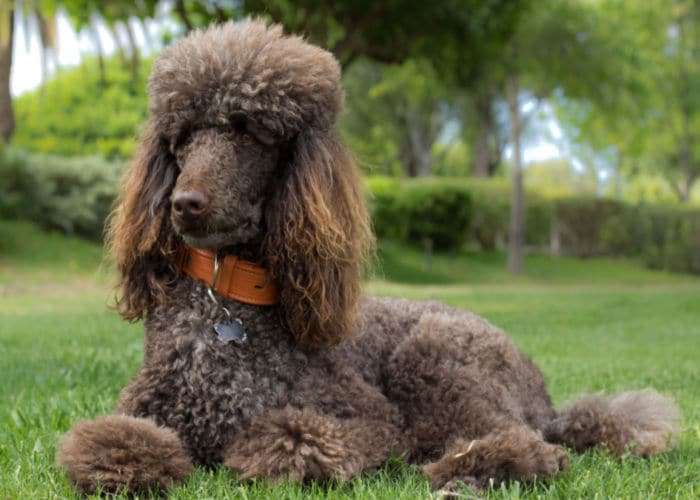 Royal Poodle Puppies is located in Auburn, California, focusing on producing healthy and lively puppies. They mainly focus on placing their dogs in a forever home with a family that intends to love them. Those interested in a pup will also need to fill out a questionnaire that helps gather your preference for puppy type and ensures you will understand how to take care of it.
Puppies will start at $2,800 and can end up costing more depending on the fur type. Potential puppy owners will also be asked to sign a spay and neuter contract. A $500 non-refundable deposit also helps hold your spot on the waitlist. However, they offer weekly payments, which is a nice added bonus as not many other breeders provide this option.
The pups come with a one-year genetic health guarantee for defects. They also want to emphasize that their dogs are mainly companion dogs and NOT for breeding or competing. So, you will want to look elsewhere if you're getting a poodle for those reasons.
They also provide extensive support to anyone who purchases a pup from them. They like keeping in touch with the owners and would love to see pictures of you and the pup as they grow.
Contact Information
Phone: 1-916-628-4440
Email: myredpoodledog@gmail.com
Instagram: https://www.instagram.com/Royalpoodlepuppies/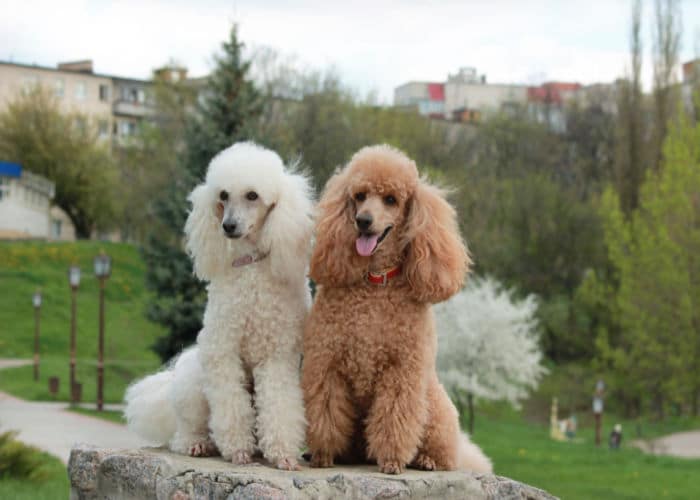 JMS is a breeder located in Oak Creek Center. The owner has a Bachelor of Science degree in Animal Science. They have more than 20-years of experience with animal breeding and understand the AKC requirements. Additionally, they raise each pup at home and ensure that they get a lot of love and attention from an early age.
The puppy litters are limited because they want to ensure that each pup meets its needs. This means that they don't overcrowd their business and focus more on the dog's health and well-being rather than pushing out as many puppies as they can. Once the puppies are born, they will get dewormed and vaccinated and get a verified health check from a veterinarian.
Puppy pricing is a bit expensive because this breeder offers a few different options. Parti puppies start at $2,800, while tri-colored poodles are priced at $3,400. To get on the waitlist, you will need to pay a deposit and fill out a questionnaire. Unlike other breeders, this one enjoys interacting with new dog owners and can help get you situated if you don't know where to start.
We'd say that these are a good match for you if you're looking for colored poodles. Other breeders on our list don't provide much range in coat fur or type. Just be aware that the more "exotic" the dog is, the more expensive it will be.
Contact Information
Phone: 1-951-834-4017
Email: yourstandardpoodle@gmail.com
Facebook: https://www.facebook.com/yourstandardpoodle/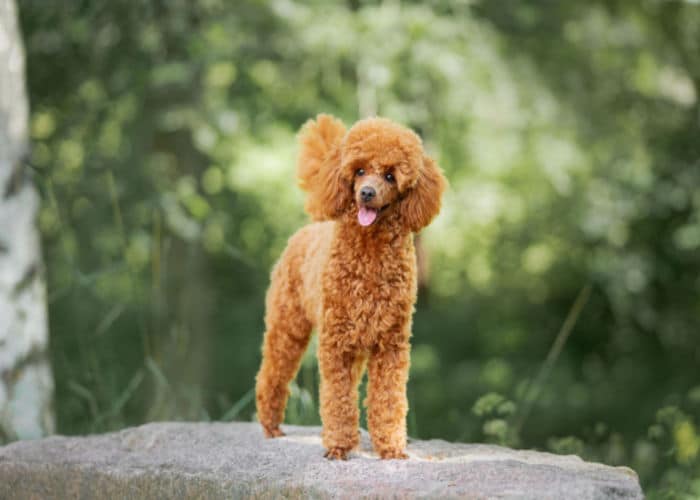 Precisely Poodles is located in Corona, California, and is a local business. The establishment owners have a long-standing reputation for breeding healthy standard poodles and follow Puppy Culture, ENS, and badass breeder protocols. Their dogs have excellent temperaments and are stunning to look at.
The puppies are raised in their home and are held each day. The pups are also socialized with other animals and children, which makes transitioning into a new home easier. All litters are genetically tested and won't have any diseases. Before going home, they will also get the appropriate vaccinations and be dewormed.
All the pups have limited AKC registration, a shot record, and a puppy care package. The breeders also provide a health guarantee and lifetime breeder support. Not only that, but the company also offers puppy preschool training, which can be helpful once your pup gets older.
Those interested in a pup will need to fill out a puppy adoption application. The application is approved on a case-to-case basis, as the breeders want to make sure that the dogs go to a good home. The current price of most of their standard dogs is $3,000, which is a bit expensive.
Contact Information
Phone: 1-951-970-8984
Email: preciselypoodles@hotmail.com
California Poodle Breeders FAQs
How Much Should a Poodle Puppy Cost?
Poodles are relatively common and more accessible to come by than other breeds. You can expect to pay anywhere from $500 to $2,000 on average if buying from a reputable breeder. However, the price is determined by the breeder's practices, including how much they pay attention to genetics, health tests, etc.
What is the Rarest Color of Poodle?
There is a bit of debate on what type of poodle color is the rarest. Depending on who you talk to, the rarest are said to be apricot, blue, and red. More tend to lead to the side where apricot-colored fur is the hardest to find and breed.
Are Poodles Good House Dogs?
Poodles are one of the best dog types to have around the home. They are great around other pets, but they are also very friendly with children. They have a gentle and polite temperament, which is perfect for households. The only downside is that they are a bit hypersensitive, which may affect them if they are around loud kids.
What is a Mayan Poodle?
A Mayan Poodle, also known as a Moyen or Klein poodle, is a medium-sized Poodle with striking black or dark brown fur. However, the medium size isn't recognized as the fourth poodle by the AKC or UKC. Instead, the size is only recognized by the FCI.
Conclusion
Finding a Poddle in the California area isn't that difficult. Still, you'll need to make sure that you find a reputable breeder. The ones we have provided we picked out because they have a long-standing track record with many people. However, we only have a small list, and there are also other Poodle breeders in the area that are just as good.
If you're going to go and look for other Poodle breeders, you will want to ensure that they have good dog breeding practices. Make sure that they pay close attention to genetic diseases and check the health of the pups and parents, because Poodles are prone to some health problems. Hopefully, we've helped connect you with a few breeders who you can contact for more information.
Read Next:
Top Goldendoodle dog breeders in California