Are you looking for a labrador puppy in California? It is easy to see why you want to get one of these gorgeous and smart dogs. The Labrador retriever is one of the most popular dog breeds in the United States. Labradors are intelligent and playful, and they have a friendly temperament, which makes them a perfect family dog.
So, where can you find one in California? You probably want to have a healthy dog and pay a fair price. Since there are many dishonest people, we have selected eight of the best labrador retriever breeders in California who you can trust. In this article, you will find all the information you need, so that you can make the right choice.
Top 8 Labrador Retriever Breeders In California
Location: Los Angeles, California
Phone number: (818) 527-1515
This breeder is a member of the American Kennel Club specializing in stud service, and it is known as one of the most reputable breeders in California. They breed several litters a year, so you can find either tan colored or black labrador retriever puppies throughout the litters.
The puppies from this breeder are certified for health because the breeder conducts the necessary health examination and checks for such health issues as elbow dysplasia, and hip dysplasia (one of the most common health issues in Labradors), congenital cardiac disease, and others.
In addition, the stud from the Castlecreek Labradors has won multiple awards, including the title of grand champion. Therefore, by buying a puppy from this breeder, you receive a healthy dog from the championship bloodlines.
Here is a list of services provided by the Castlecreek Labradors:
Stud service
Professional advice and tips and assistance in raising Labrador retriever puppies.
Next: Best overall California dog breeders to go through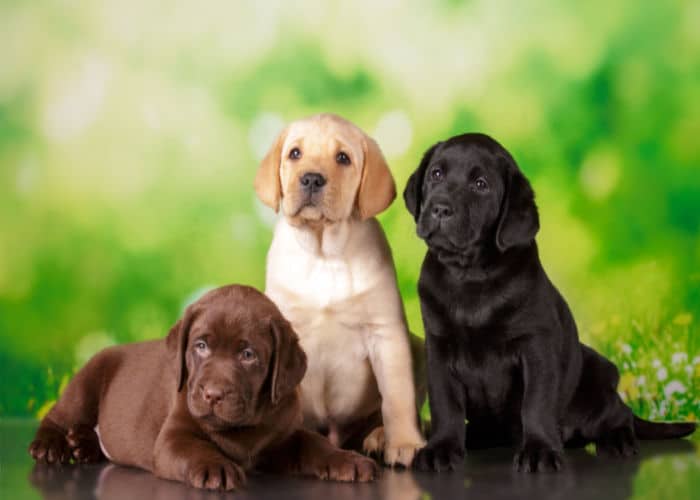 Location: Northern California
Phone number: 530-277-1775
This is a professional breeder team located in Northern California. The owners are Butch and Cindy Ellis, who have been breeding and raising different dogs, including Labrador retrievers. Their Labradors are top-quality dogs that become excellent family companions and friends.
Cindy and Butch live with their parent dogs together in the Central Valley of Northern California. They consider their pooches family members, so they do not keep their canines in crates or kennels. They make sure they spend enough time with their Labradors in order to raise them as social and happy dogs. Their canines are more than just beautiful dogs – they are titled therapy and performance pooches that provide devotion and love to their owners.
Cindy and Butch Ellis also specialize in stud services, including fresh chilled and frozen semen that can be shipped worldwide.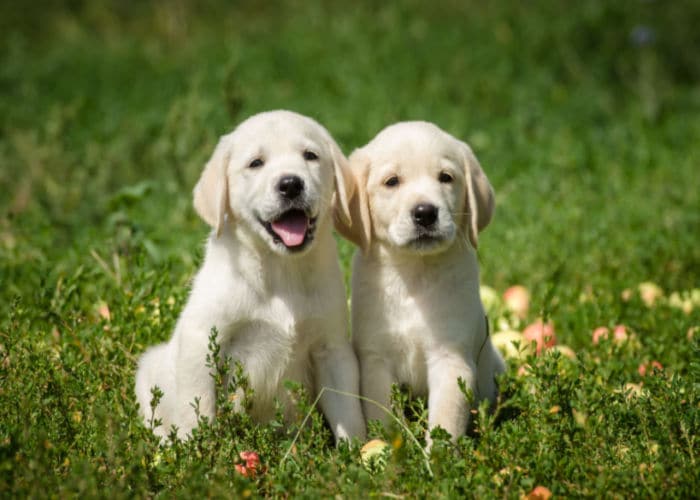 Location: Sebastopol, California
Phone number: (707) 787-5227
It is another top-quality labrador retriever breeder located in Sebastopol, California that was founded by Laurie and Ted Soloski in 1984. It is one of the most famous breeders in California that has been in this business for over 30 years. It is actually one of the oldest breeders in the area. Kentfield Kennels have a lot of positive reviews, testimonials, and happy customers. Even professional dog training schools and service dog organizations go to this breeder for lab puppies.
If you are a resident of Sebastopol, California, or any other nearby town, and you want to buy an intelligent, and friendly labrador puppy, you should definitely contact this breeder and discuss all the details. Dogs from Kentfield Kennels are known as healthy and strong pets that undergo regular health checks. By buying a puppy from them, you receive a top-quality puppy with all the necessary up-to-date medical care. Also, the puppies from this breeder are usually described as active and enthusiastic pooches that like playing and learning new tricks.
As a top and professional breeder, Kentfield Kennels do not keep and raise their canines outdoors. They are members of the breeders' family and always socialize inside. Every day they receive a lot of attention, love, and affection.
Another reason why you should consider this labrador breeder in California is their foster dog breeding program. Under this program, a foster family is provided with an opportunity to keep one of the dogs as a foster under an agreement, while puppies born from these dogs are sent to nonprofit organizations.
Every Labrador is registered at the American Kennel Club, microchipped, and a member of the American Kennel Club reunite programs. All breeding dogs undergo thorough and serious testing that confirms that they do not have any health issues that prevent them from being bred.
At Kentfield Kennels, they also pay attention to dogs' socialization because it is an important part of a puppy's development and breeding process. Puppies play with people, including both kids and adults, and interact with other dogs, as well as other animals. The breeder makes sure that they are exposed to various experiences, which has a positive impact on their socialization.
The breeder also uses special training methods that are not used by other breeders. One of them is the Super Dog Program that is focused on helping every puppy become smart, happy, and confident. During this training, a lab pappy is introduced to bait training, crate training, outside potty training, several important hand signs, and voice commands.
All puppies have their vaccinations and shots done before the age of 8 weeks. They also have all the records of their dewormings. In order to get on the breeder's waiting list, a $200 deposit is required. The good news is that the deposit is refundable, meaning that the breeder will return your money if you could not find the puppy you want.
Here is a list of services that this Labrador retriever breeder offers:
Training of service and hunting dogs
Providing foster opportunities to interested families
Helping new owners with health insurance for puppies
Providing service dogs to veterans, children in need, and people who need a diabetes detection dog
Providing assistance on the American Kennel Club membership.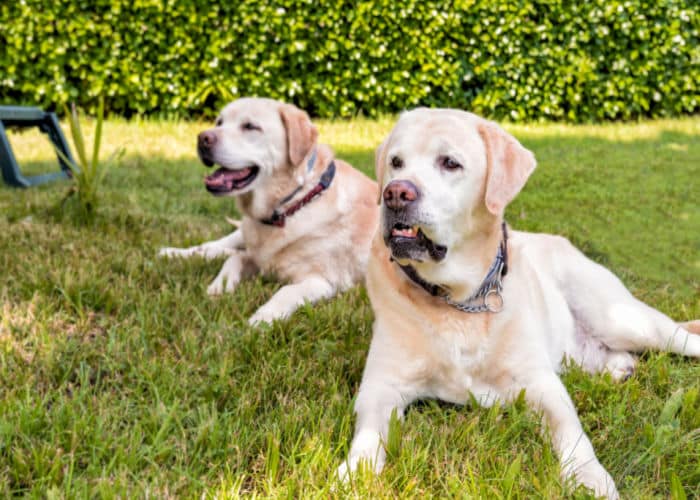 Location: North of Los Angeles, California
Phone number: (661) 823-9412
Quail Canyon Labs is one of the most famous labrador retriever breeders located in Southern California. It specializes in breeding and selling all types of Labradors, including yellow, chocolate, black, and fox red. It is a very well-known breeder that boasts the highest-quality English Labradors in entire California.
Puppies from this professional breeder are known as friendly pets with stable temperaments because they are raised with care and love. They will become perfect family members and are especially perfect for families with kids.
At Quail Canyon Labs, they raise puppies for different purposes. For example, if you are buying a dog for hunting and games, you should also contact this breeder because their dogs are trained properly.
An interesting fact about this breeder is that their puppies are nurtured and trained as a group and individually. First, puppies are trained in groups. Puppies are always on their daily routine of the train, play, naps, and cuddle times. They also receive lessons on bathroom breaks, dog doors, and socialization, so they can adapt to a new environment in a new family quite fast. Also, all puppies are vaccinated and have been dewormed, so new owners do not have to worry about their health.
Here are the services provided by this breeder:
Professional advice on how to train, nurture, and raise your pooch.
Help to improve the intelligence of dogs
Regular deworming and vaccinations
Carrying out examination, evaluation, and tests of all dogs.
Professional training teaching puppies to be friendly and stable
Training dogs for special activities, including hunting, games, and sports.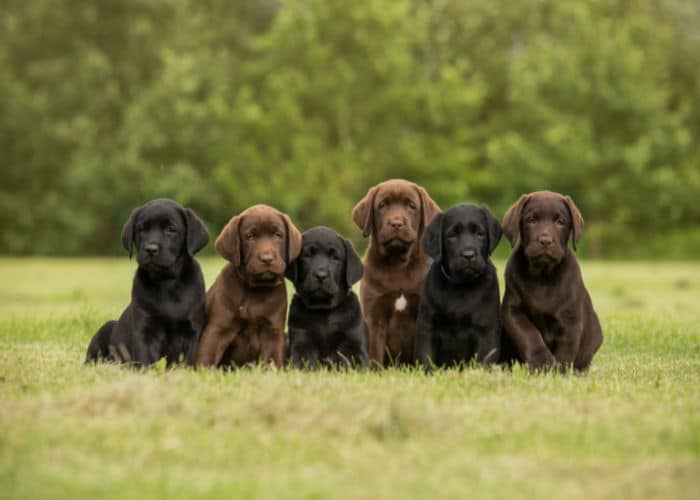 Location: Prunedale, California
Phone number: (408) 540 8999
Stofer's Labs is another experienced labrador breeder in California that focuses on producing beautiful labrador retrievers with mellow and stable temperaments. At Stofer's Labs, you can get any type and color of Labrador retriever, including yellow, chocolate, white, and black. There are also different body types available; you can choose an American lab with the athletic slender build or the English Labrador with the blocky headed build. Regardless of the body type and color you prefer, all puppies from Stofer's Labs can become excellent therapy and service dogs, or excellent family members, best friends, and companions.
The most important aspect of breeding and raising dogs for this breeder is socialization. At Stofer's Labs, they make sure that each pooch is exposed to socialization as early as possible. They are all home-raised from the moment of their birth and are exposed to the regular routines and noises of family life. They also learn how to interact with people of different ages, which helps them to adjust quickly and easily to their new homes.
Before being added to the breeding program, all breeding dogs of Stofer's Labs are certified as healthy. All pups are selected from championed lines and tested for heart conditions, eye disorders, infections, or any possible health issues and threats that are common for Labrador Retrievers.
When Stofer's Labs breeders sell their puppies, they always make sure that their puppies have the required health certifications. They also sell their pooches on limited American Kennel Club registration only, which allows to protect puppies from opportunistic breeders and puppy mills.
The breeder sells puppies with a guarantee free from hip dysplasia and other similar health disorders, and the duration of this guarantee is 27 months.
Buying a puppy from Stofer's Labs is not a quick and easy process. First, you need to pay a $500 deposit to be placed on a waiting list and then fill out a reservation form. The average price of a puppy is $3,000. The breeder will give you money back if you can't find the dog you wanted.
Other services offered by Stofer's Labs include puppy training services that consist of potty training and basic crate training.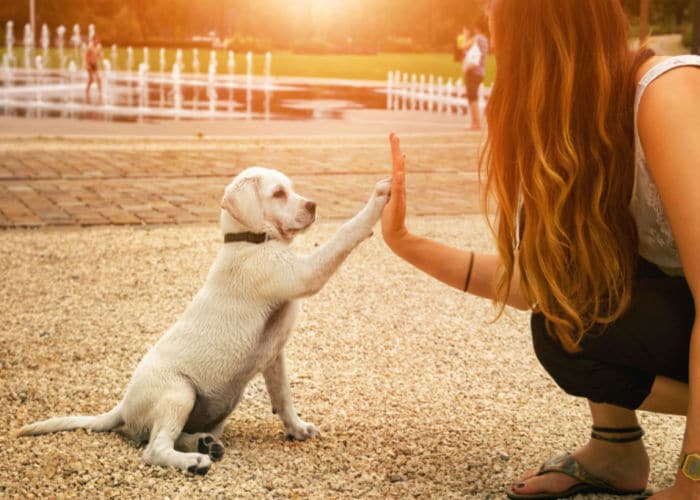 Location: Montague, California
Phone Number: (530) 598-0943
It is a family-owned labrador breeder with over 15 years of professional breeding experience that produces a lot of superior quality litters every year. It is located in the magnificent Shasta Valley, close to the Oregon border.
Unlike other labrador breeders, Marble Mountain Kennels have a unique mission. They produce labrador dogs that have gorgeous looks, great hunting instincts, proven pedigrees, natural pointing instincts, high intelligence, and terrific personalities. They breed and raise dogs that would be great family companions and natural champions in hunting.
For this reason, they carefully select breeding dogs to achieve their goal. Before adding a canine to the program, they check the dog's health and test for any existing health issues, including elbow defects, eye disorders, or hip problems.
Another important aspect of their breeding program is the temperament of a dog. At Marble Mountain Kennels, they make sure that each dog engages in early socialization. Socialization includes frequent interaction of dogs with kids and adults, so they can learn to communicate with people of different age groups.
In addition, these breeders expose growing puppies to various textures and sounds, so they can adapt to a new environment of their family in the future. Another unique feature of Marble Mountain Kennels is their partner breeding program, in which all their female breeding dogs are kept in partner families in order to make sure that each litter of puppies receives proper care.
Each puppy has a package of registered papers from the American Kennel Club, health certification, and a 26-month health guarantee free from such health issues as eye defects, hip dysplasia, and genetic conditions.
If you want to purchase a puppy from Marble Mountain Kennels, you need to pay a $300 deposit, be added to the waiting list, and wait. The price of puppies ranges from $2,300 to $2,900.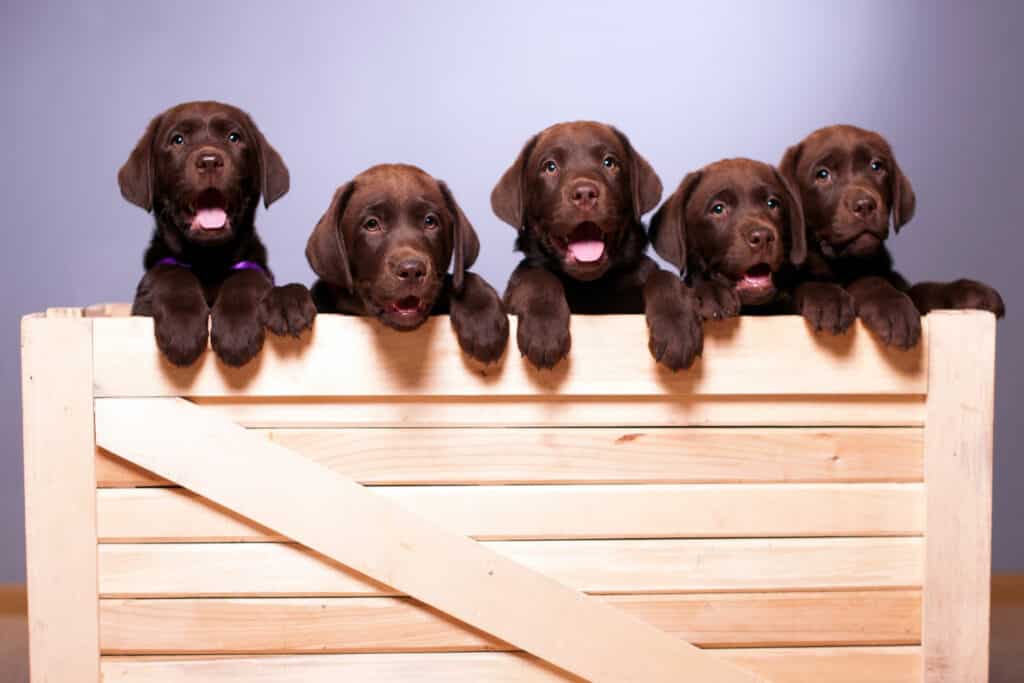 Location: Lodi, California
Phone number: (209) 727-0315
Another well-known breeder that offers labrador retriever puppies for sale in California is Micons Labradors that has been breeding top-quality English Labrador Retrievers in California since 1979.
It was founded by Connie Muellerleile and Tabby Whitaker who decided to produce Labrador retrievers of the colors white, chocolate, black, and yellow. Their primary goal was to breed dogs with calm and playful temperaments and strong health, so that they could fit in any family perfectly, with or without kids. They have become well known though for producing white Labrador retrievers.
They raise their puppies on a spacious property with two large yards, where they can run and play freely. Breeders keep their dogs in secure, comfortable, and clean kennels. At Micons Labradors, they also focus on the socialization of the puppies by providing canines with access to playpens. Puppies play there until they grow up and become big enough in order to play in the run yards.
Right from a very early age, every puppy is introduced to potty training. Breeders do it by adding litter boxes to their playpens. Every year, the American Kennel Club checks Micons Labradors for health and cleanliness to make sure that puppies are raised in a safe, healthy, and proper environment. In addition, every pup receives health clearance and certifications, including elbow and hip clearance provided by the Orthopedic Foundation for Animals.
Also, every puppy that found a new home has a health guarantee free from Exercise Induced Collapse and Progressive Retinal Atrophy till the age of 25 months. If a pooch suffers any of these health disorders, it will be replaced with another healthy puppy of the same sex and the same color.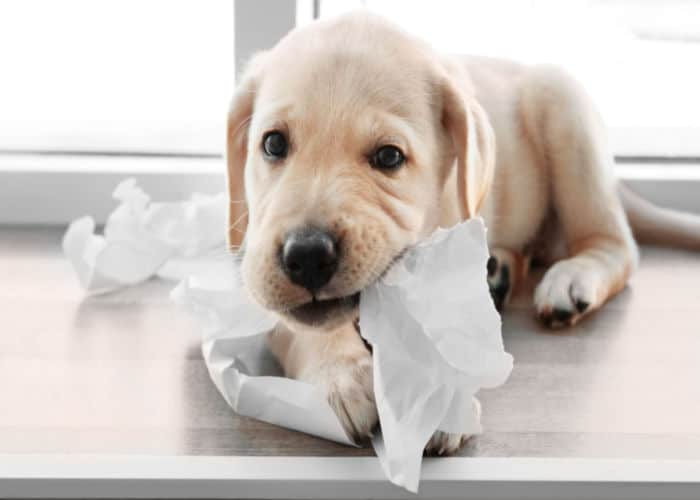 Location: Lakeside, California
Phone Number: (619) 443-8966
Another family-owned breeder that specializes in producing beautiful and healthy white and yellow Labrador Retrievers is Tender Oaks Ranch Labradors located in Southern California, not far from San Diego. Its mission is to produce high-quality dogs that will bring happiness and joy to any family. The breeder is well known for breeding great Labradors with excellent character traits, stable temperament, and high intelligence.
They focus on providing their dogs with a lot of space to run, play, and exercise. They believe that an active dog is a healthy and happy dog. That is why dogs are raised in their homes, not in kennels, where they receive enough affection and love.
Socialization is also an important part of their breeding process. Therefore, puppies begin to socialize at a very early age by interacting with kids and adults. Pooches are also taken on walks, they communicate with other canines, visit pet-friendly stores, and are introduced to various textures, smells, and sounds, such as vacuum cleaners, cats, cars, and other pets. At Tender Oaks Ranch Labradors, they do all they can to prevent socialization with negative stimulation as it may affect puppies' development.
Each breeding pooch receives a healthy certificate stating that the dog is healthy in general, that it does not have any health conditions, and has gone through all the necessary health checks. All puppies are registered by the American Kennel Club and are sold on the limited American Kennel Club registration only.
If you want to be placed on the waiting list, you have to pay a $500 deposit. The deposit is refundable, meaning that you will receive your money back if you do not find the puppy you want. Tender Oaks Ranch Labradors sell puppies with a 2-year guarantee free from any genetic disorders that are common for this dog breed.
If a puppy is found unhealthy or prone to any health risks after receiving it, you will receive your money back. A puppy can be returned to the breeder along with a certified report from the vet.
Conclusion
If you are looking for a Labrador puppy to become your family member in California, these are the top eight breeders that deserve to be on this list. If you did not see the breeder you like or trust on this list, you can keep looking. However, you should remember a few things. First, it is important to ask a breeder for health certifications and clearances, as well as for vaccination proof. Also, after getting a puppy, it is recommended to visit your vet to make sure that the dog is healthy.
Hopefully, you will be able to find a puppy that will become your best friend and four-legged family member.
Read Next:
Our top picks for goldendoodle breeders in California
Our top picks for Corgi breeders in California
Our top picks for English Bulldog breeders in California