Those searching for an English Bulldog pup in the California region will be happy to know that a handful of professional breeders are currently there. English Bulldogs are often one of the less popular dogs, but those that know their charm can't resist them. These pups are often dependable, predictable, and people-orientated dogs that make a great addition to the family.
We want to ensure that you get the best possible outcome when looking for your new pup. So, we've taken the time to locate the best Engish Bulldog breeders in California.
The Best 7 English Bulldog Breeders located in California
We wanted to make sure that you get the best experience when trying to adopt a new English Bulldog into your home. So, we scoured the internet for breeders who are essentially the "full package" and understand how to properly breed and interact with potential new pup owners.
Breeders on our list are also well aware of health issues that English Bulldogs have, such as Brachycephalic Airway Syndrome, hip dysplasia, and cherry eye. They do their best to genetically test the parents to ensure that these illnesses aren't passed down to the pups. So, here are English Bulldog puppies for sale in California.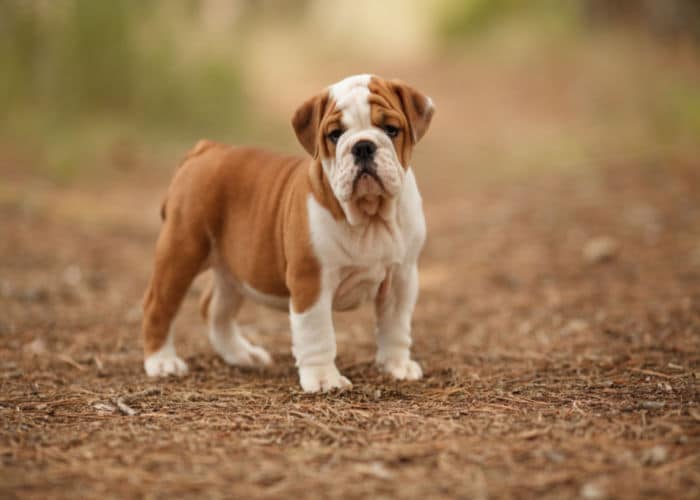 One of A Kind Bulldogs is located in San Marcos, California, and holds the standards set by the IOEBA and OEBKC. They do their best to carefully consider all factors before breeding their dogs together. Their strict selection process ensures that only the highest quality Olde English Bulldog puppies are born.
Unlike other breeders, One of A Kind Bulldogs has male studs, which are of the best qualities. They are given a nutritious diet and played with daily. This ensures that you're getting the best genetics for your pups. The girls are always health tested and are whelping mothers and nurture their young.
Potential pup owners will get a health guarantee and will have to fill out a form requesting the size, color, and type of pup they want. They have plenty of options and colors, including Standard Fawns, Brindles, Whites, Blacks, etc. They even have rare colors, like chocolate, lilac, and tri-colored.
Contact Information
Phone: 1-760-580-2293
Email: inquiries@oneofakindbulldogs.com
Facebook: https://www.facebook.com/OneOfAKindBulldogs
YouTube: https://www.youtube.com/user/oneofakindbulldogs/videos
Twitter: https://twitter.com/1ofakindbulldog
Next: Top California dog breeders to go to (our picks)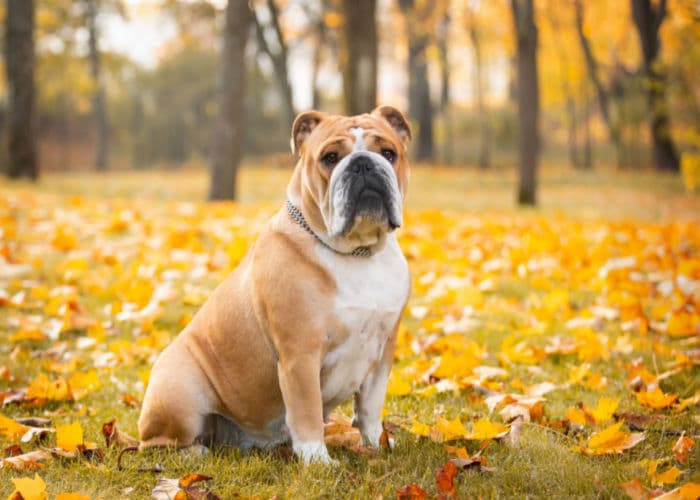 Sandov's English Bulldog California are breeders located in the Riverside, California area. They focus on producing high-quality AKC registered dogs that are happy and healthy. All parent dogs are checked genetically to help improve bloodlines before puppies are born.
Since the breeder works out of their home, all puppies are raised by their families around children. This helps boost the pup's social skills before heading home with a family. Aside from that, puppies all get vaccines and come with a health record. They are also sent to the vet for deworming and health checkups before being sent to their new owners.
Their website also provides valuable information about the parents and pups, including finding the best puppy food formula, health tests, color charts, and DNA chats. However, you will need to pay to get on the waitlist, and the puppy's price can range anywhere from $2,000 to $20,000, depending on its fur type.
Contact Information
Phone: 1-951-756-2034
Email: info@englishbulldogriverside.com
Instagram: https://www.instagram.com/sandovsenglishbulldog/?hl=en
Twitter: https://twitter.com/sandovsbulldogs?lang=en
YouTube: https://www.youtube.com/user/EyCTheTwins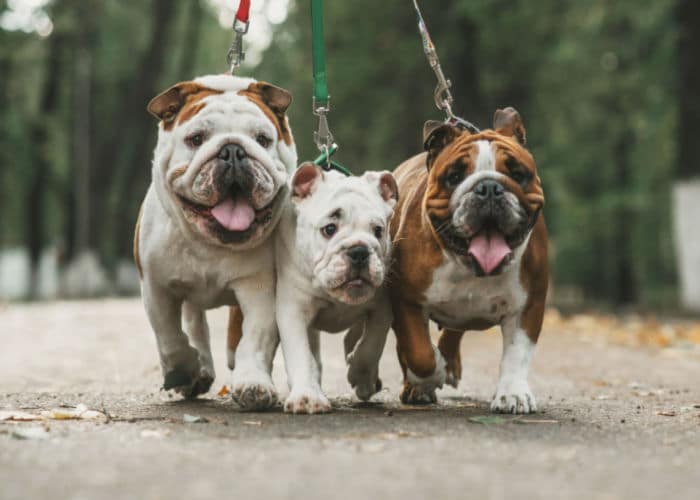 Seaside English Bulldogs California is a small family-owned breeder with a passion for the English Bulldog breed and is located in Seaside, California. Since they are so passionate, they emphasize the health of each parent dog to ensure the pups are genetically healthy and free from illnesses.
All of their parent dogs are AKC registered. They also provide information on the parents if requested, ensuring that you're getting what you're asking for. All parents and pups are genetically tested and carefully monitored to ensure that they don't have any diseases.
Since they are a small family-owned breeder, they have a waitlist and only a tiny liter each year. So, you may be put on a waitlist and can wait up to 12 months. To even get on the waitlist, you will have to submit a deposit.
Contact Information
Phone: 1-831-277-1221
Email: jenndorio5@comcast.net
Schoolyard Bulldogs California is a breeder located in Southern California with over two decades of experience. They breed multiple dog types, including French Bulldogs, English Bulldogs, Bull Terriers, and Neopolitan Mastiffs. So, it's safe to say that they understand the breeding process and what it takes to produce high-quality and healthy pups.
As a reputable breeder, they scan the parent's and pup's health to ensure that there are no diseases passed down. Aside from that, they also check the parent's temperament to help facilitate tame pups. The dogs are also socialized at home, as they run the business out of their home. So, dogs get plenty of attention and interaction with other animals, making them perfect for any home type.
All pups come with a health guarantee for one year and are registered with the AKC. They are also currently vaccinated and dewormed. Luckily, they have a few litters each year, so the waitlist isn't as long. If they don't have a litter, they can refer you to other local breeders who may have what you're looking for.
Contact Information
Phone: 1-760-388-9171
Email: engbull.gomez@gmail.com
Facebook: https://www.facebook.com/schoolyard.bullies.92/
Instagram: https://www.tiktok.com/@schoolyardbullies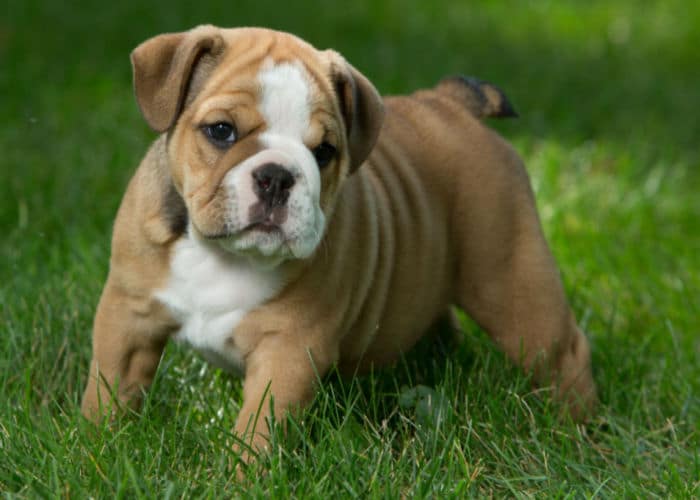 Big Bulldogs California is located in Vista, California, just north of San Diego. They have been in the business for a decade and have extensive experience with breeding English and French Bulldogs. They focus on producing healthy Bulldogs that are free from illnesses and diseases.
Aside from that, the owner works to help potential pup owners with helpful information such as puppy food, supplements, etc., to ensure the dogs' health. He also works to help new owners understand how to train the dogs for a good temperament.
All puppies come with a two-year health guarantee which ensures that the pups will be healthy. Before the dogs go home, they will get their shots, be dewormed, and will be taken in for a full health check. If you decide you don't want the puppy or things don't work out, they also take back the dogs as they don't want them going to shelters.
Contact Information
Phone: 1-760-580-6084
San Diego Bullies is a breeder located in the San Diego area. They focus on providing a decent selection of different types of English Bulldogs that are super healthy. Anyone adopting a pup from them will need to sign a spay and neuter contract and get a limited AKC registration.
All the pups are healthy, but in case anything goes wrong, San Diego Bullies provide a one-year health guarantee. Pups are also vaccinated, dewormed, and come with lifetime support. If necessary, they can give full AKC breeding rights but it isn't available for all puppies.
You will have to fill out a short questionnaire to help pair you with the perfect pup to get a dog. The breeder will ask about what traits you want the pup to have, which can impact the price of the dog. Depending on standard or rare colors, puppies can range anywhere from $3,500 to $5,500 or more.
Contact Information
Phone: 1-858-522-0085
Email: sdbullies@gmail.com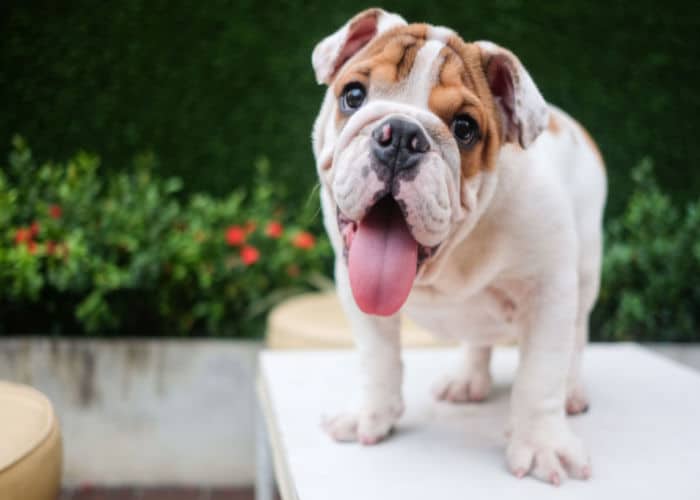 Woodcreek Ranch Bulldogs is located in Woodcreek, Wildomar, California. They focus on creating champion bloodlines recognized by the AKC. The breeders also work closely with the Angel Care Animal Hospital to help ensure all of their dogs and pups are as healthy as possible.
You will need to apply to their waitlist for a nonrefundable fee to get a pup. This ensures you are one of their pups and is transferable if the litter doesn't have what you're looking for. There are many litters born each year, which ensures that there are plenty of choices.
Their website is updated frequently on when pups are available or when a litter is about to be born. If you have any questions, you should feel free to give them a call, text, or email to get more information. Pricing can vary depending on what the pup looks like and its fur color.
Contact Information
Phone: 1-951-805-8718
Email: mariebassett1@outlook.com
California English Bulldog Breeders FAQs
How Much Do English Bulldogs Cost in California?
There is considerable variance in the price of English Bulldogs. Typically, you can expect to pay anywhere between $1,500 to $4,000 for a purebred. However, this highly depends on color, genetics, pedigree, etc.
How Much Does an Exotic English Bulldog Cost?
English Bulldogs can come in some fascinating different colors and fur patterns. For an exotic one, such as a Merle English Bulldog, you can pay anywhere between $9,500 to $35,000. This is because the fur type is tough to breed for and is considered rare.
What is the Rarest Color for English Bulldogs?
The rarest color for an English Bulldog would have to be the Merle. A Merle features a tricolored fur with spots all over. The Merla is known for being rare because many health conditions are tied to the color of its fur.
Are English Bulldogs Aggressive?
English Bulldogs may not look the part, but they are definitely friendly to humans. They are good family dogs and are often known for their playful behavior. So, they are not aggressive dogs and will only become so when they feel threatened.
Conclusion
As you can see, there are plenty of English Bulldog breeders located in the California area. There are also others, but we've only included the best breeders that are professional and have a good reputation. You can also feel free to find other breeders if none of those mentioned above fit your needs.
Of course, you should also keep in mind that reputable breeders will have a long waitlist. So, be sure to factor that in before you apply to become a pup mom or dad. Hopefully, our summary has helped connect you to a few English Bulldog breeders that you can reach out to.
Read Next:
Best Labrador Retriever dog breeders in California
Best Goldendoodle dog breeders in California
Best German Shepherd dog breeders in California