Anyone looking for the best boxer breeders in the California area will be happy to know that there are a bunch of reliable breeders. Boxers are strong and diligent dogs that are loyal to their families. The breed also makes excellent family dogs, and their strong exterior adds to their loveable teddy bear side.
If you're worried about the process of finding a breeder, don't worry. We've done research to find the best boxer breeders in California and can help you find some reliable breeders located in the area. That way, your puppy adoption process can be a little less stressful.
The Best 7 Boxer Breeders in California
We've taken the time to look through the top boxer breeders located in California. We look for a good breeder to understand every aspect of the breeding process. This may include scanning for genetic diseases, consistent health checkups, and following standard breeding procedures.
That being said, we also look for breeders who know how to socialize their pups. Boxers can tend to be a bit aggressive because of their high energy. However, with proper care in their early life, they can become well behaved. So, here are the boxer puppies for sale in California.
Anden Boxers is a breeder that is located in Southern California. These breeders have won multiple nationwide competitions hosted by the AKC for their dogs. All puppies bred are also up to standard with the AKC, which is good if you're looking for a purebred puppy.
What stands out about them is that they focus on providing early socialization for their pups by taking them to different environments and interacting with other dogs. This can help prevent puppies from not learning social cues from humans and other animals. Plus, the puppies are also monitored from the time they are born to get proper nutrition to grow up strong.
If you're interested in a puppy, you'll have to contact them through their email to get put on the waitlist. Most people tend to wait anywhere between 6 and 14 months because they only have a few litters each year. So, you will want to take this into consideration when applying.
Contact Information
Email: Andenboxers@msn.com
Next: Best California dog breeders to choose from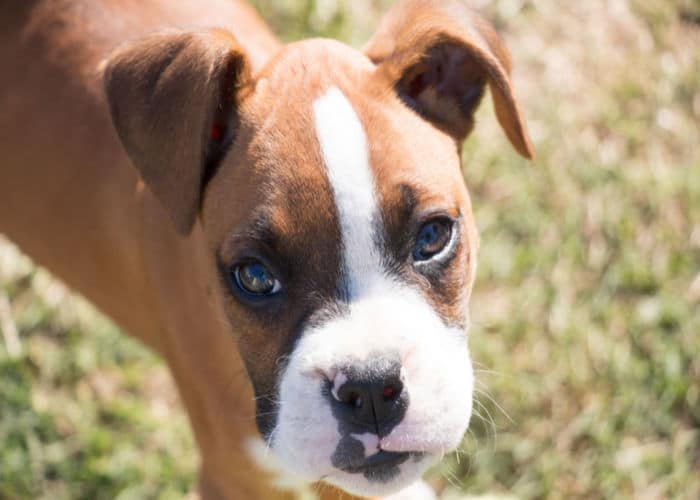 Telstar Boxers is a breeder who is located in San Diego, California. If you're looking for breeders who understand what they are doing, then you can't go wrong with relying on owners Jennifer and Gene. Their breeding business has over 35 years of experience and is the top-rated Boxer breeder in California.
With more than 75 AKC Boxer champions, Telstar has a thorough breeding program that ensures the parents and puppies are mentally and physically healthy. The health test each parent to ensure that they don't have any underlining diseases that could be passed down to the pups. Aside from that, they also monitor each puppy's health to ensure that they don't have any issues before going out to their forever families.
They have plenty of litters each year, so the waitlist generally isn't that long. However, they do have a short screening process, as they want to ensure that their puppies are going to good homes. So, be sure to feel comfortable providing them with information about your home and background in handling Boxers.
Contact Information
Phone: 1-760-742-0479
Email: gotelstar@aol.com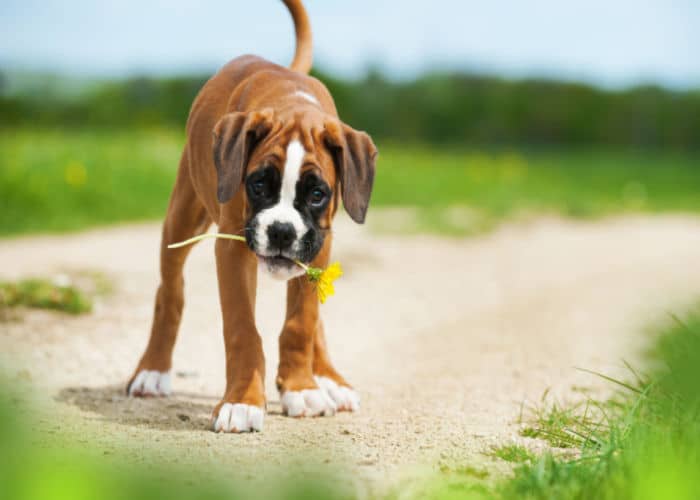 Another long-standing Boxer breeder in the California area includes Encore Boxers. They are based out of Exeter, California, and have been in the business since the early 1970s. The main person in charge of the company is Cheryl Cates, and she focuses on providing healthy and happy dogs.
Unlike other breeders, Cheryl focuses on raising dogs with good temperaments. She ensures that they are thriving by being socialized at an early age to be ready to transition to new homes. Aside from that, she takes extensive steps to ensure that the dog's parents have good health and no genetic conditions.
When purchasing a pup from her, you will need to provide a bit of information about yourself. The puppy will come with a health guarantee, AKC registration papers, and some of their toys to help ease the transition.
Contact Information
Email: showcates@aol.com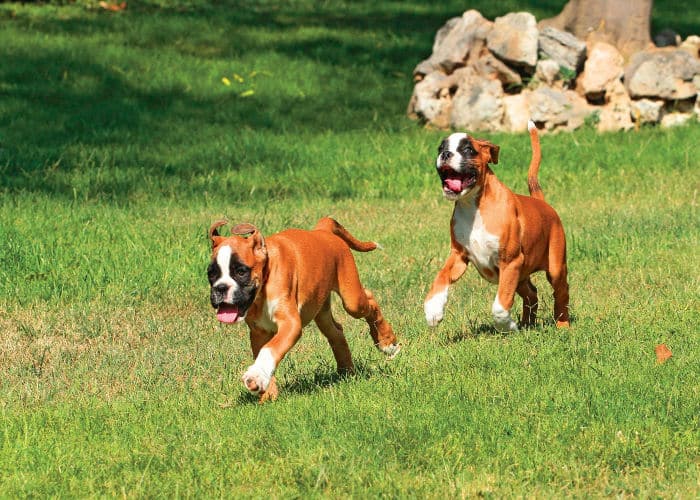 Black Dymond is a breeder who is located in Gait, California, which is near Sacramento. These breeders focus on producing show-quality AKC puppies and look for people interested in competing. Due to this, many of their puppies go through extensive training and health inspections to ensure a good temperament and physical health.
The pups are trained for good temperament by doing early crate training and spending a lot of the time wandering the property. Early socialization with the environment and other humans can help prevent aggressive behavior in the future. The breeders focus on also providing plenty of physical exercise to their pups to also ensure that they are physically healthy.
If you're interested in a puppy, then you will have to contact the breeder and fill out a questionnaire. Their waitlist can take up to 12 months if they aren't expecting a litter anytime soon. Each puppy comes with a 24-month health guarantee, and the pricing ranges from $1,200 to $2,500.
Contact Information
Phone: 1-916-595-2462
Email: blackdymondboxers@gmail.com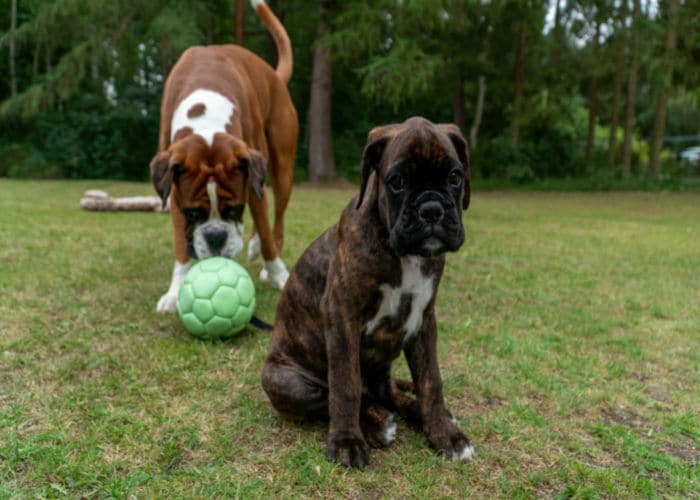 Baldwin Boxers is located in Devore, California, and focuses on providing quality pups. They focus on breeding puppies that are good in both health and temperament and who can compete like a champion. For those who want a complete breakdown, they can view their health records and lineage online or request it from the breeders.
Before you're skeptical, Baldwin Boxers have a long-standing history of competing in Boxer show dog competitions. So, they know what it takes to raise a pup who can compete and win. Aside from that, all of the puppies will be AKC registered, and they will double-check for genetic diseases and health conditions.
Right now, their website isn't up and running, but their Facebook page is. So, you can still contact them there with any questions. They will also provide a questionnaire that helps ensure that you understand the responsibilities of owning a pet alongside knowing you can care for it.
They do have a waitlist, so you will have to apply first and then wait until a litter is born. This can take up to a few months to a year. All puppies come with a health guarantee and lifetime support, which is very generous of them to offer.
Contact Information
Phone: 909-957-1361
Email: focusgfm@aol.com
Facebook: https://www.facebook.com/baldwinboxer/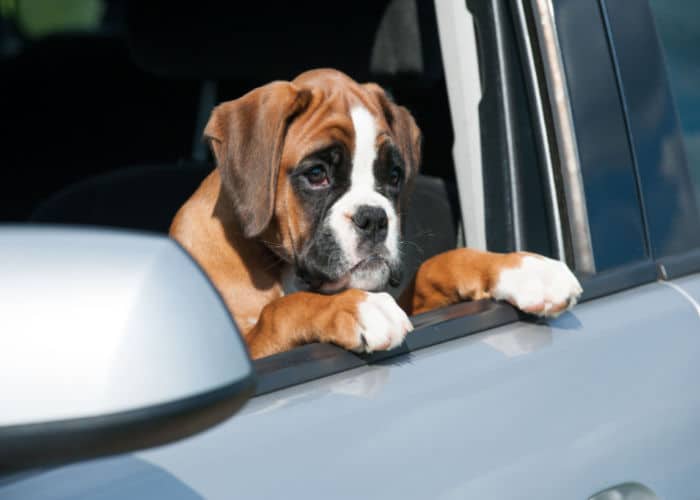 Soleil Boxers are located in San Francisco, California, and their company focuses on breeding correctly. Ran by Katrina and Richard Sun, the couple has been in the business since the early 2000s. They take breeding seriously and want to ensure that the parents and pups are in the best health.
Unlike some of the other breeders on this list, they focus on both show dogs and family dogs. Each litter is carefully planned as the pups and parents are carefully monitored throughout the whole process. The parents are also good in temperament, which ensures that the puppies won't be too aggressive.
Not only that, but they also do multiple health tests to ensure that there are no genetic issues with the parents and pups. All dams and sires are AKC registered and are up to standard. This ensures that you're getting a perfect Boxer pup.
If you're interested in getting a pup from them, you will need to check their website. There, you will find all sorts of information, including their pricing and shipping policies. One of the key benefits of the breeder includes an open-door policy that allows you to return them at any time.
Contact Information
Email: soleiboxers@gmail.com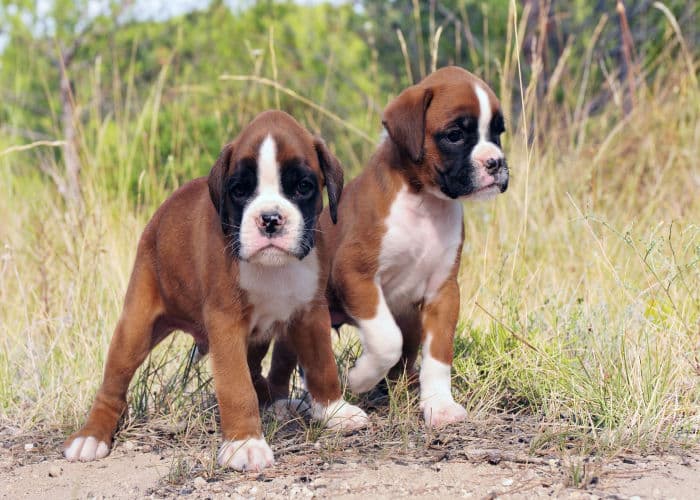 Sublime Boxers is located in Riverside County, California. They are a family-orientated breeder who focuses on providing Boxer pups with loving forever homes. Aside from that, they also concentrate on show dogs as well, which is a nice plus. Additionally, they have over 32 years in the business, which ensures they know their stuff.
Health is their top priority, so their dogs are dewormed every three months and are up to date on all their shots. They also go in for regular health checks to ensure that the parents are in top condition before breeding. Additionally, parents are given NuVet, which is a vitamin and antioxidant-rich supplement to help ensure that they are strong.
The parent's temperaments are fun and loving, and they have distinct personalities. Sublime is currently in the top seven best Boxer breeders in California.
The pups are well monitored and have large pens to run around in. They include a 1-acre yard which enables the pups to interact with the outside environment. Puppies are also handled daily to help promote a good and loving temperament.
If you're interested in a pup, you get a one-year health guarantee from the breeder that can be extended up to two years if you keep your pup on NuVet. For litter availability, you'll have to contact the breeder via email or on the phone. The waitlist can take a bit of time since they don't have a huge litter.
Contact Information
Phone: 1-951-775-3491
Email: Boxerlove56@gmail.com
California Boxer Breeders FAQs
How much is a Boxer puppy cost?
Buying a purebred Boxer puppy can cost you anywhere between $800 to $2,800. The price will depend on several factors, including whether they are purebred, in good health, or gender. The average price you should expect to pay can be around $2,000.
Where can I find a good Boxer puppy?
Boxers are known for being aggressive due to having an abundance of energy. Finding a good pup will require that you find breeders who focus on socializing their dogs and providing discipline through puppy training. Look for breeders with parent dogs who have assessed their temperament, gender, and genetics.
What are the 3 types of Boxer dogs?
The Boxer family includes the American Boxer, German Boxer, and English Boxer. An American Boxer is taller than a German Boxer and has no wrinkles. German Boxers are stockier, and their coats have wrinkles. Lastly, an English Boxer is slightly taller than the American Boxer and has larger paws with smaller knuckles.
Other differences include color variation and their temperaments. Each Boxer dog breed type is different, so be sure to do your research before choosing one.
What should I look for in a Boxer breeder?
Look for reliable breeders who have a long-standing reputation for producing healthy dogs. You also want to see that the breeder understands how to choose good bloodlines of healthy pedigree and is free from health defects. Additionally, make sure that Boxer breeders understand the importance of obedience at an early age and focus on socialization from a young age.
Conclusion
Finding a reliable Boxer Breeder can be difficult, mainly because there are so many breeders in the California area. However, we've taken most of the stress out of the process by providing you with the most reputable breeders in the area. If you don't like the above breeders we've provided, we suggest that you keep in mind a few tips for selecting a breeder.
Always be picky with the breeder you are applying to, as Boxers need breeders who understand their temperament. Unlike other docile breeds, Boxers need a strict environment that helps them stay in control of their high energy. Hopefully, we've helped you find a few Boxer breeder options that can help connect you to your future puppy.
Read Next:
Corgi puppies for sale in California – Best Corgi breeders California
Cavapoo breeders in California – Cavapoos for sale
Goldendoodle breeders in California – Goldendoodles for sale
English Bulldog puppies for sale in California (best breeders)