A good German Shepherd breeder pairs the best German Shepherds to preserve the German Shepherd breed as well as the breed's health. Reputable breeders can answer important questions easily and with transparency. So if you're searching for German Shepherd puppies for sale in California, you should only buy from trustworthy and respected breeders. Questions you can ask a breeder to gauge how qualified they are include things about whether the puppies' parents are certified, if they've had health problems, and what preventative care is offered. Here's a list of 8 of the best German Shepherd breeders in California.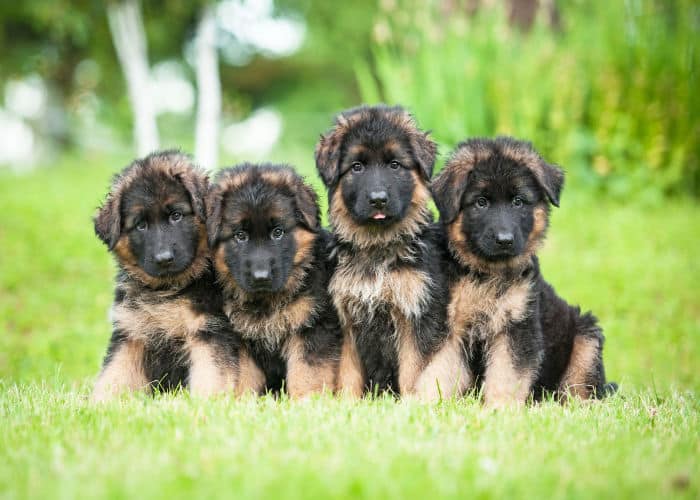 Background
Lundborg-Land breeders have over 30 years of experience breeding German Shepherd dogs and are located in the Southern part of California. All dogs at Lundborg-Land are bred from high-quality Schutzhund German Shepherds. German Shepherds born at Lundborg-Land are born on a spacious and beautiful 100 acre piece of land set in the Gavilan Hills of Lake Mathews, Riverside, California. Each dog has plenty of space for exercise, play, and training.
The dogs receive Schutzhund training surrounded by hills, spacious land, and a cool creek nearby. Large barns allow the dogs plenty of space to run until they make their bed in cozy 12 X 6 kennels. If you don't know already, Schutzhund German Shepherds are dogs that train and test for their levels of obedience, tracking, and protection skills. Schutzhund is considered a type of sport.
Dogs and Puppies
Once a female is officially pregnant and the pregnancy is confirmed, you may offer a non-refundable deposit of $500 to secure your puppy. Puppies are born in the home and viewed on a number of different video cameras each day. Visitors and staff interact with the puppies to ensure socialization takes place right away. You may see pictures of the puppies and dogs on their website. When you pick up a puppy or dog from Lundborg-Land you have a few options.
The company offers adult German Shepherds for sale as well as puppies. Adult dogs are fully trained and each puppy is socialized with friends and family as well as grandchildren before they are given up to a new family. Additionally, they offer dogs from both California and Germany and they'll even have a dog of your choosing shipped for you. However, you must provide a health certificate, a new crate, and any airline costs.
Why They Are the Best
Schutzhund dogs are trained using only positive reinforcement and make excellent protection dogs. Additionally, Schutzhund trained German Shepherds have well-adjusted temperaments to make wonderful additions to families. Schutzhund trained dogs are socialized and do very well around noisy households and children.
With an almost 5 star review, it's safe to say Lundborg-Land German Shepherds are one of the best German Shepherd breeders in California. Former clients rave about the exceptional service and responsive and knowledgeable employees. Additionally, they boast about being a happy, friendly, and beautiful German Shepherd.
Every dog that gets adopted from Lundborg-Land is dewormed more than once and receives two vaccinations. In addition, the new owner will be given medical records, an AKC certificate, and registration. Appointments are required to visit the facility, so either call or use the contact form on their website to arrange a time and day.
Address: 15110 Harness Hill Dr, Perris, CA 92570
Phone: 951-443-4318
Website: http://lundborg-land.com
Next: Best California puppy and dog breeders (our picks)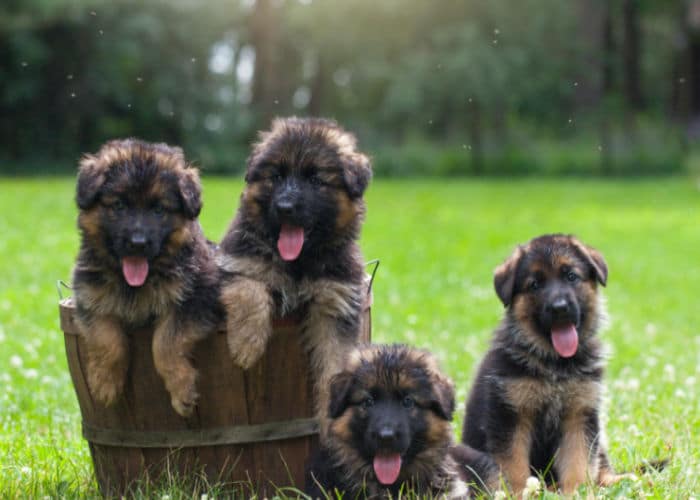 Background
Kreative Kennels is owned by its mother company, Creative Genetics. Michael Osmundson is the CEO and president of Creative Genetics and known worldwide for a system known as ProCross, used to breed dairy cows and has since taken on the science of breeding police dogs. This breeder takes a slightly different approach to breeding German Shepherds, which may not be for everyone.
All dogs at Kreative Kennels are bred for high levels of natural strength, aggression, protection, and confidence. Kreative Kennels are German Shepherd breeders who specialize in breeding and training working line dogs. There are 15 employees who work full time at Kreative Kennels. Their primary role is training police dogs. Working dogs include police dogs, dogs for the military and border patrol, as well as personal and family protection dogs.
Dogs and Puppies
New puppies are monitored by a healthcare manager and then selected based on natural levels of aggression, protectiveness, health, and confidence. Once puppies grow out of their puppy stage, they're moved into the police dog kennels for further training.
The team at Kreative Kennels is drawn to dogs with extremely high drives in categories which include toy or ball drive, food drive, protection, and obedience. However, Kreative Kennels also realizes that such high drives don't suit every average dog owner.
In that case, they offer what they call "green dogs". Green dogs are dogs that have the potential to become great K9's. Although, they haven't been trained to their fullest. Green dogs may be at different levels of the training process and be of different ages. When you buy a German Shepherd from Kreative Kennels, you will get a dog that has a fantastic prey drive, is courageous as well as intelligent. Also, you can expect your dog to have a ton of energy.
Why They Are the Best
Kreative Kennels states that most of their customers aren't as interested in getting a championship winning sport-trained dog but rather a dog that knows how to protect its handler. Some reviews state they received dogs that were quite aggressive without provocation. Still, most others have had positive experiences and say they are extremely helpful in answering questions. You can contact Kreative Kennels by phone or email.
Office Address: 900 Post Rd. Oakdale, CA 95361
Kennel Address: 12730 Valley Home Rd, Oakdale, CA 95361
Phone: 209-605-0068
Email: nicolle@kreativekennels.com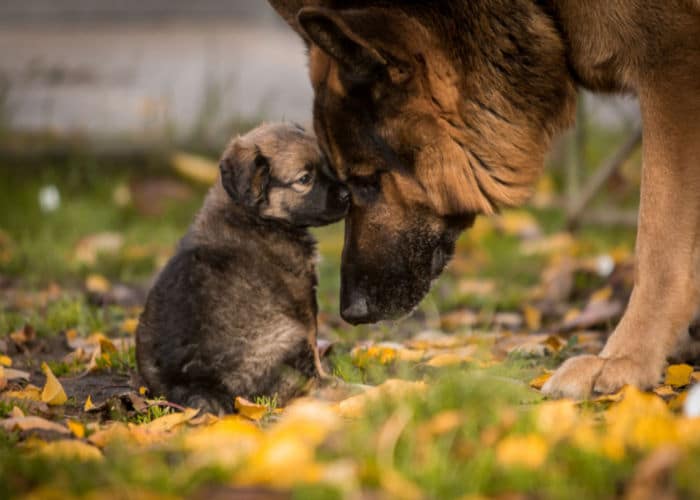 Background
Central Coast German Shepherds are non-commercial breeders along California's central coast. Because they're small, Central Coast German Shepherds are able to be very selective when choosing what studs to breed with which female. They have close ties to breeders in Germany and have bred their females to some of the top championship titled working bloodlines.
Producing quality over quantity German Shepherd dogs is Central Coast's philosophy. The goal is to raise dogs that provide protection for families, are clear-headed, well-balanced, confident, intelligent, and beautiful.
Dogs and Puppies
All dogs are bred from European lines and are held to SV standards. Germany has high standards for breeding German Shepherds, which ensures dogs from Central Coast German Shepherds are in great condition. This includes:
Having healthy hips
A Schutzhund title
Well-balanced temperament
Healthy endurance
Korung scores
Dogs are tested for temperament primarily with strangers and around busy situations such as heavy traffic or loud noises. A Schutzhund title means the dog has received positive training and has been evaluated and tested for obedience, protection, tracking, and optimal working dog characteristics. Finally, a Korung survey evaluates the dog for the purpose of improving and advancing the breed.
Why They Are the Best
Central Coast German Shepherds may be small, hobby breeders, but they really meet quality, standards, and professionalism when it comes to responsible breeding. What's cool is that Central Coast German Shepherds are considered H.E.A.R.T. breeders. This means that their breeding standards are top notch as they're aligned with those of the American Kennel Club (AKC).
In other words, when you purchase a German Shepherd from H.E.A.R.T. breeders, you can trust the dog will be in optimal health and the breeder, educated, accountable, responsible, and traditional in their breeding standards. The acronym HEART is defined as:
Health
All dogs' health is certified according to the standards set by the National Breed Club.
Education
A promise to pursue the American Kennel Club approved continuing breeder education to stay educated and updated on breeding best practices and dog health.
Accountability
An agreement that the breeder will comply with American Kennel Club health testing, care, and inspections.
Responsibility
An acceptance of responsibility for the health and wellness of all puppies and compliance with all laws regarding maintenance of dogs.
Tradition
Upholding the American Kennel Club standards to ensure all dogs that are bred are healthy, happy, and cared for.
In addition, their website contains a wealth of great information about German Shepherds, including information about health risks common to this specific breed, like hip problems, for instance. Unfortunately, health risks are common to purebreds and while some dogs are more prone than others, nearly all large dogs are susceptible to hip dysplasia. The website also offers a members portal to gain access to things like a temperament testing key and information on current litters.
Responsible breeders, like Central Coast German Shepherds, do their best to minimize these issues through proper nutrition, careful breeding, exercise, and weight control and the website representing their business reflects that.
Contact Central Coast German Shepherds by filling out the contact form on their website or calling.
Address: 5760 Lone Pine Pl, Paso Robles, CA 93446
Phone: 805-203-0318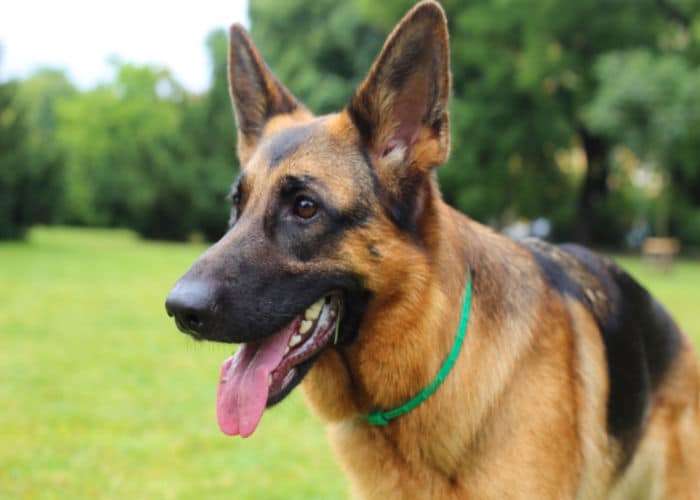 Background
Command Control Protection Dogs, or CCPD, specialize in developing family-friendly, protective dogs based on global German Shepherd breeding standards. CCPD works to meet client standards for personal protection. The company works with the best European breeders to help with their selection process and use responsible training methods to produce top-of-the-line protective family companions.
CCPD uses psychology and dog trainers, whose method starts with developing trust in each dog. The training program is based on a strong, shared bond between dog and trainer. Because training doesn't involve guns, toys, or even treats, a strong bond is crucial.
What's unique to CCPD is their standards for delivery. To ensure a seamless transition to a new home, the labor costs to ship dogs are included in the price of purchase. On top of that, the dog is accompanied by 2 trainers right to your home. And they deliver beyond California.
Dogs and Puppies
Command Control Protection Dogs offer high-quality protection German Shepherds for sale. CCPD is highly regarded in the breeding business and in their development of German Shepherds for personal and family protection. All dogs are beautiful, well-mannered, and socialized. Additionally, all dogs bred at CCPD are trained in off-leash obedience. All dogs are trained to attack, to bite on command, and release on command.
This means that dogs are taught to distinguish between normal activity and threatening activity. They learn in the best way possible–real life situations. Each dog is given a rating based on the level of protection they provide and the type of protection that will be required of them based on the environment they'll be in. They're trained to be around and protect children, in addition to protecting adults.
Why They Are the Best
CCPD personally deliver their dogs to homes within North America as well as most locations across international borders. However, the price for their above standard service doesn't come cheap. The starting cost for a protection dog is typically around $65,0000 and the average per client tends to range from $75000 to $78000. Still, sometimes the cost is worth having a peace of mind. The dog will be healthy and perform as expected.
The company offers a guarantee stating that they will replace a dog if within 2 years, any genetic issues arise that would prevent an otherwise normal life. It must be determined by two veterinarians upon examination. If poor hip and elbow health is determined upon evaluation, then tCCPD will replace the dog with another dog of equal or higher value. Customers also have a money back guarantee on adult protection dogs if they aren't satisfied within 3 months of purchase. All dogs are backed by a full 100% guarantee.
Address: 340 S Lemon Ave, Walnut, CA 91789
Phone: 877-687-2259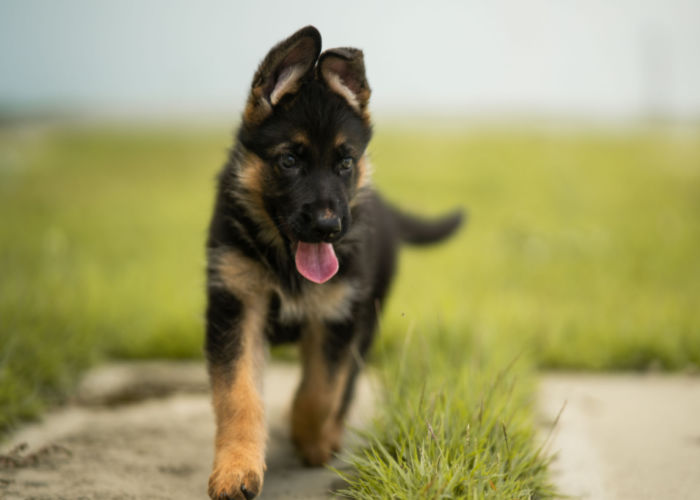 Background
Yosemite Shepherds specialize in breeding working-line German Shepherds that come from quality bloodlines, ensuring optimal health and well-balanced temperaments in their pups. The breeders here are professionals who carefully select each dog. Dogs adopted from Yosemite are perfect for protection, companionship, as well as search and rescue. The dogs are bred to be fearless and courageous with a willingness to please their owner. Yosemite Shepherds consider their dogs as part of the family.
Dogs and Puppies
The German Shepherds at Yosemite are quite at home and, as a result, they learn appropriate at-home behavior. That's great for their future forever-home families. Each puppy is socialized and familiar with being around kids as well as other animals prior to adoption. They receive the highest professional and personal attention before they are carefully matched up with the right human. You can check out the sires and dams on the company's website.
Perhaps you're not looking for a puppy, though. Yosemite also sells trained personal protection dogs. Each dog has been trained and has been socialized to be around children and to live in normal, noisy, busy households. Protection dogs are great to take on family outings or on a solo hike.
Why They Are the Best
The German Shepherds at Yosemite are beautiful. The females and studs are nearly all black although they are considered bi-colored due to a bit of brownish red around their legs and feet. The male German Shepherd Zion is imported directly from the Czech Republic from some of the finest working German Shepherd bloodlines. Jolly is imported from the Czech Republic as well. She's described as being quite intense when she needs to be and is simultaneously one of the sweetest dogs you'll ever meet.
Address: Coarsegold, CA 93614
Phone: 559-760-1351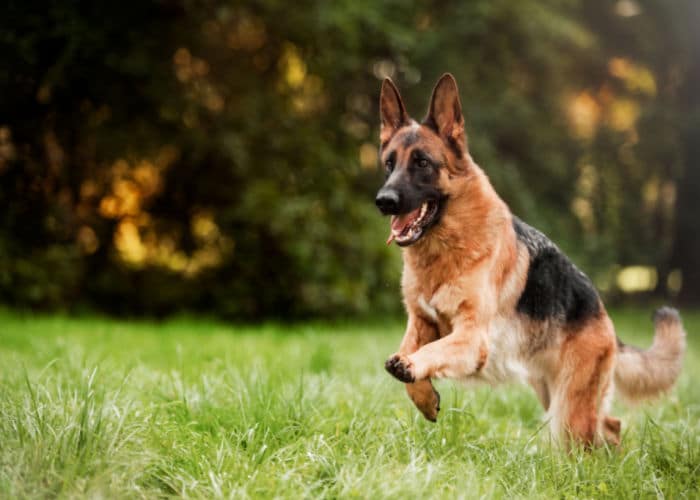 Background
Diamond Oaks Ranch breeders have more than 25 years of experience raising German Shepherds and more than 45 years of experience training. What's more, the majority of German Shepherds at Diamond Oaks Ranch come from German Schutzhund Champions. Their goal is to breed only quality puppies who are healthy, intelligent, loyal, loving, trainable, and naturally protective.
Dogs and Puppies
All dogs are raised in a family atmosphere on Diamond Oaks Ranch. Therefore, all puppies receive the most love and care right from the start. Consequently, puppies grow accustomed to normal, busy household sounds and activities. Note that dogs from Diamond Oaks ranch are indoor dogs.
All adopted puppies leave the ranch with a few things including a completed health check from a veterinarian, American Kennel Club registration, and 1st and 2nd shot vaccinations. Additionally, all dogs are microchipped and come with a care kit of puppy essentials like joint supplements, toys, food, and puppy pads. A puppy care booklet is included with every German Shepherd puppy that includes a list of all vaccinations as well as a deworming history. All dogs come with a health guarantee for one year, the first year of life.
You can visit the Diamond Oaks Ranch website to see photos of the parents and check out their pedigrees as well.
Why They Are the Best
Diamond Oaks German Shepherds breeders stand out because German Shepherds are their passion, making them dedicated to doing what they do. Additionally, they are adamant about offering assistance and support to new adoptees after purchase, which is not always the case with dog breeders. Diamond Oaks Ranch maintains a promise. They promise that a new owner's call will not be ignored as they encourage communication and take kindly to updates on their puppies' growth and ease of adjustment to a new home.
You can contact Diamond Oaks German Shepherds by filling out the contact form on their website or by calling to schedule a visit.
Address: 19880 Tenaja Rd, Murrieta, CA 92562
Phone: 951-600-0667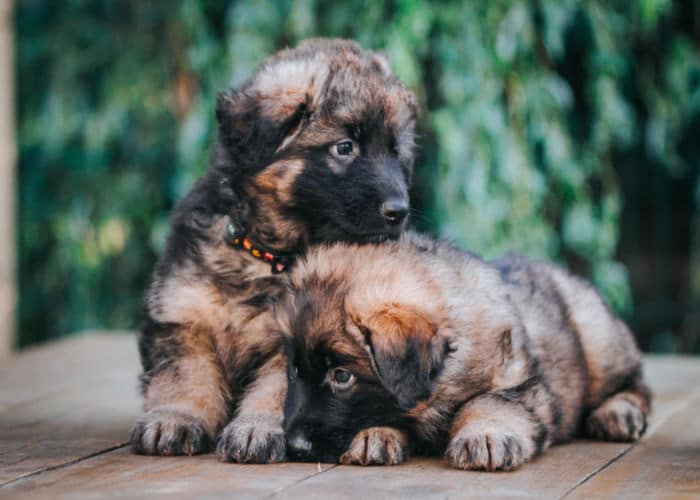 Background
Established in 2017 by Mila and Jeff Weckner, Velknerhaus German Shepherds is a small German Shepherd breeding company born out of a couple's shared love for the German Shepherd breed. Jeff's background as an animal technician and education in veterinary medicine is combined with a passion for German Shepherds. They are family owned and located in Sacramento, devoting their time and care to the dogs they adore.
Dogs
Velknerhaus sells German Shepherd puppies and dogs. They list former breeding pairs for sale when they grow older and it's time to introduce new pairs into the mix. Zelda is a 3-year-old German Shepherd who is great with kids and is keen on baths! She's given birth several times and is ready to find a forever-home with the right family. Then there's Ares. She's 4 years old and is described as well-behaved and gentle.
You can find pictures of them on the Velknerhaus website. Additionally, you can take a look at former puppies and see updated lists of expected litters. As a bonus, you'll find charming photos of the happy dad and mom above their due date. To reserve a puppy, simply give Velknerhaus a call.
Why They Are the Best
It's very easy to spot those who have a natural and genuine love for the animal. This is apparent in the introduction to Velknerhuas and its 5 star rating. Reviewers express their happy experiences coming to Velknerhaus and feeling supported throughout all stages of the adoption process. A love for what they do combined with their knowledge of German Shepherds makes Velknerhaus one of the best German Shepherd Breeders in California.
Address: 2352 Cambridge St, Sacramento, CA 95815
Phone: 916-370-1862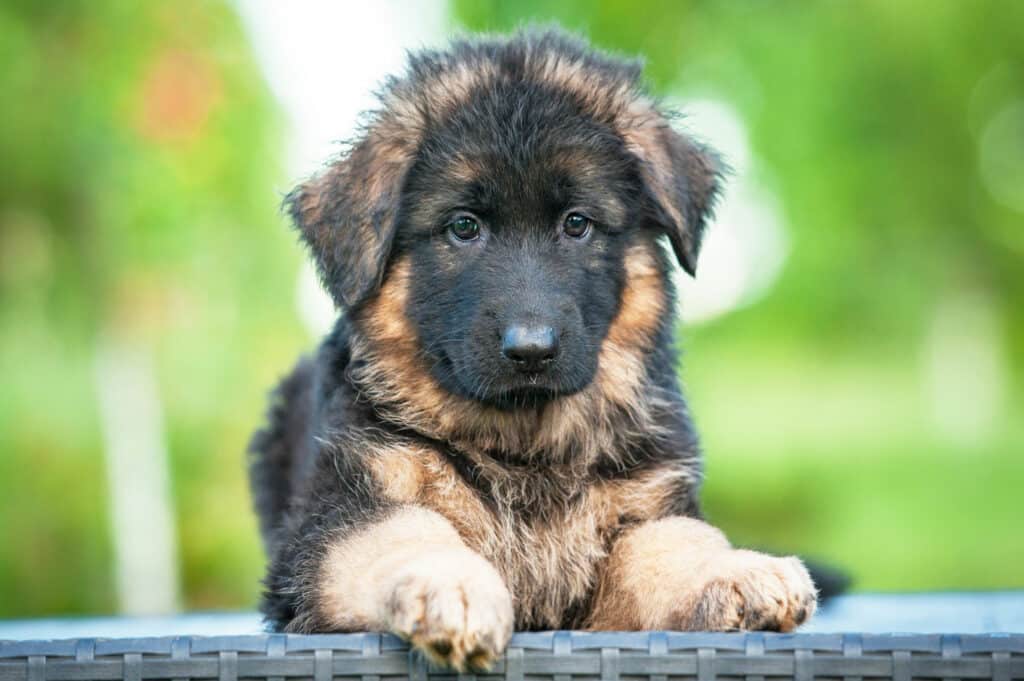 Background
Riohaus Shepherds breed champion sired dogs and puppies from fathers that have earned a championship title. They are a small German Shepherd breeder located in Northern California and have been in business for more than 15 years. They only breed a small number of litters per year, ensuring they choose only the most exceptional dogs. Riohaus Shepherds sells West German bloodline puppies exclusively. Their goal is to breed the most well balanced puppies when it comes to temperament. Additionally, breeding puppies to grow into excellent working dogs is their mission.
Dogs and Puppies
The puppies at Riohaus Shepherds are family-raised as well as socialized. Additionally, each puppy is vaccinated, dewormed and vet-checked. All puppies come with a guarantee in writing. The dogs you'll find here are world standard German Shepherds, dogs that are well-balanced and healthy. Each litter is born from blood lines that are 100% German.
Why They Are the Best
Past clients talk about the company's passion for responsible breeding and add that Riohaus Shepherd breeders have a wealth of knowledge when it comes to German Shepherd temperament, traits, intelligence, and health. The company has a five star review.
Other former clients rave about their new dog's incredible obedience, intelligence, and calm temperament–attributes they credit to the great way Riohaus breeds, raises, and cares for puppies prior to selling them. If you want a quality German Shepherd, then it's a safe bet you'll find a healthy and well-adjusted dog at Riohaus Shepherds.
You can contact them for more information about scheduling a visit or puppy availability. They're located in Northern California right in the gorgeous foothills.
Address: 15383 Neils Road, Auburn, CA 95603
Phone: 707-888-1309
Email: Riohausshepherds@gmail.com
Understanding your breed and what to expect is only the first step. The next step is finding the best specialized dog breeder in your area. Now you have a list of trusted German Shepherd breeders in California to get you started. When you have the right resources, then finding your favorite furry companion is a breeze.
Read Next:
The top English bulldog breeders in California (CA)
The top Lab dog breeders in California (CA)