What qualities do you value most in dogs? Most people would probably mention loyalty and intelligence amongst their most sought-after dog qualities. That's perfectly reasonable since we all want dependable pets.
So, what kind of dog fits that bill? Truthfully, there are quite a few breeds for you to choose from. However, the Bernedoodle stands out from the pack as a breed that features both qualities in abundance.
Continue with this article if you wish to learn more about the increasingly popular Bernedoodle breed. We'll also talk about the best Bernedoodle breeders in California so you'll know where to go if you want that type of dog.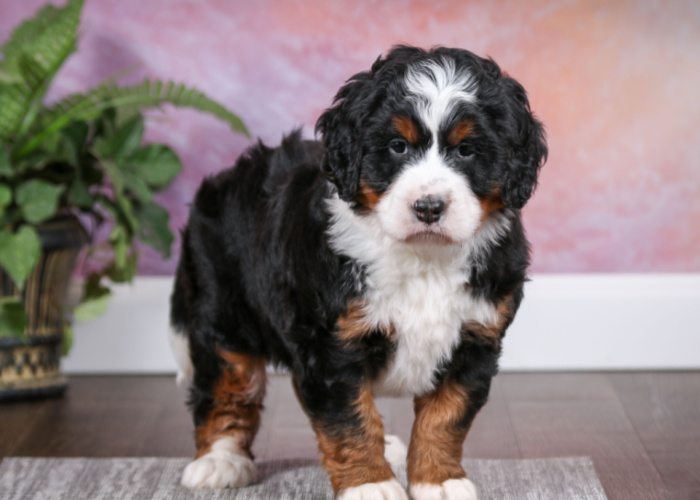 Taking action early is crucial if you want an obedient and well-behaved dog. Wait too long and your pet may fail to recognize your commands. They may not understand what you want them to do so they will just greet you with a puzzled look on their face.
Dogs need to receive training early if they are to become obedient pets. So, how early are we talking about here? Ideally, you want the training to begin when your dog is not even a month old.
Blue Skye Doodles understands the importance of early training and they prioritize that with their pups. As soon as the Bernedoodle puppies reach the appropriate age, the folks over at Blue Skye Doodles get right to training.
Training at Blue Skye Doodles involves stimulation. The puppies are exposed to different types of environmental stimuli so they can grasp their surroundings better. Diversifying the learning experiences for a puppy is crucial because it allows them to acclimate better to their environment.
Crucially, the people over at Blue Skye Doodles take care not to push the Bernedoodle puppies beyond their limits. The puppies are gently encouraged and incentivized to take part in the training. That's why the puppies embrace the process too.
Through all of this time, the puppies are also given a very loving home. They are raised in an environment where they are happy and allowed to run free. Their early days are full of joy and fun activities.
That signature approach is the reason why Blue Skye Doodles is capable of consistently delivering well-mannered Bernedoodle puppies to their customers. If you're interested in what they are offering, you can reach them by using the contact form on their website.
Next: Most high quality dog breeders in California today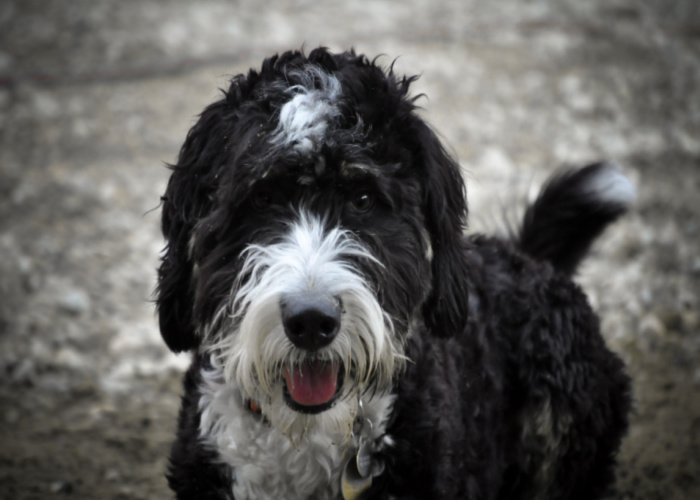 Working with a responsible breeder would be ideal if you are looking for a Bernedoodle puppy. You may have assumed that finding that kind of breeder will be a long and arduous process, but that's not really the case.
Breeders like that can be found all over California. Cedar Creek Bernedoodles and Aussie Bernedoodles is a great example of a breeder that goes the extra mile for the puppies in their care.
You can tell as much just by examining the training program used by the aforementioned breeders. They utilize a research-based program to teach their Bernedoodle pups more effectively. The puppies are set up for success because the program caters to their strengths while also minimizing their weaknesses.
The training program is meant to condition puppies for experiences. Bathing is going to be a fixture of your new dog's routine so the people over at Cedar Creek Bernedoodles and Aussie Bernedoodles will start preparing your pet for that. They will also be given a headstart on potty training so you will have less work to do in the future.
The puppies are also given a chance to play around pretty often. Aside from allowing your puppy to relax, that part of the program also provides important stimulation. Those puppies can learn more because their minds are properly stimulated.
You can also rest assured that you are getting a healthy Bernedoodle puppy if you decide to partner with this breeder.
One more thing we want to point out is this breeder's dedication to the safe delivery of their puppies. They make sure that your puppy will be cared for throughout their journey to you.
Contact Cedar Creek Bernedoodles and Aussie Bernedoodles by calling 530-826-6349. You can also send your questions to cedarcreekbernedoodles@gmail.com.
Next: Top Aussiedoodle dog breeders in California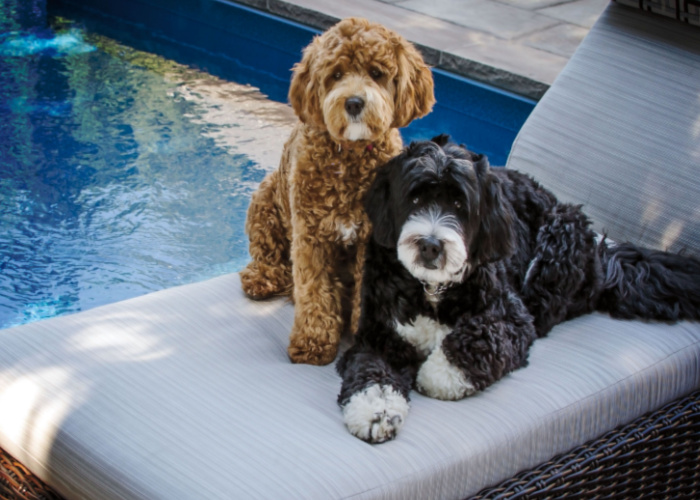 The average lifespan of a dog is about 10 to 12 years. Bernedoodles tend to live longer than the average dog. For them, living to the age of 18 is far from unusual.
The extended lifespan of the Bernedoodle is one of the main reasons why many families are drawn to them. If you want to give your child a pet that will stay with them for a long time, the Bernedoodle is a fantastic choice.
Of course, Bernedoodles can only live that long if they are in good health. You want them in good health as puppies so you can focus more on maintaining their condition as opposed to restoring it.
You can easily find healthy Bernedoodle puppies if you decide to partner with Julian Mountain Doodles.
Julian Mountain Doodles takes all the steps necessary to ensure that the puppies they're selling are in good health. They start deworming and vaccinating the puppies at the right time. The puppy you're buying is also thoroughly examined by a veterinarian to ensure that it is in good health.
In addition to the veterinarian exams, vaccinations, and deworming, Julian Mountain Doodles also provides guarantees to their customers.
First off, they will guarantee that the Bernedoodle puppy will be free of all genetic life-threatening and/or congenital diseases until they reach 25 months of age. The same guarantee is in effect for symptomatic genetic hip dysplasia.
Basically, Julian Mountain Doodles is guaranteeing you a healthy Bernedoodle puppy and they are willing to stake their reputation on it.
Are you interested in their offer? If so, you can reach them by using the contact form on their website.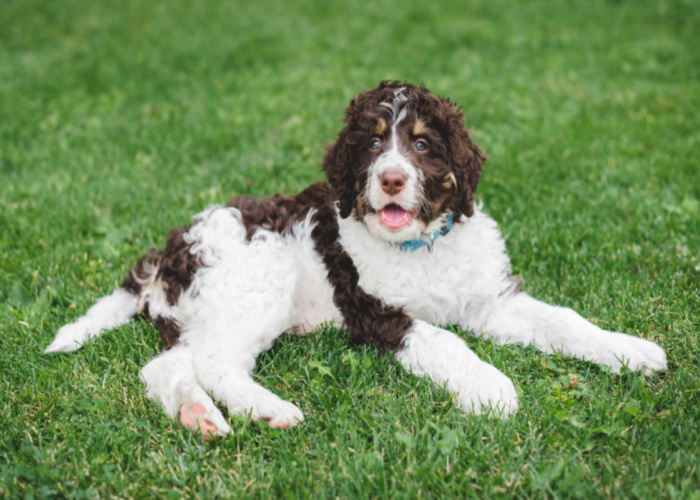 The specific breed of your dog matters not just because it affects their appearance or their physical wellbeing. For many pet owners, the breed also matters because it helps determine the dog's behavior.
We know that some dogs are naturally aggressive while others are more submissive. You will also find dogs that seem like bundles of boundless energy and others that like to laze around most of the time.
Bernedoodles are known for being intelligent and loyal. Beyond that, Bernedoodles are also famously affectionate. They will stick close to you as much as they can and smother you with kisses if you let them.
Now, we're sure that you like the idea of having an affectionate dog, but it's important to recognize the potential downsides of that.
For starters, your dog may want to be around you a lot. Because of that, they may grow lonely if they are unable to spend enough time with you. Think carefully if you can deal with that kind of dependence.
Bernedoodles may also become more anxious if they are unable to spend enough time with their owners. Anxiety can take a toll on your dog's health. You want to protect your dog from that as much as possible.
If you're getting a Bernedoodle, you should prioritize looking for one that can do just fine without you around all the time. The folks over at Olive Branch Bernedoodles can help with that.
They take the time to get to know the temperaments of the puppies they're selling. Thanks to that, they can tell if a particular puppy has the proper temperament for your specific household and schedule.
Olive Branch Bernedoodles provides a contact form on their website if you want to get in touch with them.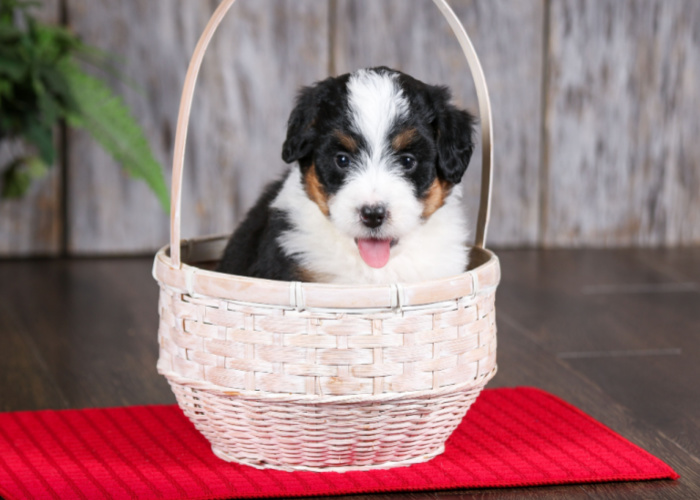 The importance of socializing a Bernedoodle puppy cannot be overstated. Bernedoodles love being around their owners, but they tend to struggle around strangers. They may have a tough time getting comfortable in situations wherein they are surrounded by plenty of unfamiliar faces.
It's easy to imagine just how troublesome that can be.
Visits to the veterinarian will be more difficult if your Bernedoodle is uncomfortable in the presence of strangers. The same can be said for grooming appointments.
You obviously don't want your dog growing up that way so it would be best to address that potential issue early on. River Doodles can help you manage that potential problem more effectively.
River Doodles raises their pups in an environment that is very conducive to socializing. They have a large property where the puppies are free to run around and play with other animals or people. It's a wholesome environment that can double as the perfect first home for your new pet.
As part of their development, the Bernedoodle puppies are handled numerous times on a daily basis. They are given numerous opportunities to grow used to human contact.
In addition to the emphasis they place on early socialization, River Doodles also ensures that their puppies are healthy. The puppies are given only healthy food and their diet is also supplemented with essential vitamins. Since the puppies can run around as much as they want, you can also expect them to be in good shape.
Are you looking for healthy and well-socialized Bernedoodle puppies for sale in California? You can find them by reaching out to River Doodles. Send them a message via the email address Kelly@riverdoodles.com if you have any questions.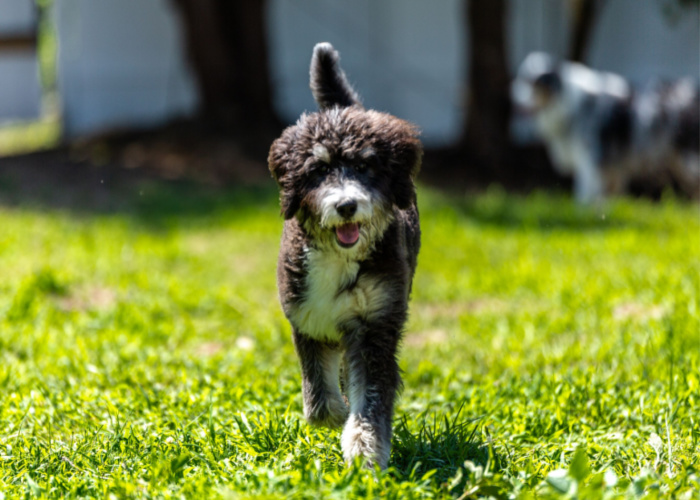 Owning a dog is not a viable option for everyone. That could be the case because of allergies.
If you have certain allergies, being around dogs may be something you simply cannot do. Being around a dog may cause your eyes to get irritated and you may also start sneezing uncontrollably. Even if you want to care for a dog, your condition may simply not allow you to do that.
However, we do want to point out that dogs trigger allergies differently.
Certain breeds like Basset Hounds, German Shepherds, and Saint Bernards are known for causing allergic reactions. You should not be anywhere near those dogs if you have allergies.
Other dog breeds are highly unlikely to trigger any kind of allergic reaction. The Bernedoodle happens to be one of those breeds.
Bernedoodles have coats similar to poodles. That type of coat is hypoallergenic so it should not activate any allergies.
Over at Sacramento Doodles, they go above and beyond to ensure that their Bernedoodle pups have hypoallergenic coats. They breed pure-bred poodles with 50-50 doodles to produce puppies with coats that are very similar to their pure-bred parents. You should have no trouble being around that kind of coat even if you do have an allergy.
In addition to breeding Bernedoodle puppies with hypoallergenic coats, the people at Sacramento Doodle also raise the pets-to-be in loving environments. The Bernedoodle puppy you're getting comes from a loving household so you can expect them to be healthy and well-behaved.
Send a message to Sacramento Doodles directly by using the contact form available on their website.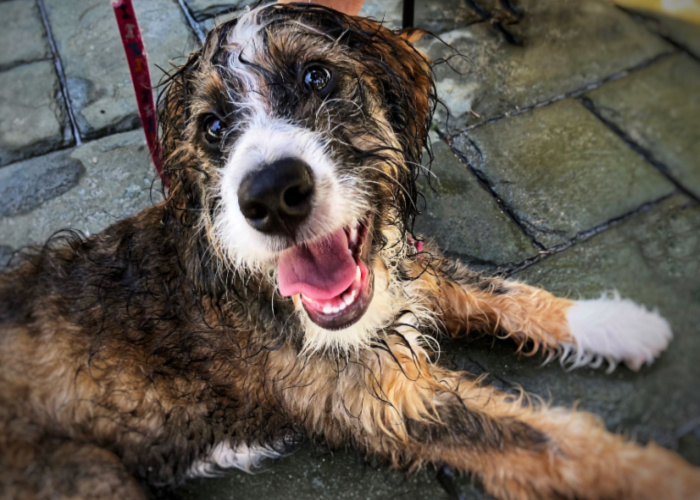 The average Bernedoodle is not an especially large dog. A Bernedoodle usually tops out at around two and a half feet in terms of height and they may tip the scales at close to 90 pounds.
Bernedoodles can reach a decent size, but they should still have no trouble getting comfortable inside a small or medium-sized household. That said, you may still want a smaller dog if your home is already pretty crowded.
Does that mean that getting a Bernedoodle is no longer an option for you? In all likelihood, you can still get a Bernedoodle as a pet. However, you may need to go small.
Choosing a Mini or a Micro Mini Bernedoodle may be the better option if you don't have plenty of space to spare. Even after reaching maturity, a Micro Mini Bernedoodle may only grow to as tall as 10 inches. They may also weigh no more than 10 pounds.
Smaller Bernedoodles are easier to care for, but that's not the only reason why they appeal to people. Those smaller dogs also tend to live longer. If you want a pet that has a good chance of hanging around for a while, then you should look for a Mini or a Micro Mini Bernedoodle.
You can get Mini or Micro Mini Bernedoodles from Shady Oak Doodles. Shady Oak Doodles presents their customers with Bernedoodles of all sizes. Approach them if you're having trouble finding the right pet for your home.
Call 619-471-5183 if you want to speak to the people over at Shady Oak Doodles directly. You can also send them an email via shadyoakdoodlessd@gmail.com.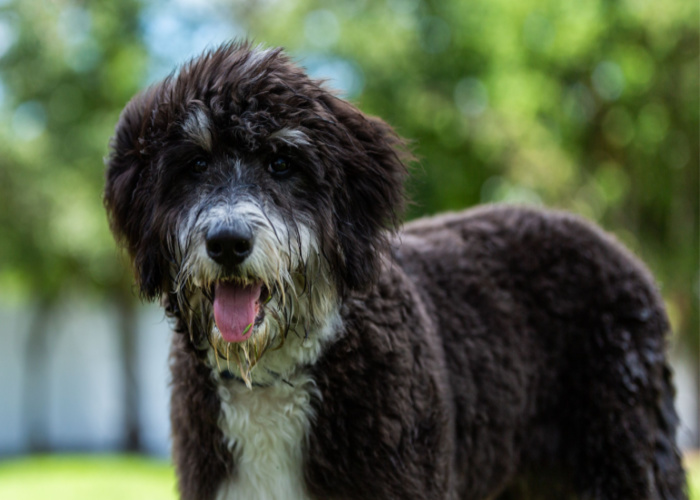 It's important to work with a breeder you can trust.
You don't want to purchase a puppy that turns out to be weak and sickly. That would be a bad situation for both you and the puppy. Even if you want to care for them, you may not have the resources to do so.
As much as possible, you should get a healthy puppy. Finding a healthy Bernedoodle puppy will not be an issue if you're located close to Teddy Bear Love Bernedoodles.
Teddy Bear Love Bernedoodles does everything you would expect from a respectable breeder. They raise their pups in a loving environment, give them adequate space to roam, and monitor their health closely.
What makes them different from many other Bernedoodle breeders in California is the support they provide after you've bought a puppy. To be more specific, they provide a 5-year health guarantee for their pup and they also pledge lifetime support.
That type of post-purchase support is rare and it stands out as one of the main reasons why you should choose Teddy Bear Love Bernedoodles.
Teddy Bear Love Bernedoodles also provides a good assortment of puppies. You will find puppies of different sizes and colors if you peruse their selection. Occasionally, they will even have relatively rare black Bernedoodle puppies on sale.
You can reach Teddy Bear Love Bernedoodles by calling 951-903-4988. Their email address is familycompanions@msn.com.
To round out our list of the top Bernedoodle breeders in California, we have Woodcreek Ranch Bernedoodles.
Woodcreek Ranch Bernedoodles is a breeder that specializes in producing F1 puppies. What does that mean, you ask? It means that their puppies are the offspring of a purebred Poodle and a purebred Bernese mountain dog.
The traits of F1 Bernedoodle puppies will also be evenly split between their parents. If you want a Bernedoodle with more size, you should definitely look for one with F1 lineage. F1 Bernedoodles are also known for their strength.
The downside to purchasing an F1 Bernedoodle is related to its maintenance requirements. F1 Bernedoodles need to be groomed more often. They also pose more of a threat to people with allergies.
F1 Bernedoodles are not for everyone, but they are extremely lovable pets. If you don't have any allergies, there's no real reason for you to avoid getting this dog.
Woodcreek Ranch Bernedoodles also cares deeply for all their puppies. While the puppies are with them, they will be given open environments to explore and they will be subject to frequent medical check-ups.
The puppies will be able to grow in the type of environment that suits them best. By the time they get to your household, you can expect your new puppy to be well-adjusted and very obedient.
You can reach Woodcreek Ranch Bernedoodles by sending an email to wcrbernedoodles@outlook.com.
Bernedoodles can work as great pets for just about anyone.
They are great guard dogs and they can also double as playmates for your children. As long as they were socialized properly, they should also be able to handle being around strangers with no issue. Even people with allergies can care for Bernedoodles.
Find your very own Bernedoodle pup by contacting the breeders featured in this article!
Read Next:
Top Yorkie dog breeders in California
Top Dachshund dog breeders in California
Top Shiba Inu dog breeders in California
Top Doberman dog breeders in California
Top Beagle dog breeders in California