Are you thinking of getting a Doberman puppy? The Doberman is a great choice for a family due to its loyalty and intelligence. This breed can also be described as extremely alert and fearless. Dobermans have a lot of energy and do not tire out easily, which makes them great play companions.
So, where can you find a Doberman puppy in California? It may not be easy to find a trustworthy and reliable breeder, as there are many dishonest people. In order to help you in your search, we have picked some of the best Doberman breeders in California with all the information you need about them to make the right choice.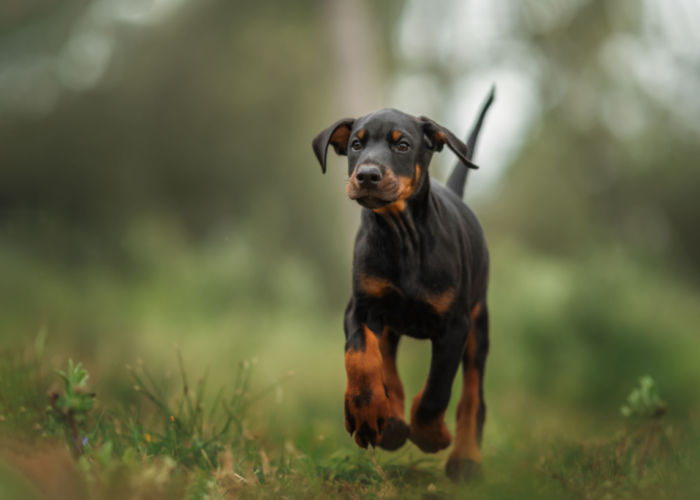 Location: San Jose, Northern California
Phone Number: (408) 781-3467
West Coast Doberman is a family-owned ranch that offers quality Doberman puppies for sale in California. The owner and breeder Tony Alves is passionate about this breed since he got his first Doberman when he was a kid.
Health, good temperament, and correct conformation are the main priorities of West Coast Doberman. They always thoroughly select dogs for their breeding program, and all their canines go through DNA testing and OFA health testing. In addition, their Dobermans also receive cardiomyopathy examinations provided by the University of Washington. Also, they test every adult dog for von Willebrand's disease.
At West Coast Doberman, they make sure that every puppy is well socialized before leaving for a new home. Puppies are properly trained and exposed to different sounds, smells, and sights. They start training puppies early so that they can socialize and interact with other animals and people.
If you are interested in buying a puppy from them, you should contact them directly and put down a non-refundable deposit.
Next: Our ultimate list of the best dog breeders in California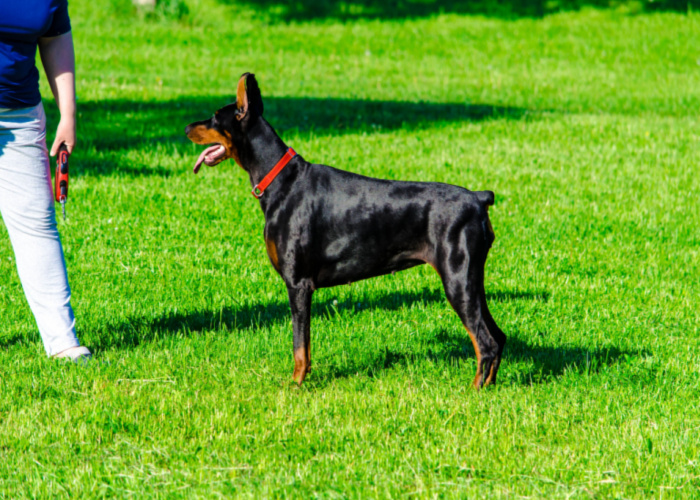 Location: Yucca Valley, California
Phone Number: (760) 954-8041
Circle M Doberman is a small family-owned breeding business that is known for 15 years of professional experience. It is among the most reliable and reputable breeders in California. At Circle M Dobermans, they specialize in European Dobermans, and their canines are known for excellent health, intelligence, good temperament, agility, and conformation.
They register every puppy with the American Kennel Club from birth. The breeders have a large 5-acre property that is a perfect place for puppies' training and socialization. When puppies are 5 weeks old, they are transferred to puppy kennels, where they stay for another 3 weeks. By the age of 8 weeks old, puppies are ready to go to their new homes.
Every pooch comes with the following:
Dew claws removed and tail docked
Age appropriate vaccination
Veterinarian health checkup record
American Kennel Club registration
Ear cropping referral
Three generation pedigree
Lifetime support from the breeder
If you want to get a puppy from Circle M Doberman, you have to place a $500 non-refundable deposit. It is also important to know that the breeder does not offer any shipping service. They also do not accept personal checks. If you have more questions, you should visit their website or contact them directly.
Next: Top Doberman puppy foods to buy (choose these)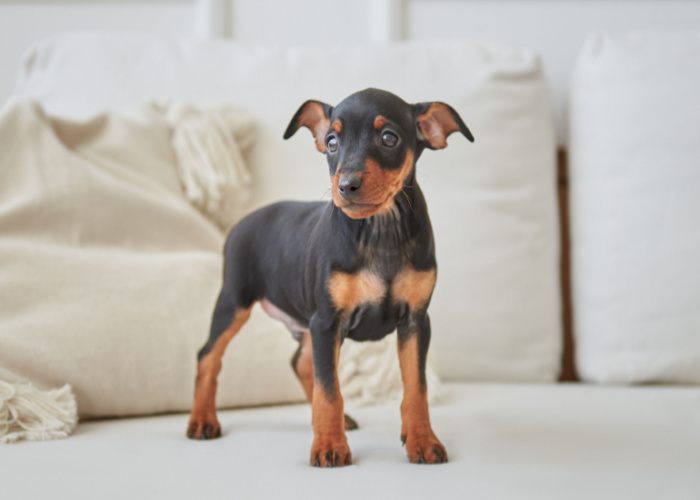 Location: San Diego, California
Phone number: 619 464-1639
Black Bart Dobermans is another top Californian Doberman breeder. The owner Sandra Boyas is an American Kennel Club registered breeder of merit. She has over 30 years of breeding experience, and she became passionate about these dogs in 1970 when she got her first Doberman.
Their breeding history goes back to the 1980s, but officially they started breeding in 2000. The mission of Sandra Boyas is to produce healthy energetic, and elegant puppies. Their dogs are a great example of the perfect balance of loyal companions and fearless guardians.
They are also very selective in their bleeding program. They only choose the best and the healthiest dogs that have passed health testing.
One of the best things about Black Bart Dobermans is that they do not kennel puppies. Instead, their baby Dobermans live in their home until they are ready to go to their new owners. They start puppy training quite early to make sure they have enough time to raise dogs as perfect guardians and social companions.
If you are interested in one of their puppies, the first thing you need to do is to fill up a special form provided on their website. Your puppy will come with the following:
American Kennel Club registration
Vaccination and health record
Generation pedigree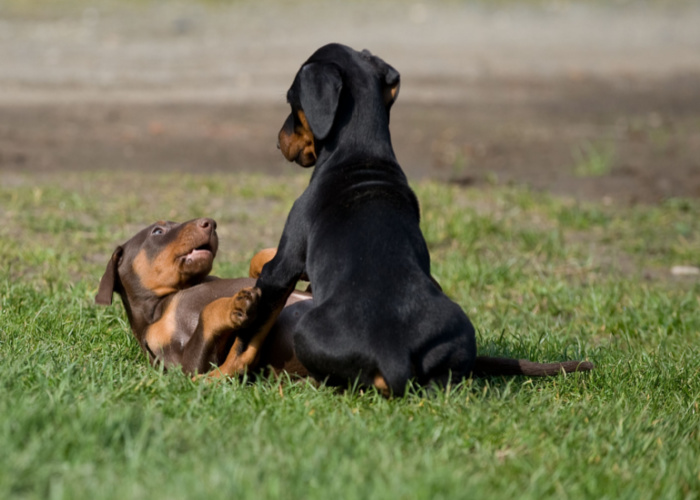 Location: Nipomo, California
Phone Number: 805-929-4667
Holder Park Dobermans is a trustworthy Doberman breeder located in Nipomo, California with over 20 years of professional breeding experience. Its owner and kennel breeder Sue Holder has been a member of the Doberman Pinscher Club of America since 1987. Under her direction, Holder Park Dobermans has been producing quality and healthy Dobbies that become excellent companions and perfect family members.
Their puppies stay with them until the age of 9 weeks. By the time mutts are ready to leave for their new home, they are fully socialized and know how to interact with other animals and people. At Holder Park Dobermans, they provide puppies with proper training, so that they are completely suitable for new environments and family life. They also do all they can to maintain proper conformation and temperament of their pooches.
Every puppy comes with the following:
Vaccination and health record
Microchip
Ears cropped
If you want to know more about their adorable puppies, or you want to reserve one, you should contact Sue Holder directly or visit their website.
Location: Central Valley, California
Phone Number: 209-204-3439
This family breeder located in Central Valley, CA specializes in breeding of the European Doberman. The European Doberman is slightly bigger than the American Doberman, and they have different temperaments. The Euro Doberman is known for its protective personality, which makes these dogs perfect for police work. Therefore, if you want a dog that will be an excellent guardian and protection, the European Doberman is your perfect choice.
At Euro Doberman of California, they import canines for their breeding program from Eastern and Western Europe, but they consider themselves as a hobby breeder rather than a business.
They have a large property that has enough space for dogs and puppies for roaming the grounds. They rarely keep their puppies caged and allow them to interact and socialize with other animals and people. They produce beautiful and quality puppies that are sold to carefully selected buyers. Their pooches go to new homes to become perfect family companions, pets, working dogs, and even show dogs.
The mission of Europ Doberman of California is to keep all puppies in their natural state. That means that the ears of their mutts are not cropped, dew claws are not removed, and their tails are not docked. They consider all these procedures cruel and unnecessary, so they want to protect their dogs from pain and suffering. Therefore, if you want your dog's ear to be cropped and tail docked, you need to mention this at the time of reservation.
If you want to buy a dog from Euro Doberman of California, you should be approved by the breeder first. You will be able to buy a pooch from them only if they find you responsible enough for raising a dog.
If you get a dog from this breeder, and it dies within 6 months from the purchase because of any genetic disease, they will offer you a replacement.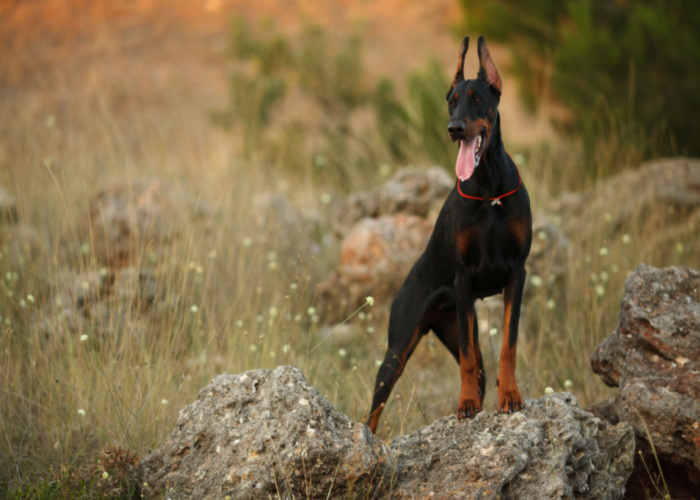 Location: North Hollywood, California
Phone Number: 818-675-1080
If you want a loving, protective, energetic, and loyal companion, you need a Doberman Pinscher, and All In Kennels is a trustworthy breeder from North Hollywood that is ready to sell you one. They have over 20 years of professional breeding experience and have already gained a good reputation in this industry.
At All In Kennels, they know how to raise Doberman Pinscher properly. They start training their puppies early and they make sure that mutts receive regular and vigorous exercise. They also care about their dogs' mental health and make sure that their puppies receive the necessary mental stimulation as well.
They sell puppies as pets starting at $2,000. Every puppy is up to date on deworming and vaccination. Your pooch also comes with the tail docked. All In Kennels offers a nationwide delivery service that is available for an additional fee. If you are serious about having a Dobbie from them, you can give them a call, check their website, or follow them on Instagram for updates.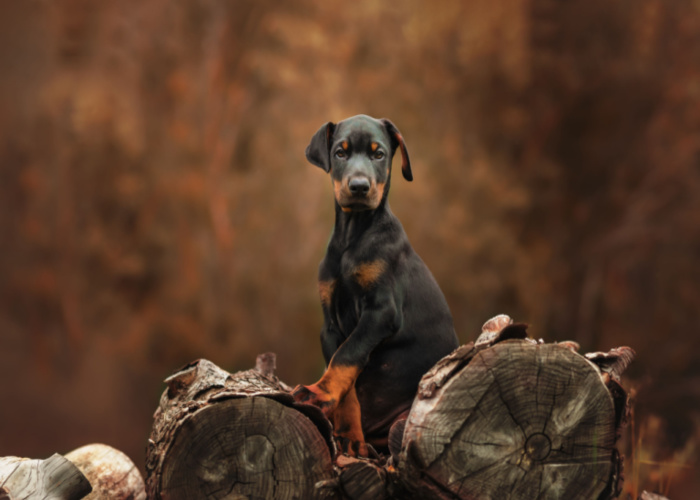 Location: Riverside, CA
Phone Number: 323-787-7344
Inland Empire Dobermans is the only purebred American Kennel Club registered breeder of Doberman Pinschers in Riverside, California. They breed nothing but loyal, social, active, and protective dogs that are ready to become perfect companions and family members.
At Inland Empire Dobermans, they start training their puppies from the day they are born. When you get your four-legged friend from the breeder, there is no need for further training.
All puppies are sold dewormed and vaccinated. Also, their tails are cropped according to the American Kennel Club standards, and dewclaws are removed. If you want the ears of your future puppy to be cropped, we can do it for you.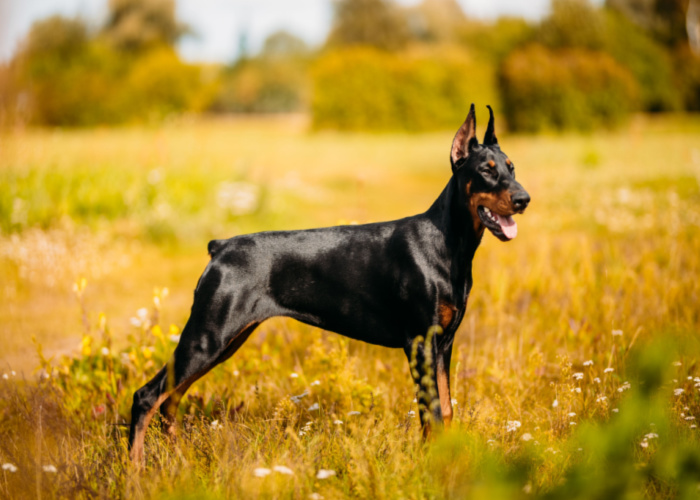 Location: Watsonville, CA
Phone Number: (831) 768-9092
Soquel Dobermans is an ethical breeder of the American Kennel Club Dobermans. They have a 3-acre property located in North Monterey County in Central California. They have been operating their breeding business for over 30 years by producing some of the best Dobermans around. Each puppy conforms to the standards set by the DPCA. They keep puppies at home, not in kennels, by providing them with the necessary training and socialization with other animals and people.
Many of their Dobbies have become American Kennel Club Top Twenty Conformation winners, Best in Show Winners, American Kennel Club Champions, Group Winners, Agility Champions, American Kennel Club Doberman Pinscher Sire of the Year Award winner Obedience Trial Champions, and Certified Therapy Dogs.
Also, one of the owners is a certified and experienced conformation instructor at Monterey Bay Dog Training Club, so you can receive advice on getting started in obedience classes and learning to show your canine in the conformation ring.
They do very selective breeding, meaning that they do not breed a lot. Therefore, they may not have puppies always available. If they do not have a puppy that would fit in your home, they will be happy to recommend you other ethical breeders or help you find an older rescue Doberman if you are interested in this option.
If you have questions about their puppies or Dobermans in general, you are more than welcome to reach out to them. You can also find more detailed information about the breeder on their website.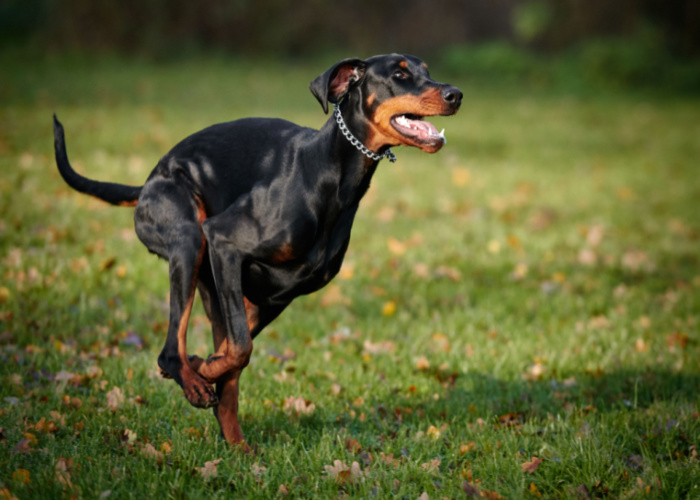 Location: Silicon Valley, CA
Phone Number: 408 649-0649
Cowgirl Up Dobermans is a reliable Californian breeder located in Silicon Valley. The motor of the owner Dana Pasquale is that dogs are created not born. Therefore, they are focused on producing and raising excellent Dobermans according to the breed's standards. Their mission is to breed loyal, energetic canines with great temperaments and sound minds. At Cowgirl Up Dobermans, they can guarantee that you will get a loyal, determined, watchful, obedient, and alert four-legged friend that will be your companion and family member for many years.
They plan each of their breeds thoroughly. All their breeding dogs are carefully selected, and their pedigree, genetics, and breed standards are analyzed.
Another priority of this breeder is longevity. They always take into consideration the unique set of nutritional requirements of this breed in order to keep producing superior working and performance dogs.
At Cowgirl Up Dobermans, they raise each mutt with deserved love and care. They train their pooches from the early age and make sure that puppies socialize with other dogs, animals, and people. By the time a puppy is ready to go to a new home, she is happy, well-socialized, trained and healthy.
Wrap Up
If you are thinking of getting a Doberman puppy in California that will become your perfect companion, great family member, and fearless guardian, we have provided a list of the best and most reliable Doberman breeders in California. They also produce, raise, and sell quality Dobbie puppies in accordance with the breed standards. If there is no breeder you like on this list, you should keep looking.
However, there are several things that you should always keep in mind. First, every breeder should provide vaccination proof, as well as health certifications and clearances for each puppy they sell. Also, once you buy a puppy from a breeder, make sure to take her to the vet for a checkup. Hopefully, you will be able to find a perfect Doberman puppy that will become your lifelong friend.
Read Next:
The best Yorkshire Terrier dog breeders in California
The best Beagle dog breeders in California