Buying a dog in California can be a fun family event. It's always exciting to welcome a new family member. It's also a serious decision that involves a lot of research. This is especially true when deciding on a specific breed, such as the Rottweiler.
They are great family pets. Protective in nature, majestic in appearance, and mostly big mushes. They do, however, have unique issues that can arise. The breed is prone to hip and elbow dysplasia. Temperament can also be a concern.
This is why finding a reputable, top-rated breeder is critical. In California there are many Rottweiler breeders who make it their business to eradicate these issues. We've researched them and listed 8 of the best Rottweiler breeders in California below: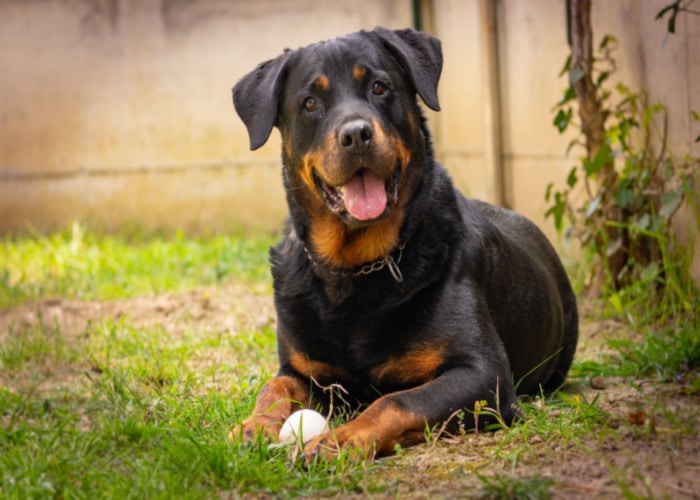 Owner Marlene Keene has been breeding Rottweiler puppies in Sacramento for over 40 years. She has the distinction of owning one of the longest running Rottweiler breeding businesses in the Western United States. With her combination of experience, knowledge, and ethics, she is considered one of the best breeders in the country.
Her reputation as a breeder is so respected that she is a judge of breed standards at the American Rottweiler Club. Marlo's commitment to ethics and love for dogs will assure you that you receive a top quality canine.
Her pride lies in being able to sell calm, socialized pets. She does this by raising all the puppies in her own home. The price will vary depending on if you want a champion bloodline or a regular breed.
Documentation is always shared to prove the puppy's pedigree. People love Marlo's Rottweilers so much that some folks have gone back as many as 9 times to purchase one of her dogs! That is the true testimony of this breeder. If you're interested in one of the puppies, the first step is to fill out an application. Visit Marlo's website for more information.
Contact:
Phone: 1-(415)-609-2874
Website: marlosrottweilers.com
Email: marlosrotts@yahoo.com
Next: Best puppy foods for Rottweilers to eat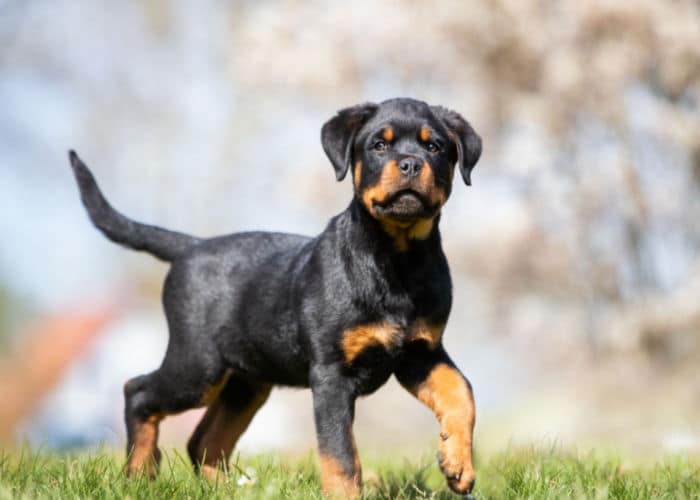 Scotty's is a small family owned dog breeding business located in Oroville, California. Owners Scotty and Sherri Sanders have a firm belief in putting family first. That means guaranteeing that your family will leave their ranch with a new member who is great in behavior and temperament.
They achieve this by having each litter immersed in their Puppy Culture program. This unique program gradually exposes the pups to emotional and social situations, helping to reduce fear and increase comfort around humans and other animals. The program allows them to breed some of the best behaved Rottweiler puppies for sale in California.
Upon purchasing your pup, you will receive a 2 year health guarantee and AKC registration papers. All puppies are microchipped. Customers have raved about Scotty and his pups.
Reviews have stated Scotty is professional, organized, and knowledgeable. The puppies are quick to adapt to their new home, loving, goofy, healthy, and active. Head over to Scotty's website for more information and to see their latest litter.
Contact:
Phone: 1-(844)-687-6887
Email: 84gotrotts@gmail.com
Website: 84gotrotts.com
Next: The top dog breeders in California (our list of recommendations)
With over 30 years in business, Faustino Rodriguez's breeding ranch has been named in the top 10 for 20 years. They pride themselves on all puppies having exceptional square heads and flat muzzles.
Vom HochKlasse has gone generations without the common Rottweiler breed issues of elbow and hip dysplasia. This is due to their careful mating process. Only Purebred German studs are paired with their inhouse dames. DNA ancestry checks are provided so you know your pet's pedigree.
Prices vary, depending on whether the dog will be used for shows or strictly as a family pet. All purchases include deworming and vaccination records. Puppies will be certified that they have no elbow or hip dysplasia. As well as no genetic health disease. Reviewers have stated they appreciate Vom HochKlasse for its clean and organized environment. You are welcome to pick your puppy up at 8 weeks of age. Shipping is also available for a fee.

Contact:
Phone: 1-(951)-269-9797
Email: VomHochKlasse@icloud.com
Website: vomhochklasse.com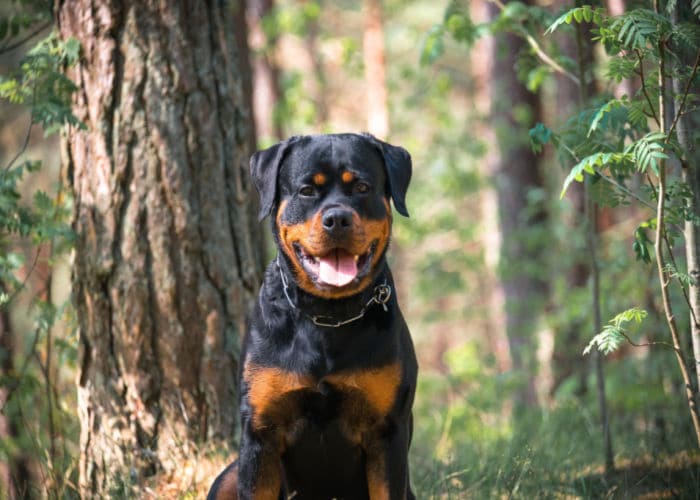 Founded in 2015 by Frank and Clara Bustos. This breeding kennel, located in Temecula, California, started out of pure love for the breed.
Prior to becoming breeders, the couple were simply Rottweiler puppy parents. They loved theirs so much they wanted to share the joy. Over the past 7 years, they've turned that love into one of the most trusted Rottweiler ranches in California.
When choosing studs and dames, they trace back 4 generations. Making sure no health or temperament issues were present. Following the German standard, they do not dock tails or remove dew claws. Vom Busto guarantees the health of all canines for 2 years. This includes hip and elbow dysplasia. All pups come with microchips. Deworming and 2 sets of vaccinations are done by the breeder. AKC paperwork is also included.
Your new family member can be sent via Delta airlines for a fee. Customers have used terms like transparency, honesty, well organized, and kind to describe Von Bustos. Mr. Bustos is always available to give advice and offer help long after you take your pet home. If your looking for a trusted name in Rottweiler breeders, give Von Bustos Hause a call.

Contact:
Phone: 1-(949)-241-5888
Email: vonbustoshause@doglovers.com
Website: www.vombustoshause.com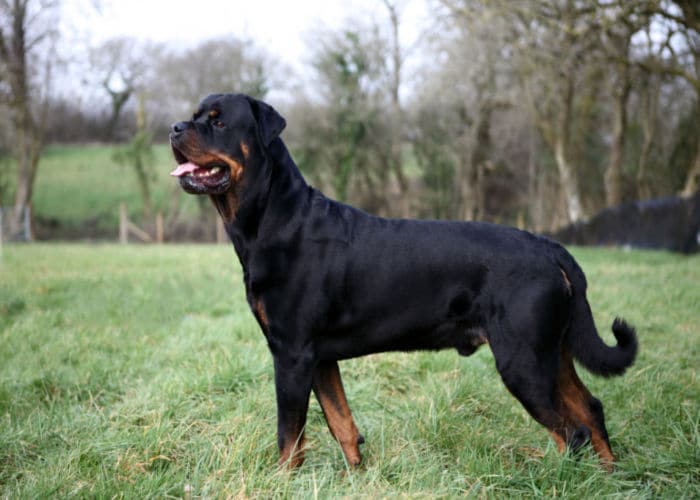 The perfect example of great breeding. This is what comes to mind when looking at dogs from Von Ruelman.
Established in 1980, this breeder has a long history of producing champions all over the world. Their pedigree can be seen in dogs in the United States, Canada, Russia, and Germany.
They follow a century's old breeding technique to give you the best Rottweiler for your family, competition, or work. Attention is paid to every detail, including posture, markings, head size, muzzle, and temperament. Von Ruelman has his own in-house studs and imports only the best pedigreed females right from Germany. They are the winners of the American Rottweiler Club award for best Rottweiler kennel. Their canines consistently win championships in the prestigious Sieger competition.
Visitors to their website can view the lineage of all sires and females. Dogs are OFA (Orthopedic Foundation for Animals) tested. This means they are checked for defects through x-rays, bloodwork, and radiographs. They are then scored according to the results. The results are then put into a database for all dog breeders. This allows them to choose the best dogs for their breeding purposes. Von Ruelman has always scored in the excellent category.
Co-owner, Susie Bolignesi is a certified pet nutrition expert. All canines in their kennel are fed only the best diet. Susie also makes sure that everyone is sent home with the best food available. A nutrition plan that is well balanced and designed to maintain muscle. Customers and breeders alike have stated that the Von Ruelman Rottweilers are the most physically stunning Rottweilers on the planet. Von Ruelman offers shipping of your new pet to anywhere in the world. Contact them to learn more about puppies they have for sale.
Contact:
Phone: 1-(951)-780-7922
Email: euro1rotts@gmail.com
Website: www.vr-rottweiler.com
6. Vom Royal Empire Rottweilers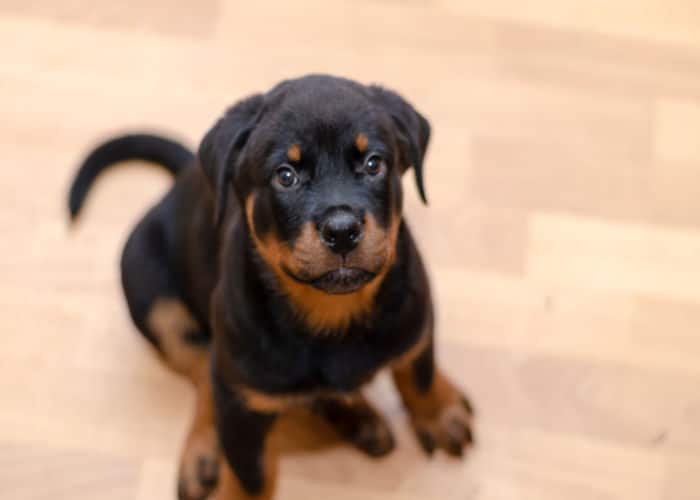 Set in the beautiful horse farming community of Norco, California, this Rottweiler kennel is in the perfect setting for raising great pups. There is tons of room for dogs to run, play, train, and socialize before going to their forever-homes.
Owner Alex Tovar puts his love for these animals before anything else. He carefully chooses his females. They are physically beautiful and strong. More importantly to Alex is that they possess an excellent, sweet temperament. Ensuring the pups will be loved and cared for from birth. Care is also taken to certify each dog as hip and elbow dysplasia free. Certificates of pedigree are always shared so the dog's ancestry is known to you.
Vom Royal invites all customers to be a part of their potential puppy's life from the very beginning. A buyer will be able to view photos of as early as the gestation period. He will happily walk you through the process from beginning to end. Alex sends photos and updates on a regular basis. He happily answers any questions in a timely manner. He believes the happier you are as a pet owner, the happier his dogs will be in their new home. Review after review, has stated that once you experience buying a Rottweiler puppy from this kennel, you will go back!
If you are in the market for a purebred, sweet-tempered family pet, Vom Royal Empire is the place to start.

Contact:
Phone: 1-(909)-240-4200
Email: vomroyalempirehause@gmail.com
Instagram: vom_royal_empire_rottweilers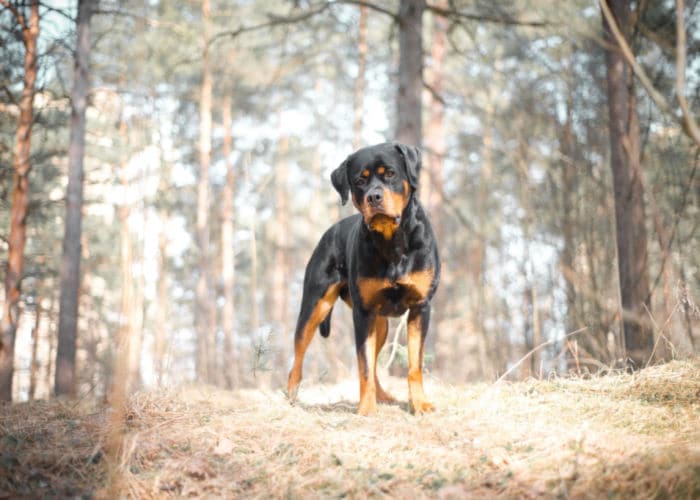 At Vom Blaustadt the motto is quality over quantity. With over ten years of breeding experience, they are a great choice when looking for a pet.
Located in Riverside, California, the grounds are beautiful and park-like, so the pups are free to run all day. Vom Blaustadt puts in countless hours of research on each stud and female's genetics and pedigree before choosing them to breed. It is by doing this that they can produce the most complete dog possible.
Concentrating on one litter at a time, has made Vom Blaustadt the number 1 breeder in the Riverside area. They are ethical breeders and follow the German breed standard. Giving them the ability to sell puppies who are in the best of health, temperament, and structure. After passing a stringent vetting process, customers may choose from show quality, working, or family pets.
Speaking of customers, Vom Blaustadt has such a great reputation in California, they have many celebrity clients. From NFL players, MMA fighters to musicians and actors. Word of the breeders' greatness has spread like wildfire. Because of their attention to detail, there are only a few litters per year. Reservations are highly recommended. Email them for more information on available puppies.
Contact:
Phone: 1-(909)-463-0232
Email: vomblaustadt@gmail.com
Website: www.vomblaustadtrottweilers.com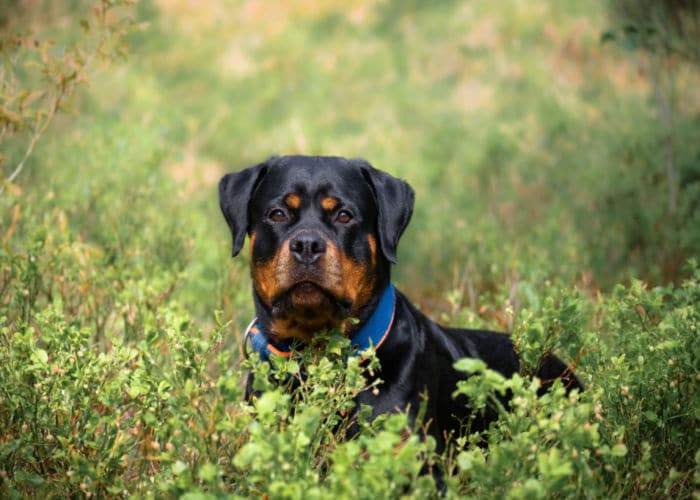 Located in beautiful Yucaipa, California, this breeder has raised pups in her own home for over 10 years.
Ranch owner Jessica Carlisle believes an excellent Rottweiler puppy begins with love. All sires and dames live on her private property. They interact with her children and other pets. They are constantly exposed to daily family life. They even swim in the family pool. So, by the time they meet their new family, they are used to the hustle and bustle of a busy, noisy household.
Because they are so well socialized, Von Der Hause pups are excellent candidates for service animals. Whether you are looking for a show dog or a lap dog, this breeder promises each dog's health and a calm temperament. All bloodlines are AKC certified. A two-year guarantee is given on hips and elbows. Temperament tests are done on each puppy to match them with the right family.
Online review sections are overflowing with comments about how loving and protective the dogs are towards their families. The overwhelming consensus is, that if you're looking for loving, mushy, protectors, Von Der Hause Roush Rottweilers deserves a visit.
Contact:
Phone: 1(909)653-1599
Email: roushrotts@gmail.com
Website: www.roushrotts.com
There you have our list of the 8 best Rottweiler breeders in California. Chosen due to their reputation, reviews, ethics, and love for canines. We hope that it helps you find Rottweiler puppies for sale in California that is right for you. Rottweilers make great family pets. They are loyal, loving, and protective. Having them as a pet can greatly enrich a family's life. Just remember, getting your pup from a reputable, licensed breeder is the key to having years of happiness with your pet. Don't be afraid to do your research!
Read Next:
The best Golden Retriever breeders in Cali (CA)
The best Poodle breeders in Cali (CA)
The best Cane Corso breeders in Cali (CA)