Cane Corso's are known for being intelligent, loyal, and strong and were derived from the Italian mastiff lineage. However, their unique pointed ears and large stature usually draw their owners to them. They are the perfect companion dogs and do well with physically active owners.
If you're looking to adopt a Cane Corso pup located in California, then you're in luck! We've collected a list of seven of the most refutable Cane Corso breeders in the area. That way, you're guaranteed to find a pup you love with a breeder who knows what they are doing.
The Best 7 Cane Corso Breeders in California
Below, we've put together a list of the Cane Corso puppies for sale in California. Each breeder is known for being the best in the business and understands the care that goes into breeding Cane Corsos.
While this list can provide excellent information on breeders, you may not find what you're looking for. The advice we want is that the Cane Corso breed is prone to an aggressive temperament and is a born guard dog. You want to focus on breeders who understand how to socialize and select non-aggressive traits.
Additionally, Cane Corso's are susceptible to several health issues, which breeders need to look out for. If you do your own research, look for breeders that focus on genetics before they breed their dogs. That way, you can ensure your pup won't have health problems down the line.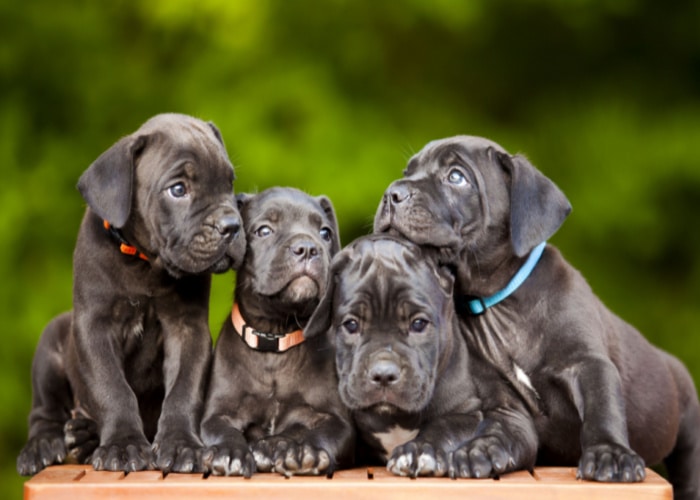 Odisseia Cane Corso is a breeder located in Southern California. The main breeder, Annie, has been breeding Cane Corso's since early 2010. Her Cane Corso dogs are A.K.C. registered and are finished champions who compete in obedience and protection sports.
Cane Corsos have genetic health risks such as orthopedic issues, seizures, auto immune disorders, heart problems, eye abnormalities, and more. Odisseia Cane Corsos does an extensive job making sure that all of their dogs are genetically tested before breeding. This ensures that none of the litter has any risk of these genetic factors.
If you're interested in adopting one, you must fill out a Puppy Interest form. With only one to two litters per year, it's essential to apply quickest as they get two to three applications per day. Especially with their puppies being in high demand, you'll want to apply early and put down a deposit.
However, they don't list their prices online. You'll have to get information on how much each pup will cost. You can do this by contacting their phone via text or by sending an email.
Contact Information
Phone (text): 1-(323)-600-5610
Email: odisseiacanecorso@gmail.com
Instagam: https://www.instagram.com/nasadog
Facebook: https://www.facebook.com/NasaTheCaneCorso/
Next: The best puppy foods to feed a Cane Corso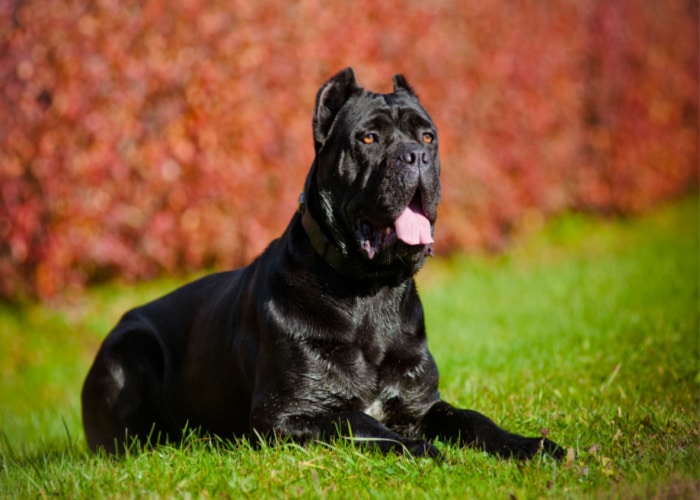 Thoroughbred Cane Corso is located in Los Angeles, California. The breeders are true lovers of the Cane Corso breed, and their dogs are comprised of domestic and foreign bloodlines. Additionally, your dog's lineage includes champion, grand champion, and world champion ancestry, ensuring you're getting a high-quality pup.
The business holds itself to a high standard, including a very selective breeding process. They want the best traits and genetic backgrounds for their potential pups. This includes checking for genetic diseases known to the breed, such as hip dysplasia, heart problems, etc. So, they heavily monitor health and genetics before pairing off their dogs.
If you're interested in one of their pups, you'll need to know about their waitlist procedure. They wait until one of their dogs has a confirmed pregnancy to make reservations. They require a non-refundable deposit. They then match their puppies in the litter to future homes.
All their puppies are high-quality and can be suitable for competing or companions. Their puppies can be for show, working, sport, service dogs, and more. Unfortunately, the puppies are not sold with a breeding right. However, all puppies come with I.C.C.F. and A.K.C. registration and lifetime breeder support.
Contact Information
Phone: 1-213-456-1654
Email: thoroughbredcanecorso@gmail.com
Instagam: https://www.instagram.com/thoroughbredcanecorso/
Facebook: https://www.facebook.com/thoroughbred.canecorso
Next: Top dog breeders in CA (California dog breeders)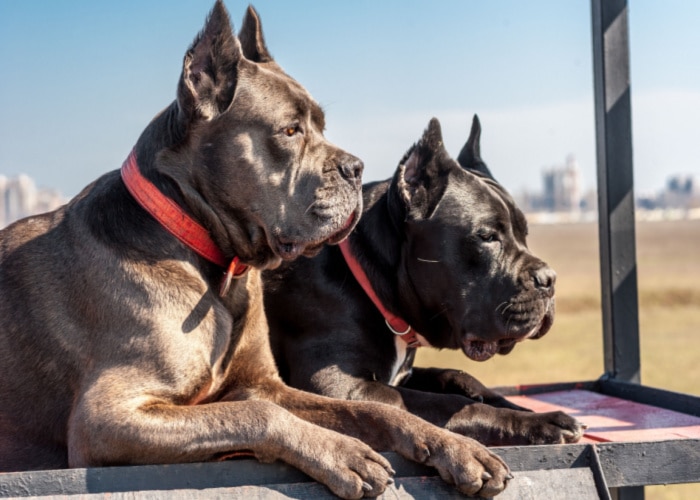 Dal Cielo Cane Corso is a breeder located in Southern California. The breeder has more than thirty years of experience breeding large dogs, and all of their Cane Corsos are A.K.C. registered. If you're looking for a dog to add to your family, you may want to try Dal Cielo Cane Corso.
They first began their venture in 1990 when they started to own a rare breed of dogs. The Cane Corso is a recent new breed brought over to the United States. So, the breeders were very interested in learning what goes into breeding and raising Cane Corso dogs.

However, they didn't get into the business until 1999, when they received their first Cane Corso. The breeders did a lot of research before getting the breed, including understanding the United States lineage and Italian history of the breed. That way, their dogs would be bred correctly with proper care.
The breeder has multiple dogs switched off to produce a different colored coat. Some of the pups have more variation, which some owners may enjoy. However, the dogs are always health checked before breeding.
If you're interested in a pup from them, you'll have to keep it posted on their website. Each time they have an upcoming litter, they will update their website. You can click here for litter announcements from their site. We highly suggest contacting them ahead of time so that you can be one of the first to get notified of an upcoming litter.
Contact Information
Phone: 1-805-529-4384
Email: dalcielocanecorso@yahoo.com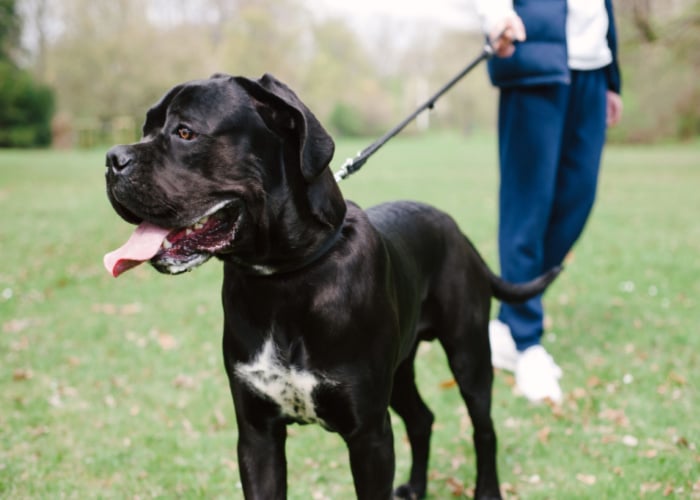 Potrero Cane Corso is located in Northern California and is known for being one of the top breeders of Cane Corsos in the show ring. Most of their dogs are A.K.C. registered, and most are show dogs. Aside from just breeding, they offer multiple levels of Cane Corso puppy programs.
Before their pups are born, they focus on pedigrees and lineage to ensure that each dog in the breeding process completes the strengths and weaknesses of the other. What this does is ensure that the pups produced are as healthy as can be. There is less chance of bad genetics or temperaments.
A unique aspect of Potrero's breeding process is that they use ENS, or Early Neurological Stimulation, on the pups. ENS is a technique that the Military developed in the 1970s, which helped stimulate puppy development.
Once pups reach three weeks of age, they are trained using clicker training. Aside from that, they are provided visual and sound stimuli, along with toys and different environments. This ensures that they get early exposure to the world and socialization.
Unlike other breeders, they want their dogs to go to good forever homes that understand the breed. So, you'll have to undergo an interview before being placed on the waitlist. This is mainly to ensure you know the breed's temperament and how to socialize them properly.
To get an interview, you need to contact the breeder via email. Each pup will cost around $3,500, depending on its features. However, this price can go higher or lower depending on other factors. Suppose you're interested in their puppy program. In that case, you can get your pup at five months when it's already trained, including potty training, for $6,500.
Contact Information
Email: alexiapotrero@gmail.com
YouTube: https://www.youtube.com/channel/UCiPf6eguj-HjGG_ut0pSPQQ
Facebook: https://www.facebook.com/potrerocanecorso/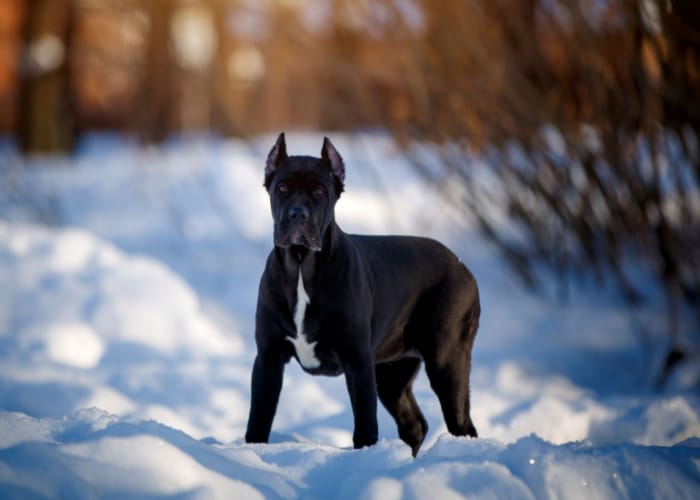 Garmr Cane Corso is located in Martinez, CA, just east of San Francisco, California. Owned by Erik Robertson and Kristina Thorson, they understand what it takes to create well-behaved and healthy Cane Corso pups. All of their dogs are A.K.C. registered and are bred from previous champions.
All dogs are from champion bloodlines but are bred to be companion dogs. They provide the H.E.A.R.T. promise for health, which means that they are healthy, educated, accountable, responsible, and include tradition. If you're looking for a well-bred Cane Corso, you will want to get on their waitlist.
What we like about these breeders is that even if they don't have a litter, they can refer you to other breeders. Unfortunately, you will need to apply to a waitlist and undergo a short interview to ensure their dogs won't end up in shelters.
Each pup can cost up to $3,500, depending on the litter. Sadly, they won't ship their puppies to other locations, and you'll need to be there to pick the pup up in person.
Contact Information
Email: garmrcanecorso@gmail.com
Instagram: https://www.instagram.com/garmr_cane_corso/
Facebook: https://www.facebook.com/garmrcanecorso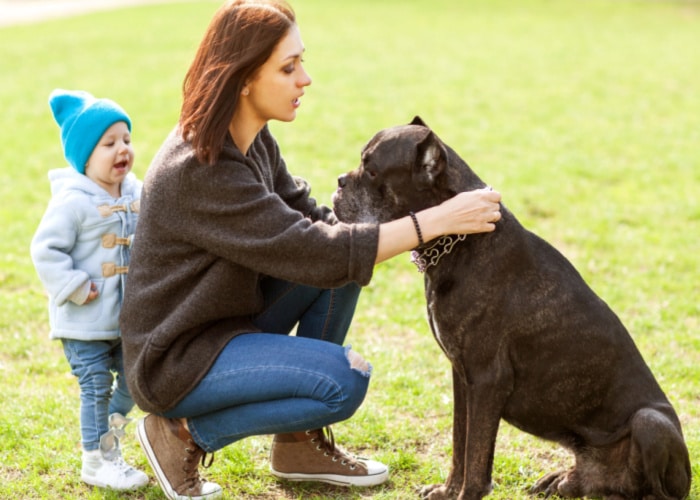 Diaz Cane Corso is a breeder located in Sacramento, CA. They are a family of breeders who focus on producing happy, healthy pups with a good temperament. Since the breed does have some aggression problems, the family takes extra time to help the puppies have a calm competence and demeanor.
Aside from that, some of their dogs are A.K.C. registered, but you'll have to check the lineage each time they have a litter. Additionally, they have multiple dogs, which ensures that there will be numerous litter available. However, you will need to contact them about their breeding standards.
Their dogs come from champion bloodlines, ensuring you're getting a show-worthy pup. Aside from that, the breeders focus on creating a protective guard dog temperament for their pups. This makes the Cane Corso pups good future guard dogs.
The Cane Corso breed already has strong genetics that gives them a protective demeanor. Diaz then focuses on furthering those traits by breeding them selectively. The pups will act similar to a professional bodyguard. If you're looking for a trained guard dog, then you can't go wrong with entrusting Diaz Cane Corso.
For females and males, you can expect to pay around $3,500. When you purchase your dog, you will not have breeding rights, a docket tail, or cropped ears. You'll need to place a non-refundable deposit if you want to secure a pup from them. You can do this by contacting them by text or phone.
If you want to be first in line, you can also choose to sign up for their puppy emails. The email will send out at the first word of a new litter becoming available.
Contact Information
Phone: 1-916-690-7006
Instagram: https://www.instagram.com/diazcanecorsos/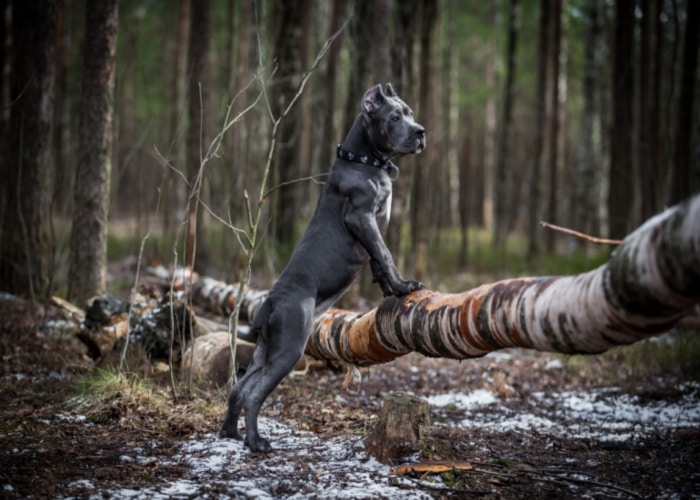 Norcal Cane Corso is a breeder in Northern California and is in the heart of Silicon Valley. Their goal is to strive to produce an excellent Cane Corso dog that has not only good health but also a great temperament. Unlike other breeders, they focus on making their pups more family-orientated.
The dogs are loyal, family-orientated, and kid-friendly. This is mainly due to their family exposure from a young age. Norcal Cane Corso is proud of their dog's temperament, making it an excellent choice for those looking for a companion or family dog.
However, they may not do well around small children. You'll want to double-check with Norcal Cane Corso to see if they have been raised around young kids. That way, you and your family can ensure that the dog will fit into your home environment.
Aside from that, all their dogs are raised on a raw diet, including bones, organs, muscle meat, and pasture-raised livestock. The reason is that the meats include high levels of essential nutrients compared to pre-packaged dog foods. So, you know you're getting a very healthy pup.
If you're looking to adopt a pup from them, you'll need to contact them to ask when they will have a litter available. The owners are not breeders as their primary job, just people who enjoy the breed and want to share their uniqueness. So, they may have a longer waitlist than usual.
Contact Information
Phone: 1-408-439-8933
Email: canecorsonorcal@gmail.com
Instagram: https://www.instagram.com/norcal_canecorso/
California Cane Corso Breeders F.A.Q.s
How much are Cane Corso puppies in California?
Depending on the health, status, and bloodline, you can expect to pay anywhere between $3,000 to $6,000. However, we have seen champion bloodlines going as high as $10,000. That being said, you can expect an average price of $3,500.
However, a high price doesn't guarantee that your pup comes from a good breeder. Always double-check that the breeder focuses on genetics, health, temperament, and bloodline. Otherwise, you could get a pup that isn't healthy.
Are Cane Corso dogs legal in California?
The United States has banned the Cane Corso breed in 30 states, including California. Despite that, the state has a law prohibiting discrimination against a particular dog breed. What this means is that it nullifies the ban against the Cane Corso breed, making it not illegal to own. However, if you travel to an area out of state with the dog, then you may be in trouble.
Always be sure to check the status of each state with the breed. Otherwise, you may be fined, or animal control will take the dog away, even in the worst-case scenario.
Are Cane Corso good family dogs?
Cane Corsos are known to be loving and devoted to their companions. They make excellent guard dogs and are very protective. That being said, they don't make good family pets.
They are large-sized dogs and, if not trained properly, can show aggression. Some breeders have been successful in breeding tame Cane Corso's, but the puppies need a lot of socialization. You will need to ask the breeder you're planning to get a pup about how well they would work in a family setting.
How much is a blue Cane Corso?
A Blue Cane Corso can cost anywhere between $1,000 to $4,000. However, if they are from a high-quality breeder, they can cost more. The price depends on the bloodline of the dog.
What 2 breeds make a Cane Corso?
The Cane Corso breed is a descendant of the Italian Mastiff and the Neapolitan Mastiff. The original breed was a Roman dog breed that was bred for war. However, the modern Cane Corso is much lighter, faster, and smaller than the old Roman counterpart.
Conclusion
Each of the breeders we've listed is known for being the best in the business in California. All breeders also understand the importance of lineage and genetic diseases. This prevents your pup from having harmful genetic diseases as it gets older.
That being said, most breeders in California have stated that they only produce one to two litters yearly. That means you'll need to apply early if you want to secure a slot on a breeder's waitlist. Hopefully, this information has helped you understand more about where you can get a Cane Corso in the California area!
Read Next:
The best Rottweiler dog breeders in California
The best Dachshund breeders in California
The best Bernedoodle breeders in California