Anyone living in the California area will be glad to know that there are a handful of Pomsky breeders. Pomskies are known for their playful antics, cheerful personalities, and cute appearance. It's no wonder that plenty of people have fallen in love with their stubborn yet adorable appearance.
So, if you're looking for a Pomsky, you may wonder where can I get one? Luckily, we've taken the time to find the most reputable Pomsky breeders in the California area. All breeders are known for their excellent reputation and are associated with the Pomsky Owners Association. Below are some of the five best Pomsky breeders in California.
When it comes to breeding Pomskies, you need to find a breeder who knows their traits. Since Pomskies are bred from Pomeranians, Huskies, and other Pomskies, it's crucial to track their genetics and traits. Breeders that focus heavily on these elements tend to produce healthier pups.
We also recommend reading up on Pomsky splits. The Pomsky Owners Association does an excellent job explaining the different types of Pomsky splits. Some include the F1, F2, F3, F1b, and F1x generations. You can click this link for more information about the different types of Pomskies available.
Aside from that, Pomskies are prone to anxiety and need early socialization. Another sign of an excellent breeder is taking the time to familiarize the pups with humans, children, and other animals. Below, we've gathered the most reputable California Pomsky breeders.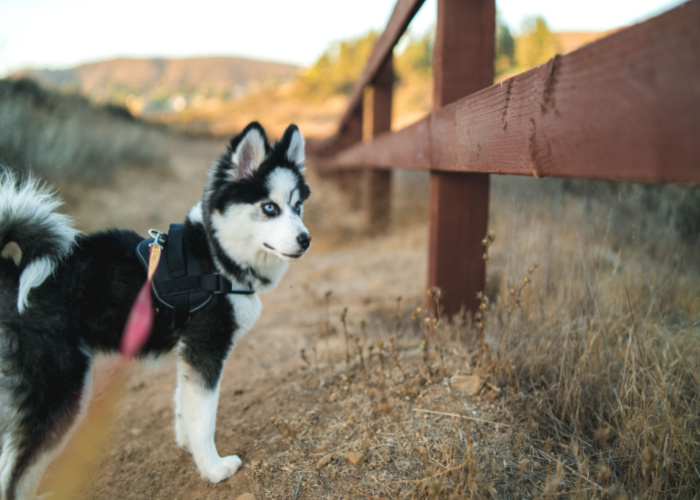 Northern California Pomskies is located in Palermo, California. The breeders have been in the business for over thirteen years and focus on breeding desirable traits for the Pomsky breed. They also follow a strict code of ethics, ensuring their breeding practices are up to standard.
It's good to know that they go the extra mile for their pups and dogs. Aside from just love and affection, the breeders focus on diet, socialization, exercise, and temperament. They also do DNA and genetic health tests before pairing their dogs off for breeding.
Their specialty is breeding Pomskies between 10 to 25 lbs, known as the miniature Pomskies. Some of their Pomskies also include the following coat colors:
Chocolate Tri
Silver Husky Wooly Coat
Red and White
Sable and White
Black and White
Silver and White
This provides plenty of range for those looking for Pomskie coat varieties. Suppose you're looking for a particular color. In that case, you can always reach out to the breeders to see if they'll have a litter available soon.
When getting a pup, you'll need to sign up for their newsletter. They will announce when their applications are open, and you can start to reserve a pup. Unlike other breeders, they don't have a waitlist. However, they still require a monetary deposit towards the puppy's price.
Contact Information
Email: northcapomskies@yahoo.com
Facebook: https://www.facebook.com/norcalpomskies/
Instagram: https://www.instagram.com/norcal_pomskies/
Next: Top overall dog breeders in the state of California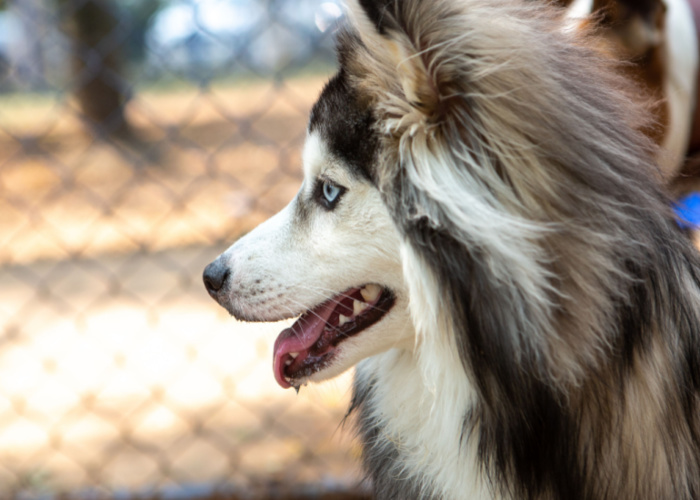 Golden State Pomskies is located in Antioch, California. The owner, Rachel, has been in the business for a while and is an American Pomsky Kennel Club Breeder Member. The best part about their service is that they offer local pick-up or flight nannies for an additional cost. That means you can still schedule your pup to be brought to you even if you're located out of the area.
Rachael focuses on making sure all of her dogs are DNA and genetically healthy. They are tested using Embark, which checks over 175 different health risks before they are paired off for breeding. This ensures that the pups will be healthy and free from genetic diseases.
Aside from that, the breeders put a considerable emphasis on selecting dogs by temperament. Their Pomskies are raised in-home and are very well socialized with young children and other humans. Aside from that, they offer F2, F3, and F4+ generations, with most of their pups being 50/50 splits. All of their pups end up 15 to 35 lbs, and you can ask for a specific coat type, including the rare blue and lavender ones.
They require all applicants to join a waitlist, which averages two to six months. A deposit is required to secure a puppy, and the total price of a pup can end up costing $3,500. Any rare micro puppies will have an extra premium fee of $500 to $1,500.
Contact Information
Email: goldenstatepomskies@gmail.com
Phone: 1-925-628-4867
Facebook: https://www.facebook.com/goldenstatepomskies/
Instagram: https://www.instagram.com/goldenstatepomskies/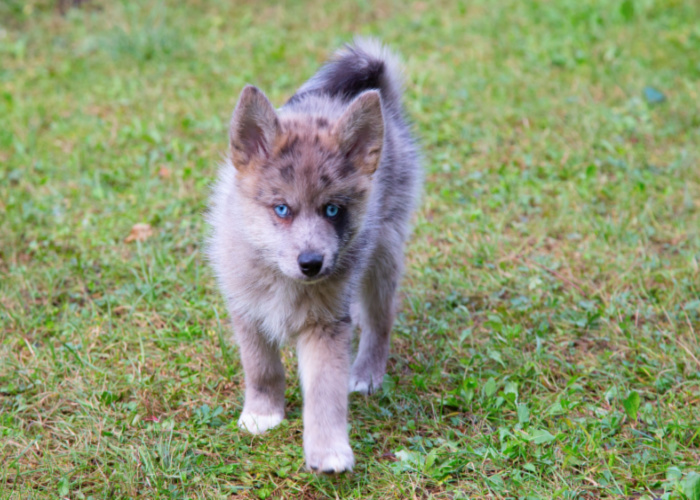 Vaca Valley Pomskies is located in Vacaville, California. They are newer breeders that just started their journey around five years ago. They have a five-acre ranch that is outside of the city. All of their dogs are supervised and roam free on the property.
Their pups are DNA tested, and health monitored to ensure they are healthy. The puppies are also socialized in their home and are around young children. This ensures that they are well-rounded and aren't aggressive or anxious.
Family is a big deal to them, so you'll have to undergo a short interview. They want to ensure that their dogs are going to forever homes. To apply for a pup, you must join a waitlist and then put down a $500 non-refundable deposit. From there, pups can range between $2,500 and $4,000, depending on the coat and color type.
At eight weeks, pups will go home with their families and will come with a vet check-up, shots, and deworming. Aside from that, you'll receive a DNA certificate and a two-year health guarantee plus a spay/neuter contract. The breeders can arrange pups for flight delivery at an additional cost.
Contact Information
Email: vacavalleypomskies@gmail.com
Phone: 1-707-388-3229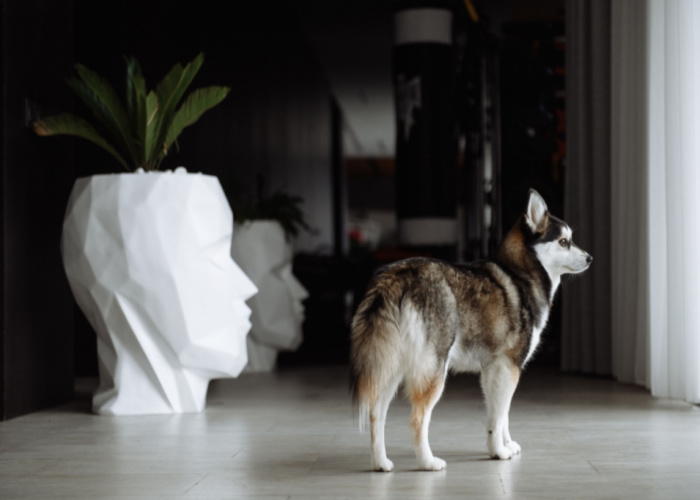 Acacia Pomskies is located in Oroville, California. Their breeding ethics are similar to others, except they are a very social family with the pups. However, they do have a strict spay/neuter contract that applicants need to be aware of. The breeders take breeding seriously and are members of a few associations, including:
Pomsky Owners Association
International Pomsky Association
Good Dog Responsible Breeding Program
Their primary focus when breeding is to cross dogs with good bloodlines successfully. They take great pride in ensuring their pups are DNA checked and healthy before breeding. Aside from that, they also have a wide variety of Pomsky splits, including F2 and F3s. For a detailed description of Pomsky splits, you can scroll down to the bottom of their page here for more information.
Unlike other breeders, they don't require a waitlist but a deposit. The pups go home at eight weeks and come with a two-year genetic health guarantee. Aside from that, the puppies receive vaccinations, deworming, and a paid microchip. A unique offer from the breeder is that pups will get a free month of Trupanion pet insurance.
Contact Information
Email: acaciapomskies@gmail.com
Phone: 1-530-552-9357
Facebook: https://www.facebook.com/AcaciaPomskyPuppies/
Instagram: https://www.instagram.com/acaciapomskies/
Pomsky Pawz is located in Redding, California, and is a small home breeder. They only have two Pomskie parents that they breed, but they are checked heavily for DNA and health issues. Their main goal is to hand-raise the pups, so they are well socialized before they go home to potential owners. They are also part of three associations:
Pomsky Club of America
Pomsky Owners Association
International Pomsky Association
All of their puppies will result in a black and white coat. This is due to only having one litter from their dogs. So, you should be aware that there isn't much variety. That being said, their pups are extraordinarily healthy and lively.
Due to having a small litter, they do require a waitlist. You will need to contact the breeders via email for more information on pricing and deposits. Pups will go home at eight weeks and can even be shipped outside the state for $500. If you need the pup shipped in-state, there is an additional $300 fee.
Contact Information
Email: pomskypawz@gmail.com
Phone: 1-530-338-6718
Facebook: https://www.facebook.com/Pomsky-Pawz-20-111301017060241
California Pomsky Breeders FAQS
How much should I pay for a Pomsky?
A Pomsky pup should cost between $1,000 and $5,000, depending on several factors. The coat type, size, split, and temperament will factor into the price of the puppy. It's best to familiarize yourself with the different kinds of Pomskies, as you will be able to figure out which one suits your needs best.
What is the rarest Pomsky color?
A blue dilutes the rarest or most challenging type of Pomsky color trait to achieve through breeding. Blue Dilute puppies have a charcoal blueish gray color and are a recessive gene. On the genetics report, the puppies have a "dd" trait.
What is an F2 Pomsky?
An F2 Pomsky refers to a classification in a Pomsky split. A split is a term to describe the Pomsky lineage through their dog parents, describing their husky and pomeranian genetics. So, F2 refers to when both parents' mother and father are F1 Pomskies. An F1 Pomsky has one parent as a Husky while the other is a Pomeranian.
What is the largest Pomsky?
The largest Pomsky is 15 inches high and can end up weighing around 30 lbs. Pomskies differ significantly in height and weight depending on their generation and their ancestors. Pups with more Huskies in their linage tend to be taller and weigh more. On the other hand, puppies with more Pomeranians in their mix tend to be lighter and shorter.
What is the smallest Pomsky?
The smallest Pomsky is a miniature, toy, micro, or pocket Pomsky. It's one of the smallest dogs available and is extremely adorable. Unfortunately, smaller dogs tend to be prone to more health problems. So, be sure to consider all factors before deciding to get one.
Conclusion
Pomskies are a loveable breed, and it's good to know that a handful of Pomsky breeders are located in California. Suppose you don't find a breeder or type of Pomsky you like. In that case, you can always refer to the Pomsky Owners Association to browse for other breeders. You can browse their website and find other breeders in the surrounding states.
That being said, Pomskies are a wonderful breed that requires lots of attention. They make excellent pets as long as you are there to give them enough affection throughout the day. Hopefully, we've helped you find the best Pomsky puppies for sale in California.
Read Next:
Best Maltese dog breeders in California today
Best Basset Hound dog breeders in California today
Best Chihuahua dog breeders in California today
Best Aussiedoodle dog breeders in California today