The Viszla is a Hungarian working dog known as a retriever or a pointer. There are many great attributes to the Vizsla, including their disposition. They are amiable and affectionate dogs. However, they can be pretty energetic. This medium-sized dog could be a very good companion for the right owner.
If you're planning on purchasing a Vizsla from a breeder, you'll want to ensure to make your purchase from a reputable company with a track record of healthy puppies. Keep reading to learn more about the Vizsla and where to find the top Vizsla breeders in California.
The following are considered the top seven Vizsla breeders in California. They have a reputation for excellence and producing well-tempered and attractive dogs that are great for showing or as family pets.
1) Golden Meadows Kennels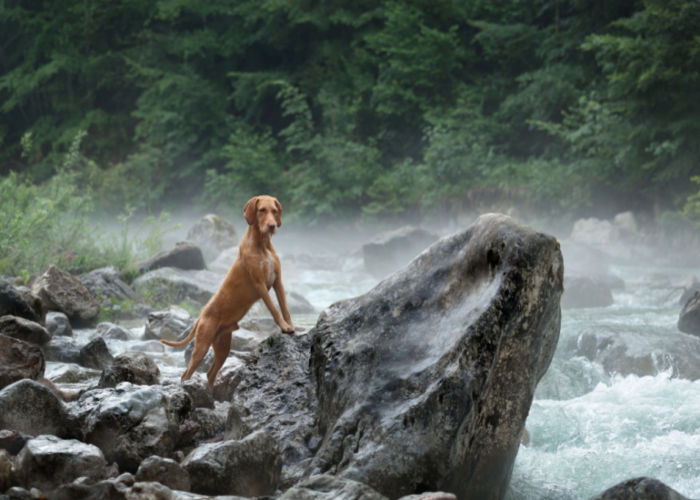 Golden Meadow Kennels is a leading breeder of Vizslas and golden retrievers. They are an AKC breeder of Merit Participant and hold other accreditations. They are passionate about providing customers with the best pedigrees and attributes of their dogs. The breeder begins working with each puppy at a young age to ensure they begin their journey of excellence. Golden Meadows offers a 3-year guarantee on puppies in terms of their heart, eyes, and hips. Individuals who are adopting any of the puppies from Golden Meadow kennels also have the option to purchase professional training. The website for this breeder is goldenmeadowsretrievers.com. The location of the Breeders is 12085 Clinton Street, Moorpark, CA 93021.
The phone number for Golden Meadow Kennel is 805-532-2216.
Next: The top dog breeders in CA (Californian dog breeders)
2) SoCal Vizslas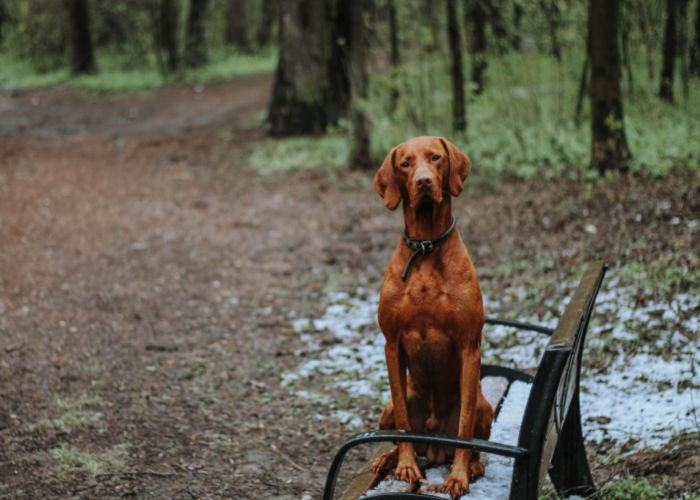 Individuals looking for top Southern California Vizsla breeders can find pedigree puppies at SoCal Vizslas. This is a family-operated business that carefully and responsibly breeds puppies on-site at their home. Their animals are cared for and trained to ensure a healthy and well-tempered animal. All puppies are AKC registered and have an attractive appearance and are fully socialized. All pedigree details are provided with puppies. The address for the Breeders is 29948 Sycamore Ridge Road, Murrieta, CA 92563.
The phone number for SoCal Vizslas is 951-264-9607.
3) Cazador Vizslas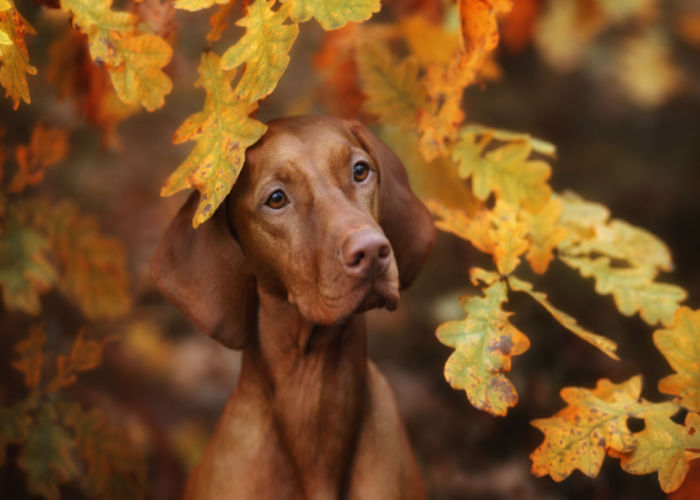 This Vizsla breeder has been in business for 29 years and strives to provide the best DNA and health for each animal. They are also an AKC Breeder of Merit participants and have several credentials and awards to their name. Additionally, this breeder provides breed education and detailed information about bloodlines and available puppies. They have a comprehensive website with all the information potential buyers want about the breeder and the animals at that location. The phone number for this dog breeder is 707-623-1467. The address is 3097 Joy Road, Occidental, CA 95465.
The website address is www.cazadorvizslas.com.
4) Rocky Mountain Vizslas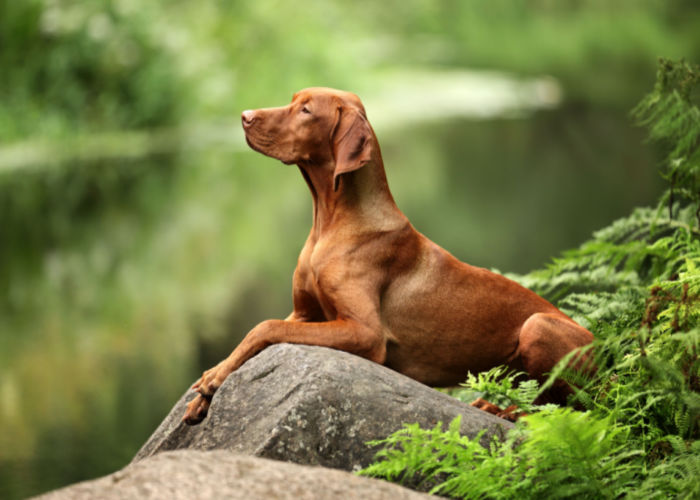 This dog is bred for a pleasant temperament and incredible attributes. Rocky Mountain Vizslas is a family-owned and operated breeding facility that has a reputation for providing individuals with incredible family dogs that have great health and sweet dispositions. These dogs are socialized daily, and the breeder takes time to play with each puppy individually. Since 1981, this breeder has been enthusiastic and ambitious about raising and breeding top-quality Vizslas. The phone number for this breeder is 760-7031.
The address is 14905 Lone Oak Trail, Ramona, CA 92065. 
5) Moonlight Vizslas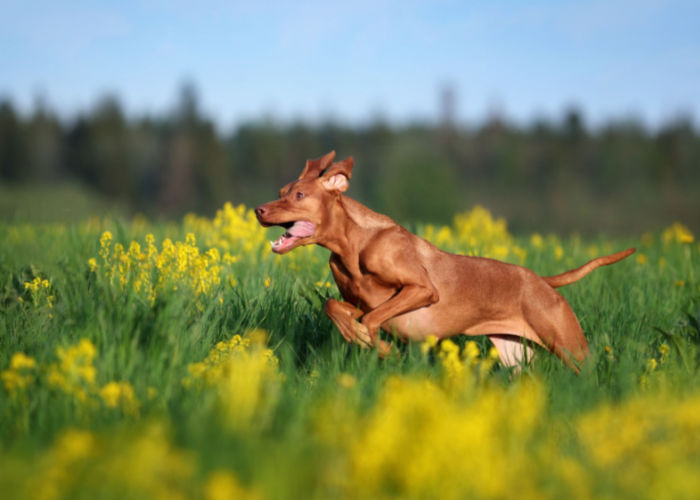 Moonlight Vizslas is the project of a hobby breeder in Southern California. They pay special attention to breeding for exceptional health and a good temperament. They enroll their dogs in AKC competitions before deciding to breed them. They carefully select each individual wanting to adopt their Vizslas to ensure they go to excellent homes. They also offer complete support for the lifetime of the animal. In fact, each puppy has a 3-year hip warranty, and the breeder follows Puppy Culture protocols. This breeder holds the AKC silver level reader of Merit designation and several other Awards and accreditations. The breeder is located on Virgin Islands Road and Bonsal, California.
Contact the breeder directly by visiting www.moonlightvizslas.com.
6) Dry Creek Vizslas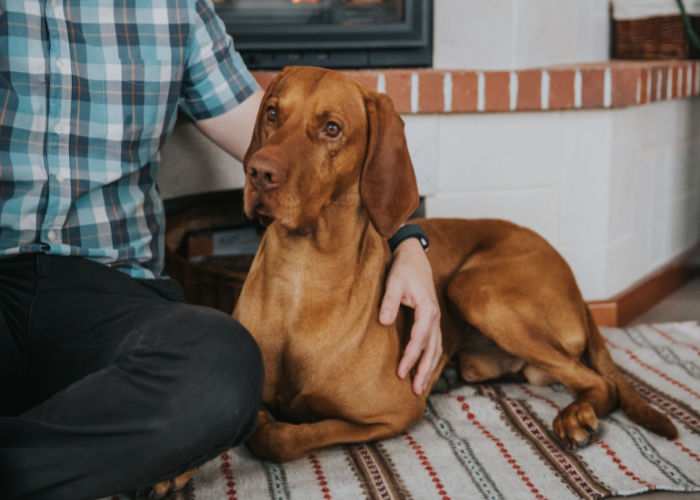 Located in Sebastopol, California, Dry Creek Vizslas are exceptional in many ways. This breeder was established in 1994 and provides incredible field dogs as well as companion dogs. Individuals wanting to show their dogs or compete will be able to find top-quality Vizsla from this breeder. They also have dogs that are well socialized and carefully selected for their breed, physical attributes, and overall quality. All Dry Creek visitors are AKC registered and are involved in rigorous agility and obedience classes.
The breeder may be contacted at www.drycreekvizslascom.
7) Vistercil's Vizslas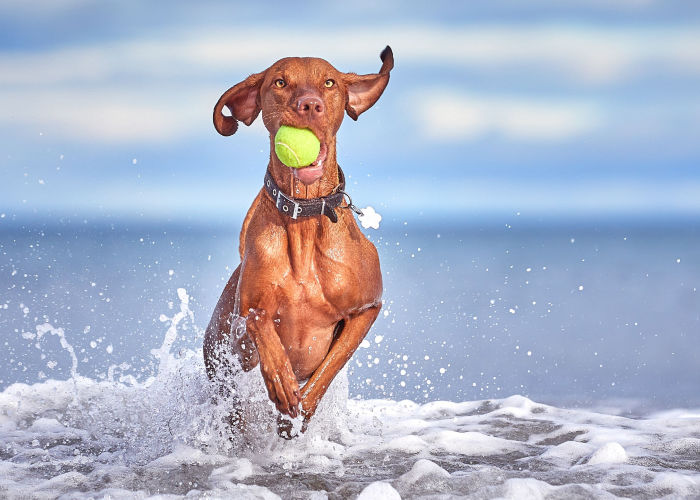 Individuals looking for top-quality Vizslas in Southern California can check out Vistercil's Vizslas. They are currently located in Alpine, California, and this is a family-run kennel with years of experience. They put particular emphasis on each dog's temperament and health. Each home for the puppies is selected carefully for quality of life and ability to provide an ideal lifestyle. These wrestlers are bred for various purposes, including show, family companions, obedience, and even hunting. The location of the kennel is West Victoria Dr. Alpine, CA 91901. To contact the kennels, you can use the "contact us" feature on their website to send an email. 
Finding a Great Vizsla
These top breeders in the Southern California region and have many years of experience producing AKC-registered show-quality animals. Not only do they take pride in the characteristics and appearance of their dogs, but they also socialize them thoroughly and breed them for a pleasant disposition. Whether you're looking for a family dog, a show dog, or perhaps even a working dog, these are the breeders to consider. They can offer insight and guidance for raising these puppies to get the best outcome.
If you plan on adopting a Vizsla, it's also worth noting that there may be Vizslas in need of adoption through local rescues or even through local and county animal shelters. It's always encouraged to adopt a Vizsla from one of these locations because they need a home. However, if you want to adopt a puppy with an AKC pedigree and adequate socialization, training, and attributes for show or breeding, contact one of these top breeders in the Southern California area.
Vizsla Breed as a Working Dog
The most common Vizsla is the Hungarian breed created for hunting and pointing. The most common Vizsla is the Magyar Vizsla, which has a smooth coat and is considered the most attractive with the most desirable characteristics. The most common game this breed of dog hunts is fowl. Another reason this breed makes an excellent hunting dog is that it has an incredible nose and is highly trainable. This dog breed demonstrates very little fear and makes an ideal choice for taking on hunting trips and for working in the fields.
Attributes and Care of Vizslas
The Vizsla breed has been around for centuries, and was used as royal hunting dogs. It was also respected by field workers in Europe. The Vizsla is very much like its cousin, the Weimaraner, with a similar build and temperament. The Vizsla breed reaches a height of between 22 and 24 for males and between 21 and 23 inches for females.
The weight for this dog will classify them as medium-size with an average weight for the males ranging from 55 to 60 pounds. The average weight for females is 45 to 55 lb. The life expectancy range for the typical AKC registered Visa is between 12 and 14 years.
One thing to note about the Vizsla breed is their abundance of energy. These dogs require plenty of time and attention as well as patience. especially while they are young. Anyone currently interested in adopting a Vizsla will want to ensure they have plenty of time to devote to this special dog. Without the proper training and guidance, they may develop some undesirable issues.
The Vizslas are ideally suited for homes where they have plenty of room to run rather than in an apartment and can have access to open spaces and ample time to run, play, and socialize.
Additionally, these dogs have above-average intelligence in the ability to train quite easily with the proper amount of time and patience.If a Vista is cared for properly, they will become very loving and attentive family members. I
If you have an active family that is always on the go and out exploring new places, Vizsla may be a perfect companion dog. These dogs also make excellent travel companions and would be suited to a lifestyle where they are exposed to plenty of travel and adventure.
When it comes to sleep, owners should provide their dogs with ample time to rest to allow for them to be fully active during the day and avoid any schedule conflicts. A carefully balanced schedule helps these dogs shine and facilitates their quick learning abilities and their athletic personalities throughout the day. Some recommended activities for playtime include playing fetch, tug of war, and obedience/reward training.
Vizsla Grooming
The breed is tall, thin, and athletic with a short wire coat. This typpe of coat makes grooming much easier than it would be for long-coated dogs. The Vista requires frequent brushing with a rubber comb or similar soft brush. If you own a Vizsla and they are active and running along the fields and playing all day, you'll want to take measures to ensure you bathe them regularly.
Frequent grooming and attention to their diet for coat luster and show purposes is highly recommended. For tips about Vizslas diet and regular grooming, it's best to seek the breeder's advice at the time of your purchase. Many breeders provide ongoing support and care for their Vizslas and may even offer a warranty for a specified time for health and other issues.
Before making your puppy purchase, be sure to discuss these topics with the breeder and ask if they're able to provide grooming care and tips for their well-being.
Before applying to purchase a Vizsla puppy in California from one of these breeders, it's important to note that they may require specific documentation and proof of a loving home, which is standard practice for many breeders across all breed types. Overall, the Vizsla is a great dog with incredible characteristics that make it one of the most popular dog breeds to date. 
Read Next:
Basset hound breeders in California (top picks)